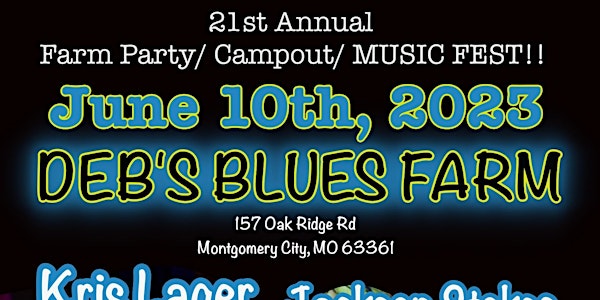 Deb's Blues Farm- 21st Annual Camping Fest!!
Deb's Legendary Blues Farm is in its 21st year! Get your tickets now and reserve your spot!
Date and time
Saturday, June 10 · 5 - 8pm CDT
Location
157 Oak Ridge Rd 157 Oak Ridge Road Montgomery City, MO 63361
Refund Policy
Contact the organizer to request a refund.
Eventbrite's fee is nonrefundable.
About this event
Would you like to gather with fellow music lovers in a chill/ outdoor and relaxed atmosphere?
Then come on out to Deb's Blues Farm on June 10th, 2023 in Montgomery City, MO!
These parties are legendary for being a great hang with great music! A place where you can witness amazing music and have a killer evening for next to nothing...
This is a great way to kick off the summer! Great music, Free Camping.
Bring Your Own food, booze, tent, and whatever else you'll need!
Music from amazing world class acts: Kris Lager, Jackson Stokes, Amanda Fish and Joe Metzka!
Get Your Tickets now:
Kris Lager BIO:
Kris Lager has become an underground cult hero of sorts. An uncompromising musician and charismatic performer who has cultivated a grassroots following and a career spanning over two decades. He has developed a unique 'Celebrate Life' message and mantra that emanates with every performance. A message that creates a congregation of dancing, singing, and clapping people with smiles on their faces everywhere he goes.
He has fused together his passion for blues, soul, funk, zydeco, country, and almost every other 'American Roots Music' into a contemporary and refreshing musical gumbo full of soul and spiritually uplifting rhythms and melodies.
Many people are calling him one of the finest songwriters, performers, and guitarists of his generation and for good reason too. Kris Lager's gravely voice and stirring lyrics combine the realness and authenticity of the blues with a keen sense of the human condition.
​Last year World-Renowned Musician and Podcaster, Andy Frasco called Kris "His favorite songwriter!" and also said Kris has inspired a lot of his songs and his desire to have an upbeat and positive stage persona.
Multiple Grammy Award winning and Legendary Rock 'n' Roll Producer, who has mixed two of Kris' albums, Jim Gaines (Santana, SRV, Van Morrison, Steve Miller) says Kris has "A great voice and great songs!"
Paste Magazine explains the music as "The kind of toe-tapping rhythm that sometimes you just need to make it through a day."
A Lincoln native based out of Omaha, Nebraska, Kris and his band have built a reputation as a hardworking Independent band refusing to play by industry rules or pander for awards and accolades. They just hit the road and the stage with an intense purpose of expressing themselves through uplifting music while engaging and respecting their audiences.
JACKSON STOKES BIO:
For guitarist and singer-songwriter Jackson Stokes, great musicians make great neighbors. Even as a youth weaned on classic rock- his first concert was Lynyrd Skynyrd- Stokes was unaware that living across the street from his St. Louis home was guitarist and singer-songwriter Devon Allman. Allman's family tree is impressive as the son of Gregg Allman and nephew of Duane Allman of Allman Brothers Band fame. Yet, Stokes knew little of the legendary group. Encouraged by his father, and holding his guitar, the 11-year-old Stokes knocked on Allman's door.
Allman, two decades his elder, heard something special in the young Stokes and encouraged him to continue learning and growing as a musician. Stokes dutifully attended Allman's Honeytribe rehearsals, sitting quietly in the corner while the group worked up its repertoire. At 14, Stokes had developed into a prodigious firebrand with a passion for the blues, teaming with another area wunderkind, Marquise Knox, and performing his first professional gigs.
By 18, his experience playing in high school garage bands, and with an All-State school jazz band, expanded his rock-and-roll palette. He attended Drury University in Springfield, earning a degree in music therapy, while maintaining a friendship with Allman, who encouraged Stokes to further sharpen his songwriting skill. In Memphis in 2012, Allman produced a five-song EP, Witness, from the Stokes-led band, Delta Sol Revival.
DSR toured regionally until 2016 when Stokes and Allman began discussing recording his solo debut. The pair returned to Memphis for the initial sessions, as Allman invited Stokes to join the Devon Allman Band for 2017, and subsequently the Devon Allman Project for a world tour in 2018. On days-off from the road, Stokes continued work on his album, organically building the full-length.
In May of 2019, Stokes put the finishing touches on a striking inaugural effort. Produced by Allman, it is a lean and focused set of rock-and-soul, including an ambitious Talking Heads cover, and a depth of original material ranging in style and subjects. From the Memphis stroll of the opening "Can't Getcha Out," through the reflective acoustic closer, "Take Me Home," the debut encompasses Stokes' wide swath of influences and tastes. There's the '60s R&B update that morphs into modern rock on "Slave," the staggering punches of overdriven guitar on "Time is Now," and the midnight seduction of "Contents Under Pressure." A flourish of pleading guitars finishes the slowly climbing blues-rock centerpiece, "You and Your Partner," while David Byrne meets Southern funky on "Life in Wartime." As well, Stokes welcomes the sunny-days slide guitar of The Allman Betts Band's Johnny Stachela to brighten the Southern sway of "Sins Are Forgiven," complementing that with the chunky Saturday night blues of "Whiskey."
Naturally, the nine-song record offers plenty of the fiery guitar that has been the calling card of Stokes' career for this first decade, showcasing the stellar reputation he's earned sharing the stage with such icons as Robert Cray, The Wailers, and Robert Randolph, as well as Warren Haynes, Lukas Nelson, and Marcus King. Yet, it's a conspicuous emphasis on Stokes' escalating songcraft that also shines as brightly on this initial release.
AMANDA FISH BIO:
Amanda Fish began as a singer songwriter in late 2012, refining her original material as a solo act for 2 years before she formed her band in early 2014, a Roots Rock and Soul project featuring Amanda's signature gritty lyrics belted out with her 'from-the-gut' vocals.
In 2015, she released her first all-original LP, "Down In The Dirt", on VizzTone Label Group, for which she was awarded the 2016 "Sean Costello Rising Star" Blues Blast Music Award. Amanda became a semifinalist in the 2017 International Blues Challenge where she garnered acclaim from new fans and industry professionals alike. From her performance at the IBC, she was able to start touring the US and Canada.
In 2018, Amanda released her second all original studio album, "Free", on VizzTone Label Group, debuting at #6 on the Billboard Blues Album Chart and nabbing a 2019 Blues Music Award for Best Emerging Artist Album.
During the 2020 Covid crisis, Amanda released an album of home recorded demos of her newly written music, aptly named "Trailer Park Demos", which she sold exclusively through her website as a limited release.
JOE METZKA:
"Joe Metzka is not your average blues man. He moved to the sacred ground of St. Louis and assembled a world class band that delivers a full package of blues, soul, funk and jazz seamlessly.
​
"The charismatic vocals, confident solos and killer grooves of this group will take you to the next level of appreciation for a live music experience you deserve."
​
- John May, St. Louis Blues Society