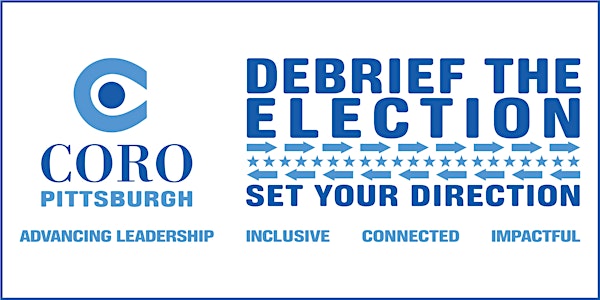 Debrief the Election and Set the Direction for Your Leadership in 2017
When and where
Location
26 S 27th St 26 South 27th Street Pittsburgh, PA 15203
Description
The Republican Presidential and Congressional victories in the recent election have created a major shift in the balance of power in the American political system. At Coro we believe that it is only possible to advance your leadership vision if you can adapt your own leadership in response to changes in the system around you. When the system changes in significant and unpredictable ways, you can remain true to your personal mission. But you may have to give up old ways and experiment with new ways of leading.
Join us on December 13, 6:30-8:30, at 26 S. 27th St., Pittsburgh PA 15203 for an Election Debrief followed by small group discussions to create your leadership plan for 2017. In this session you will meet Coro participants and alumni, have a chance to debrief your thoughts and feelings about the recent election, explore different perspectives on how the political system is changing and understand how such changes shape your own ability to stay true to your leadership vision.
Subject Matter Experts will help participants understand the implications of changes in the national political system:
Jessie Allen is an Assistant Professor of Law at the University of Pittsburgh School of Law, where she teaches civil procedure, legal ethics, and civil rights. She has litigated voting rights issues as a senior attorney with Advancement Project, a Washington, D.C.-based civil rights organization. She also was a staff attorney at New York University School of Law's Brennan Center for Justice, where she litigated criminal disenfranchisement cases, including a class action suit that challenged Florida's permanent voting ban for anyone convicted of a felony.
Jonathan Woon is an Associate Professor, Political Science and Economics at the Pittsburgh Experimental Economics Lab, University of Pittsburgh. He researches a number of central issues about democratic politics, including electoral accountability, diversity and candidate emergence, and strategic communication.
This will be a nonpartisan event. We look forward to seeing you there!