Debra Mugnani and special guests perform in a variety show!!
About this Event
Debra Mugnani's Spring Series of Variety show Zoomcasts February through April, 2021. Let's gather for live music and conversation!
March's guest performers:
Dancer, Pamela Carrara, Singer/songwriter, Marilyn Cooney, Singer, Jorge Martinez
Zoom doors open: 5:30 p.m. PST
Conversation: 5:30 p.m. to 6 p.m. PST
Show: 6 to 7:00 p.m. PST
Conversation: 7:00 to 7:30 pm. PST
Enjoy a fun one hour variety show. If you feel social visit with guests in zoom breakout rooms of your choice.
Special thanks to this month's Zoom helpers!
**********************
The event is free. However, if you would like to make a donation to The SF or Marin Food Banks as a thank you go to:
April 10th's event is a brunch with April's guest performers: Raffaello Mori, vocalist , direct from Lucca, Italia and Dino Salomon, vocalist, direct from Paris, France.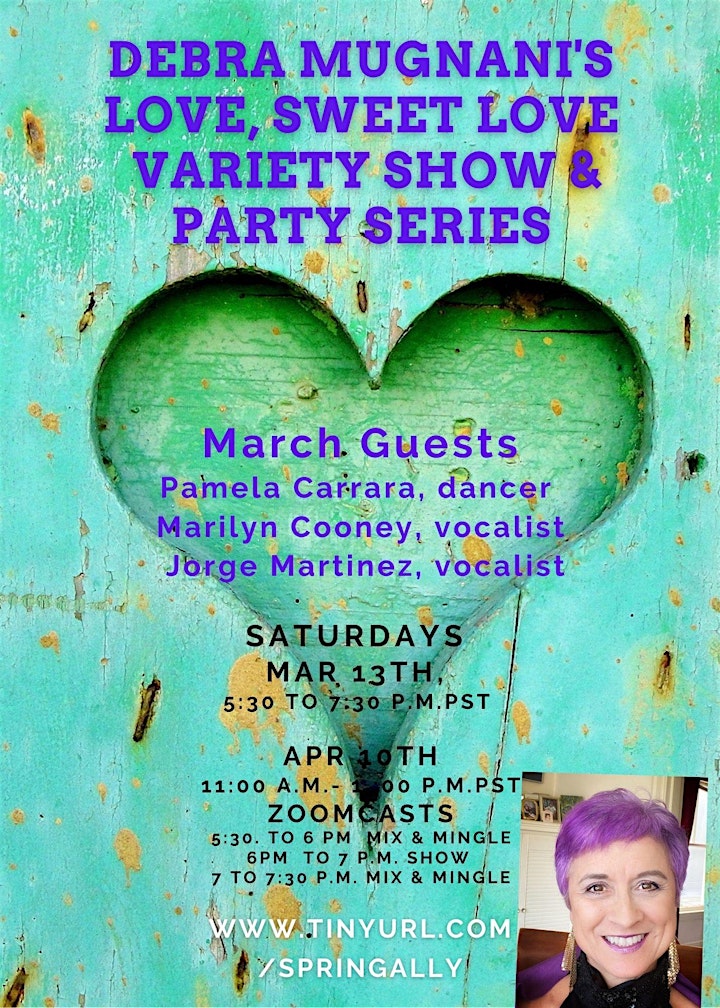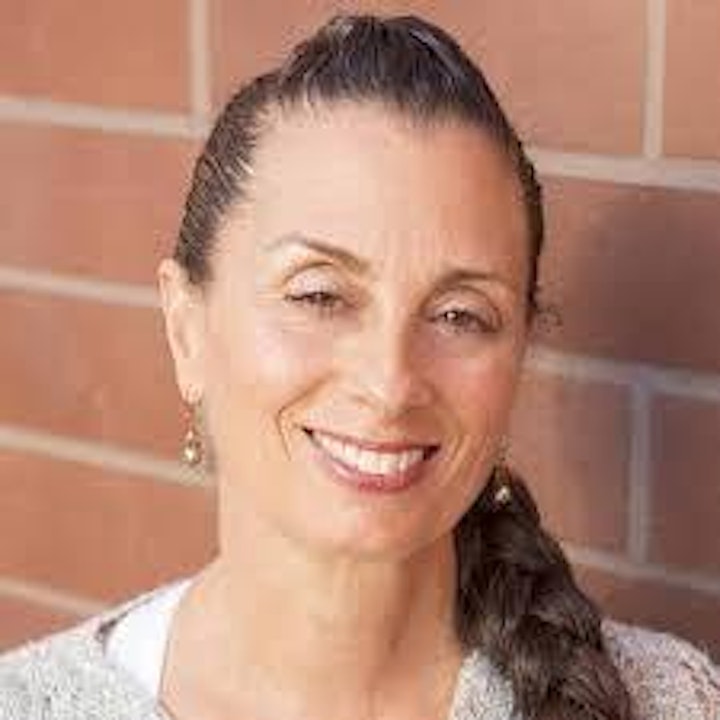 Dancer, Pamela CarraraAlthough as a child she was always a mover, dancer and athlete, Pamela Carrara started her formal dance training at age 19, and in 1976 began her teaching career as a dance instructor at the Powell Reilly Dance Studio, a then, long established, highly respected performing arts establishment in San Francisco, CA. She has choreographed, improvised and worked independently, and with local San Francisco Bay Area dance companies, and many accomplished jazz musicians. Her love of movement resulted in a wide vocabulary of movement trainiClick here ng that includes jazz, ballet, modern, tap, gymnastics, improvisational techniques, various ethnic styles, and partner dancing, as well as, yoga, martial arts, healing intrinsic movement and energy work. Her main dance teachers include Anna Halprin, Ed Mock and Ann Marie Garvin.
Pamela is also a renowned yoga and integral educator, coach, consultant, and speaker who founded the San Francisco Yoga School (SFYS) in 1999, and Fine Body Yoga™ (FBY™) in 2010. She is also a body, and essential oil therapist.For more information: www.pamelacarrara.com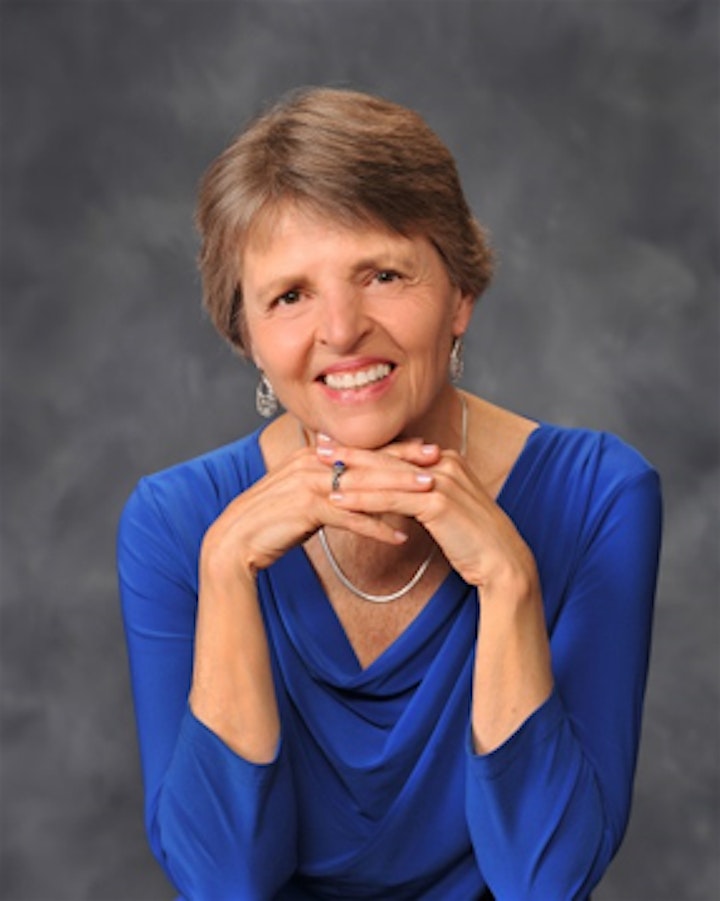 Singer/Songwriter, Marilyn Cooney
Marilyn is a singer-songwriter pianist who has performed in numerous Bay Area venues, such as Society Cabaret, Martuni's and The Purple Onion. She introduced her CDs at a sold-out solo show in New York City. Saturday night she will present a song she wrote on a magical trip to Paris!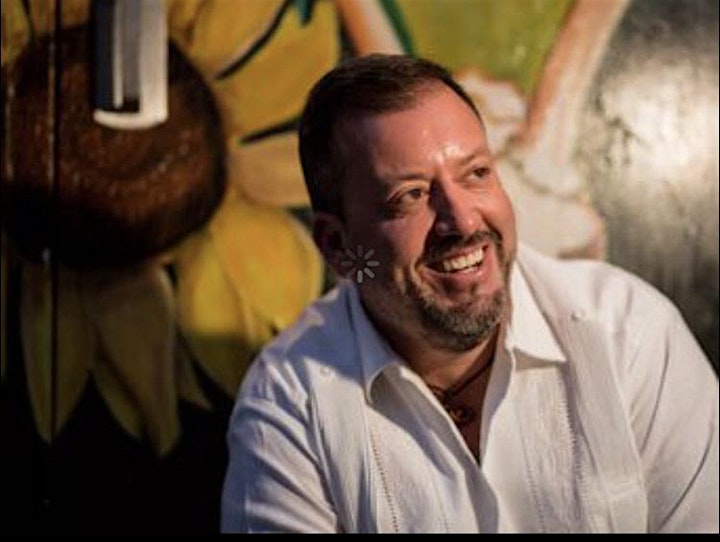 Jorge Martinez, vocalist
Jorge is a native son of San Francisco, born during the Summer of Love, which makes him incurably romantic and artistic. Raised and educated in Guadalajara, Mexico he moved back to SF several years ago where his love for singing led him to begin taking formal voice lessons. He started singing professionally a few years ago, delighting audiences with his wonderful Lyric Baritone singing Romantic Boleros and Show Tunes.
DEBRA MUGNANI, vocalist
Debra sings in a style that is both sophisticated and emotionally direct. Her interpretations of the Great American Songbook show a deep love and respect for the material while adding a delightful spark of personality. Debra's influences are Ella Fitzgerald, Carmen McCrae and Morgana King. A native of San Francisco, Debra has also been greatly influenced and inspired by vocalists and vocal instructors she has studied with in the Bay Area including Kitty Margolis, Peter Maleitzke, Francis Devlin, Ava Victoria, Claudia Newberry, Faith Winthrop, Jesse Foster, Madeline Eastman and Dena De Rose.
Debra is ever inspired by this quote by Martha Graham. "There is a vitality, a life-force, an energy, a quickening that is translated through you into action and because there is only one of you in all of time, this expression is unique. And if you block it, it will never exist through any other medium and be lost. The world will not have it. It is not your business to determine how good it is nor how valuable nor how it compares with other expressions. It is your business to keep it yours clearly and directly, to keep the channel open. You do not even have to believe in yourself or your work. You have to keep open and aware directly to the urges that motivate you. Keep the channel open."