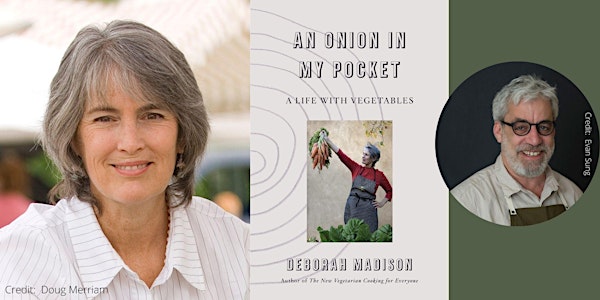 Deborah Madison - "An Onion in My Pocket," in Conversation with David Tanis
Deborah Madison will speak about her new book, "An Onion in My Pocket," in this virtual event. She will be in conversation with David Tanis.
Refund Policy
Contact the organizer to request a refund.
About this event
Author Deborah Madison will speak about her new book, An Onion in My Pocket, in this virtual event on Tuesday, December 1st at 5:00pm MT on Zoom. She will be in conversation with David Tanis, author and former head chef at Chez Panisse.
About the Book:
Thanks to her beloved cookbooks and groundbreaking work as the chef at Greens Restaurant in San Francisco, Deborah Madison, though not a vegetarian herself, has long been revered as this country's leading authority on vegetables. She profoundly changed the way generations of Americans think about cooking with vegetables, helping to transform "vegetarian" from a dirty word into a mainstream way of eating. But before she became a household name, Madison spent almost twenty years as an ordained Buddhist priest, coming of age in the midst of counterculture San Francisco.
In this charmingly intimate and refreshingly frank memoir, she tells her story--and with it the story of the vegetarian movement--for the very first time. From her childhood in Big Ag Northern California to working in the kitchen of the then-new Chez Panisse, and from the birth of food TV to the age of green markets everywhere, An Onion in My Pocket is as much the story of the evolution of American foodways as it is the memoir of the woman at the forefront. It is a deeply personal look at the rise of vegetable-forward cooking, and a manifesto for how to eat well.
_________________
IMPORTANT TICKETING AND EVENT INFORMATION
*Tickets are $5 (plus a small convenience fee) for the access link to this virtual event. This access link will be sent 24 hours before the event.
* The virtual event begins at 4:00pm PT / 5:00 pm MT / 7:00pm ET and will last about one hour. If you have issues during the event or if you'd like to ask a question during the Q&A portion, please email your questions to BBSVirtualEvents@gmail.com.
*An Onion in My Pocket is available to purchase from Boulder Book Store at the link below. A code will be sent to you after purchasing a ticket to this virtual event that is good for $5 off the books at checkout. Email BBSVirtualEvents@gmail.com if you don't receive your code.