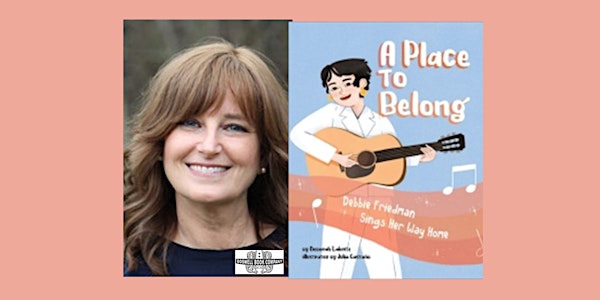 Deborah Lakritz, author of A PLACE TO BELONG - an in-person Boswell event
Deborah Lakritz, author of A PLACE TO BELONG - an in-person Boswell event
When and where
Location
Boswell Book Company 2559 North Downer Avenue Milwaukee, WI 53211
About this event
Boswell presents an evening with Deborah Lakritz, author of A Place to Belong: Debbie Friedman Sings Her Way Home.
Debbie's voice soars with passion. Her eyes sparkle with life. Everyone cheers. Debbie Friedman is one of the most famous Jewish musicians of our time. But at the start of her journey, she was just a girl looking for a place to belong. Through music, she learned how to connect with her feelings, her heritage, and her community. Now her music belongs to the world – and Debbie does too.
Deborah Lakritz has a master's degree in social work from the University of Minnesota. Her previous books include Say Hello, Lily (Kar-Ben) and Joey and the Giant Box. She lives in Milwaukee.
Click here to purchase your copy of A Place to Belong. Signed copies and personalization available on pre-orders. Please note that signed copies will not be shipped until after the event.