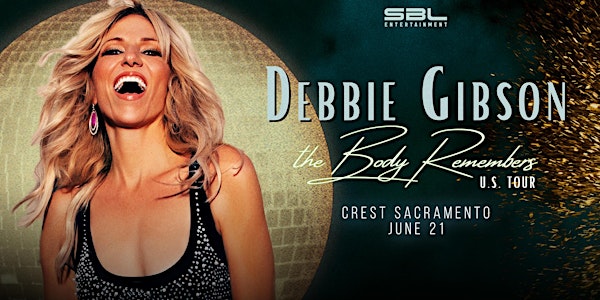 Debbie Gibson
SBL Entertainment Presents
Event Information
Performers
Location
Crest Theatre
1013 K St
Sacramento, CA 95814
The Body Remembers Tour 2022
About this event
For more than 35 years, Debbie Gibson has been a true pioneer and force in the entertainment industry. A singer, songwriter, producer, musician, actor, and entrepreneur, she embodies what it truly means to be an icon.
A music prodigy, Gibson burst on the Billboard Pop Charts at the tender age of 16 with the self-penned "Only In My Dreams." The "Original Pop Princess" quickly became the youngest artist ever to write, produce and perform a No. 1 hit song, "Foolish Beat," on the Billboard Hot 100 and entered the Guinness Book of World Records. To date, she is still the youngest female to hold that record. Less than a year later, she did it again with her self-penned and produced hit "Lost in Your Eyes." Gibson has sold more than 16 million albums worldwide and released 10 studio albums and five compilations.
After conquering the pop world with 3 consecutive albums and world tours, she set her sights on the theater and starred in 17 musicals in 17 years. Gibson made her mark in the Broadway production of Les Miserables as Eponine. She broke box office records in the London West End production of Grease as Sandy. She then took the stage in the U.S. Broadway tours of Grease as Rizzo and Funny Girl as Fanny Brice. Gibson also wowed critics as Belle in Disney's Beauty and the Beast, Gypsy Rose Lee in Gypsy, The Narrator in the national tour of Joseph and the Amazing Technicolor Dreamcoat, Cinderella in the national production of Cinderella with Eartha Kitt, Velma Kelly in Chicago, and Sally Bowles in the Broadway revival of Cabaret with Neil Patrick Harris.
In 2016, Gibson created, executive produced and starred in Hallmark Channel's "Summer of Dreams". The original movie was the highest-rated and most-watched movie premiere in the network's "Summer Nights" franchise with 2.5 million total viewers, becoming the No. 1 rated program and telecast on August 27. "Summer of Dreams" was also the week's most social original movie premiere across broadcast and cable, attracting the most Unique and Interactions on Facebook and Twitter combined than any other original movie premiere. She reunited with Robert Gant to walk down the aisle in the sequel, "Wedding of Dreams," which premiered September 8, 2018, on Hallmark Channel.
She celebrated the 30-year anniversary of her pop career, including her mega-hit album Electric Youth and biggest single "Lost In Your Eyes," with her commemorative, retrospective 10 CD / 3 DVD box set We Could Be Together. In 2019, Gibson launched her bi-monthly radio show, "Debbie Gibson's Mixtape," on SiriusXM, and performed 55 shows on the mega successful 53-city North American Mixtape Tour selling 600,000 tickets with NKOTB. She also served as a celebrity judge alongside Ciara and host Nick Lachey on Nickelodeon's first ever competition show "America's Most Musical Family."
On January 10, 2020, "Girls Night Out" was digitally released. DJ Tracy Young's #VegasVibe remix was the most added record and No. 1 breakout hit, soaring to No. 4 on the U.S. Billboard and U.K. Music Week charts. In fall of 2020, Gibson's debut album Out of the Blue was reissued on blue vinyl as an exclusive to Barnes & Noble and skyrocketed to No. 1 in sales during its pre-order run.
In 2021, Gibson was hand-picked by Tom Ellis to duet with him on "Every Breath You Take" playing helicopter mom Shelly Bittner in a critically acclaimed, gritty guest starring role in the musical episode of "Lucifer" on Netflix. She also recently wrapped the feature film "The Class" with Anthony Michael Hall and Charlie Gillespie as well as being featured in the documentary "From Worst to First" the story of Z100's and Scott Shannon's rise to the top.
With their mini residency, "Debbie Gibson & Joey McIntyre: Live from Las Vegas" at The Venetian® Resort, Debbie and Joey rocked audiences and critics alike. Gibson's new duet of "Lost in Your Eyes" with McIntyre was released June 4 and has garnered nearly a million views of the music video as well as launching a hugely successful TikTok duet craze. Her new single "One Step Closer" is currently climbing the charts in Europe having soared all the way to No. 3 in Switzerland. Her first pop album in 20 years, The Body Remembers, was released August 20, on her own label Stargirl Records. The new album promptly shot up to No. 2 on the Apple Pop Charts and achieved one million streams in its first month. After 3 decades of the hugely successful "Sleigh Ride" benefiting the Special Olympics, Gibson surprised the world with her new classic "Christmas Star" in 2021 which offered a taste of what's to come on her 2022 holiday album – her first ever.
From No. 1 hits and platinum albums to starring roles on stage and screen, Gibson is a true force in the entertainment industry with timeless talent and charisma.
Performers
Date and time
Location
Crest Theatre
1013 K St
Sacramento, CA 95814
Refund policy