DEBATE OF THE DECADE: WHICH WAY UNDER PRESIDENT TRUMP?
Description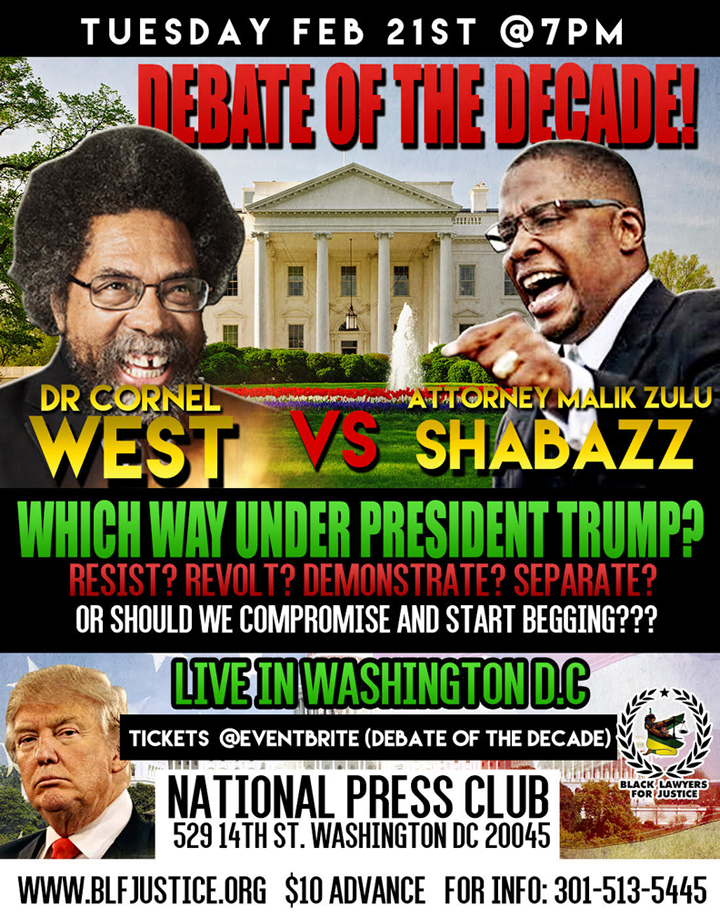 ---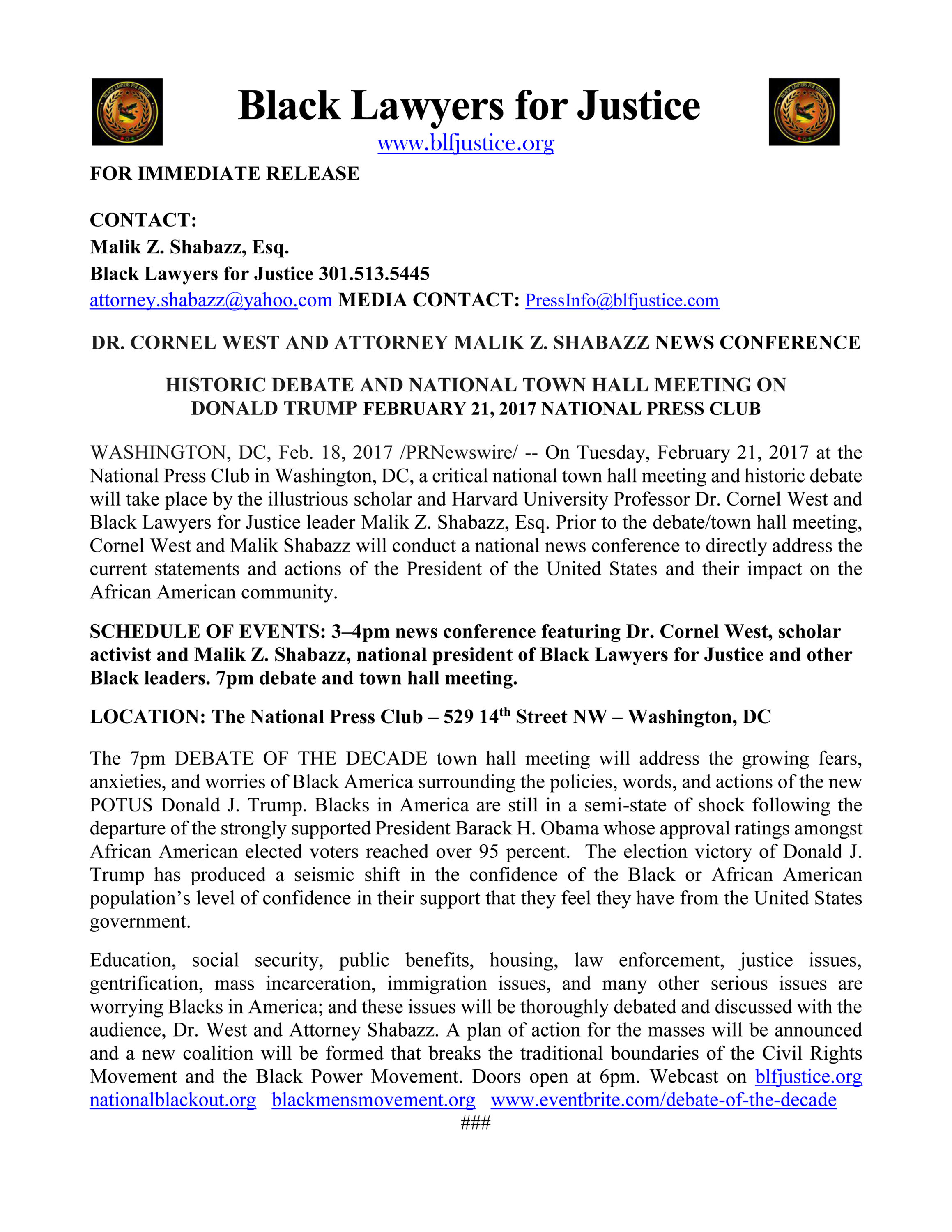 ---
Anxiety, fear, and confusion are growing as President Trump's controversial agenda begins. Join Dr. Cornel West and Attorney Malik Zulu Shabazz as they debate what path Blacks and oppressed people should take. The Debate of the Decade: Which Way Under President Trump? will provide answers and solutions.
This debate and dialogue is a much-needed forum because the confusion amongst our people is at a very high level. The two great minds will hopefully unite the Black community on the right path. There will be Black leaders from all over America in attendance. Be a part of history in the making!
Please, order your tickets today! Seating is limited seating.
#cornelwest #malikzulushabazz #debateofthedecade
https://www.youtube.com/watch?v=xVhmcUmWObE
In July 2016, during the height of the RNC, Dr. Malik Z. Shabazz organized and convened the Convention of the Oppressed in Cleveland (OH). The four-day anti-Trump convention focused on police brutality, Black economic empowerment, and legal training.
Mr. Shabazz, a nationally known police abuse litigator and National President of Black Lawyers for Justice has been instrumental in demonstrations in Ferguson, Baltimore and other flash points for police brutality nationwide. He is heavily involved in the movement for justice and the Black Movement in America.
"Donald Trump is a threat to the judiciary; attacking judge's racial background in an unprecedented and shocking manner. Trump's proposed foreign and domestic policies are detrimental to Black, Brown and Red people's international and domestic relations. Mr. Trump's stance on police brutality, free speech, immigration, and race relations must be opposed and stopped." – Malik Z. Shabazz, Esq.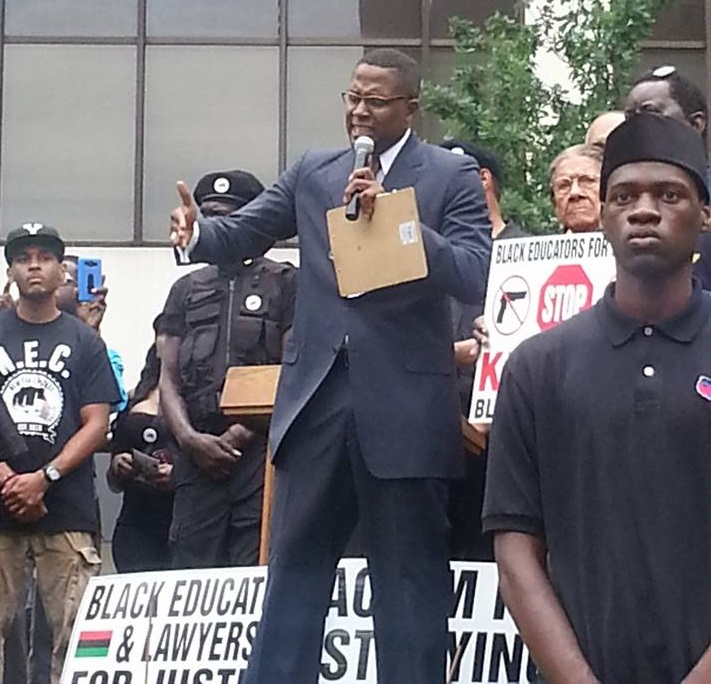 Megyn Kelly Malik Shabazz FULL HEATED Interview 71816
https://www.youtube.com/watch?v=Y-n2PGQ-Z8M
Group holds counter-convention, speaks out against police brutality, Donald Trump
http://www.cleveland19.com/story/32446140/group-holds-counter-convention-speaks-out-against-police-brutality-donald-trump
Dr. Cornel West, a prominent and provocative democratic intellectual, led the massive rally and delivered a powerful message during the convention. He is a Professor of Philosophy and Christian Practice at Union Theological Seminary and Professor Emeritus at Princeton University.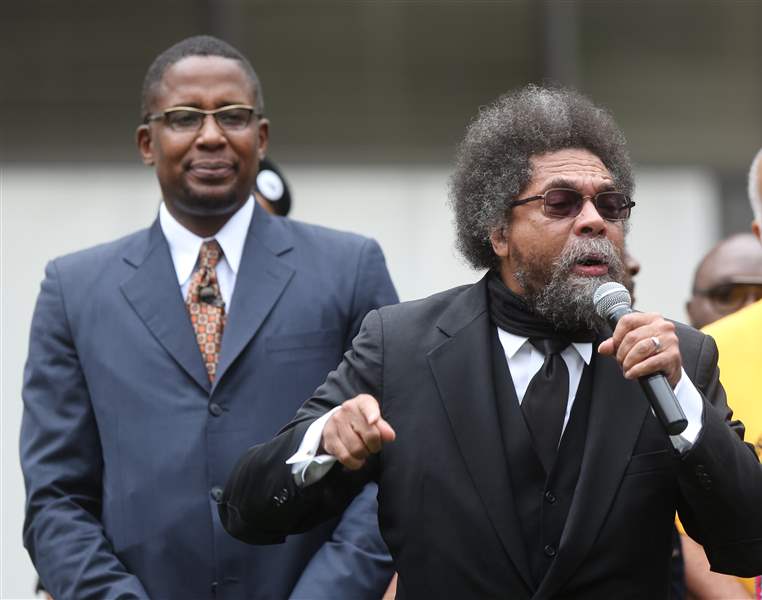 "The age of Barack Obama may have been our last chance to break from our neoliberal soulcraft. We are rooted in market-driven brands that shun integrity and profit-driven policies that trump public goods. Our "post-integrity" and "post-truth" world is suffocated by entertaining brands and money-making activities that have little or nothing to do with truth, integrity or the long-term survival of the planet. We are witnessing the postmodern version of the full-scale gangsterization of the world. The reign of Obama did not produce the nightmare of Donald Trump - but it did contribute to it. And those Obama cheerleaders who refused to make him accountable bear some responsibility." – Dr. Cornel West
https://www.theguardian.com/commentisfree/2017/jan/09/barack-obama-legacy-presidency