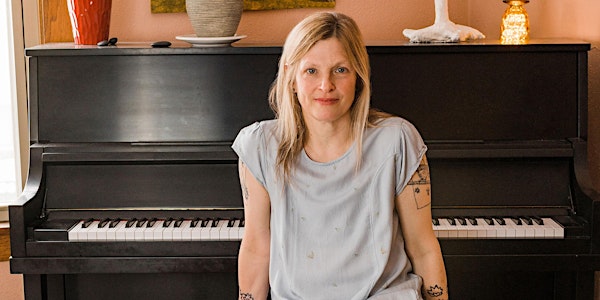 DEB TALAN (OF THE WEEPIES)
Deb Talan at The Venue!
Date and time
Thursday, May 11 · 8 - 11pm CDT
Location
THE VENUE 21 South Broadway Aurora, IL 60505
Refund Policy
Contact the organizer to request a refund.
About this event
The Venue is pleased to present Deb Talan (of The Weepies), Thursday, May 11 at 8pm. Doors open 7pm.
Advance Admission - Premium Seating - $30
Advance General Admission - $25
+ $5 at the Door
ABOUT THE ARTIST
Deb Talanhas been writing songs since she was 14 years old. Granted, her style has changed a bit since writing the forever-unknown smash-hit "Through the Window" about feeling numb, like life was going on somewhere out there but not accessible to her (at 14. so jaded.) She played clarinet, wrote songs on piano, later taught herself to play guitar in college, got obsessed with Shawn Colvin, was a vegetarian for 4 years, ended that with a hotdog and a swim in lake Michigan, started a band in Portland, OR with her friend Mark, named it Hummingfish, wrote a lot of fun songs that people danced to 'til they were all sweaty in that hipster/grungy/geeky Northwest kind of way, moved back to the east coast 6 years and a divorce later and began playing solo in Boston coffee houses (read: 4 different Starbucks that she also poured espresso at) opened shows for Catie Curtis (a songwriter hero of hers) met up with Steve Tannen and formed The Weepies, played shows all over the country and the world, toured in a real tourbus! moved to LA, got married to Steve, made 5 records and 3 amazing boy-children together with him, had songs placed in loads of movies and tv shows, moved to Iowa, got breast cancer, got chemotherapy and relied heavily on marijuana for pain and nausea relief(Legalize, for gods' sakes, can we grow up as a country, please?) recovered from breast cancer, made a solo album, struggled with mental health issues (Childhood Incest Survivor, lucky to be alive, music has helped, and so have many blessed healers) and relationship issues for 6 years, got divorced from Steve. She has a lot she couldsay these days. She prefers to listen. But playing songs for people is a close second. Music heals. Songs can be prayers.
Deb Talan is some lovely damn proof of that.
About the organizer
At The Venue, we book nationally-recognized talent in all genres of music from blues and big band, to rock and world music, and everything in between. Frequently, our opening acts feature regional and local musicians and songwriters. Our listening room seats 200 with no obstructed views, and our outdoor stage area can fit several hundred festival fans.
The Venue is operated by the Fox Valley Music Foundation, a 501(c)3 non-profit organization dedicated to music education, promotion and preservation.
Please check our website for information about parking. Enter from Water Street Mall. No reentry through the Broadway Street entrance. (Reenter through Water Street.)