DEATHTRAP Saturday, 6/9

Saturday, June 9, 2012 at 8:00 PM (PDT)
Event Details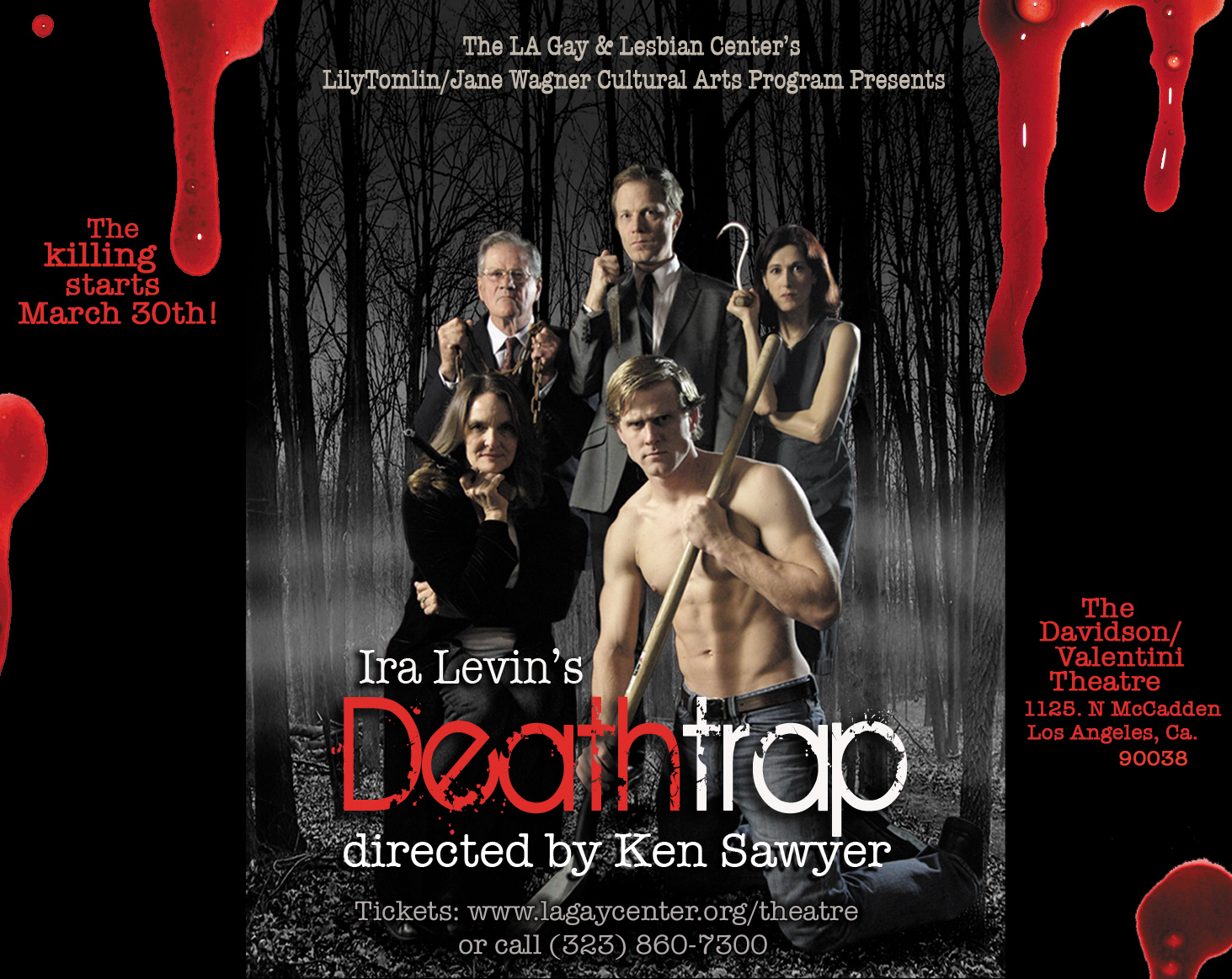 EXTENDED BY POPULAR DEMAND!

Ira Levin's Deathtrap, Tony Award-nominated for Best Play, receives its first Los Angeles revival in 20 years. It's a wickedly funny, joltingly scary thriller with more twists than a rattlesnake.
"It's as good as the original, maybe a tad better!"
Broadwayworld.com

CRITIC'S PICK!
LA TIMES "Director Ken Sawyer delivers … We want torture, we want mind games, we want to shriek. Done."

LA WEEKLY "GO! Director Ken Sawyer has successfully added sensual passion to a play that usually succeeds solely through cleverness and scares."

CULTURE SPOT LA "The current re-mounting of Ira Levin's "Deathtrap" at the LA Gay & Lesbian Center's Davidson/Valentini Theatre ranks as one of the best technically produced productions in Los Angeles; comparable with, and even surpassing, the production values of major theater venues."

HUFFINGTON POST "The intimate, five-row theater center amplifies every lightning flash, creaking door and suspicious glance. The play, directed by Ken Sawyer, will make you gasp, laugh and probably sweat a bit."

STAGESCENELA.COM "[Deathtrap's] arrival at the Davidson/Valentini Theatre is exciting news indeed … a prime example of L.A. theater at its all-around finest … You'd be hard-pressed to find a more impressive oneset production design on this or any other coast.

STAGEANDCINEMA.COM "Astoundingly beautiful production … a Broadway-caliber showcase of technical and directorial talent … [Director Ken] Sawyer proves that he is a master with spooky theatrics."

BROADWAYWORLD.COM "Whether you've seen Deathtrap or not, see this production!"


The Davidson/Valentini Theatre at The Village at Ed Gould Plaza
1125 N McCadden Pl, Los Angeles, CA 90038

For ticketing by phone, please call 323-860-7300.

PLEASE NOTE: There will be no late seating, and tickets are non-refundable.
When & Where
1125 N McCadden Pl
Los Angeles, CA 90038


Saturday, June 9, 2012 at 8:00 PM (PDT)
Add to my calendar
Organizer
The Lily Tomlin/Jane Wagner Cultural Arts Center
The Lily Tomlin/Jane Wagner Cultural Arts Center is a program of the Los Angeles LGBT Center. Our theatres at The Village at Ed Gould Plaza include the Renberg Theatre, a 200 seat state-of-the-art theatre, and the Davidson/Valentini Theatre, a 50 seat black box theatre.
Since 1969 the Los Angeles LGBT Center has cared for, championed and celebrated LGBT individuals and families in Los Angeles and beyond.  Today, through our health center, shelters, performance stages and classrooms, we provide services for more LGBT people than any other organization in the world.  We are an unstoppable force in the fight against bigotry and the struggle to build a better world; a world in which LGBT people can be healthy, equal and complete members of society.