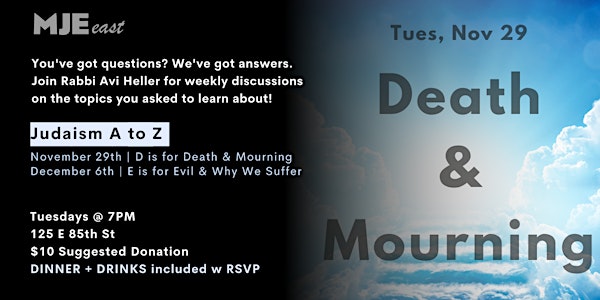 Death & Mourning: MJE East Class w Rabbi Avi | 7PM | 20s 30s YJPs
MJE East Classes for 20s and 30s NYC young professionals with Rabbi Avi Heller. Tickets include dinner and drinks.
When and where
Location
MJE East (KJ Building) 125 E 85th St New York, NY 10028
About this event
UPCOMING ---> Nov 29th: D is for Death & Mourning
Location: 125 East 85th St.
When: Tuesdays @ 7:00PM
Teacher: Rabbi Avi Heller
$10 suggested donation (includes dinner, wine and Avi's wisdom, no one will be turned away if they are not able to pay)
November 1st: Judaism A-Z: A is for Antisemitism
November 15th: Judaism A-Z: B is for Belief in God
November 22nd: Judaism A-Z: C is for Creation of the Universe
November 29th: Judaism A-Z: D is for Death& Mourning
December 6th: Judaism A-Z: E is for Evil
Take a deeper dive into the stories you THOUGHT you knew! Join Rabbi Avi and MJE East Tuesdays for social classes covering a wide range of topics like Torah, social justice, keeping kosher, Shabbat, Jewish Holidays, mysticism, history and so much more!
Light dinner & wine included with ticket - sushi or pizza or paninis or chicken wings... always something yummy :)
QUESTIONS? 
Contact Rabbi Avi Heller - ravavimje@gmail.com
Contact Rachel Benlisa - rachelb@jewishexperience.org