Death by MediSin Conference: The Truth About Healing Cancer & All Diseases

Saturday, July 15, 2017 from 12:00 PM to 7:00 PM (EDT)
Event Details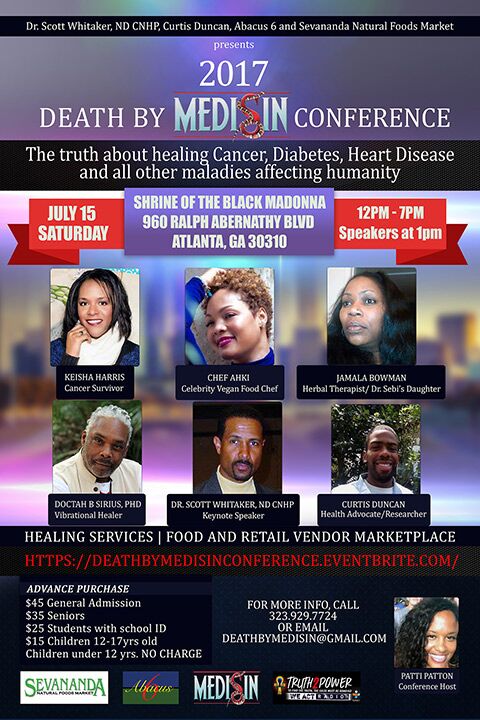 Millions of people die from preventable diseases every year. In the United States, close to 2.4 trillion dollars is spent on sick care every year and yet millions of people still suffer from chronic disease. Doctors and modern medicine kills close to 1 million people per year. FDA approved drugs kill close to 100,000 people per year. Chemotherapy and radiation are 97 percent ineffective and are the true cause of cancer deaths. Within the Black community, obesity, diabetes, cancer, and heart disease are at astronomical rates. Nearly 50 percent of Americans are taking two or more prescription drugs. What is the cause of all this?
MediSin
What is a MediSin: A MediSin is a medical, pharmaceutical, agricultural, environmental or commercial toxin, any medical application that destroys or harms life or violates or alters the natural healing state of the body.  All foods that are laced with chemicals, genetically altered, or grown in a laboratory are MediSins.  These products cause long term chronic illnesses such as diabetes, heart disease, and cancer due to the molecular structure of the body's cells being altered.  Soy, processed foods, fast food, factory farmed meat, commercial dairy, sugar, and artificial sweeteners are all MediSins since they cause chronic disease and disability.
Vioxx and Celebrex are MediSins because they deplete the endogenous production one of the most important essentials of the heart's cell, co-enzyme Q10. Ritalin, Zoloft and Prozac are MediSins, though they have become the prescription of choice for "hyperactivity," ADHD and depression these medications create mental havoc which disturbs the natural balance of the brain's cellular activity.  Any drug or cancer drug that leaves toxic side effects within the body or has taxed the body of vital nutrients is a medical sin. 
Root canals, surgeries, hysterectomies, mastectomies, mammograms, PSA tests, X-rays, and vaccines are all MedSins since these medical procedures actually CAUSE disease rather than prevent them.
In this conference, these MediSins will be exposed along with the criminal pharmaceutical cartel, Monsanto, and government agencies i.e. FDA/CDC which destroy our health and then promote phony and fraudulent solutions that destroy our health even more until we die. These merchants of death profit from creating disease and then profit some more by killing us once we become sick.
During this groundbreaking conference featured world renowned holistic health expert, board-certified naturopaths, cancer survirors, and herbalists, you will learn the truth about health, healing, and disease to empower you and your family to be healthy which is your birthright. You don't have to be a dead and diseased victim of the criminal sick-care industry.
In this conference, you will learn the following:
How Herbs Can Prevent and Heal Cancer

How plant-based diet can reverse disease and heal cancer

The importance of detoxification and cleansing to prevent and heal disease

The mental and spiritual aspect of disease and how to heal your mind to heal your body

Why vaccines were invented to make you life-long Pharma customers

Why doctors, drugs, cancer treatments, and hospitals are the number one cause of death annually

How Big Pharma invented GMOs, pesticides, and birth control to produce more cancer patients

How hidden endocrine disrupting chemicals are destroying your health and how to avoid them

How modern dentistry is destroying your health and teeth

Why the Medical Establishment will never cure any disease and suppress all natural cures

How psychiatry and psych drugs is destroying your mental health

The hidden dangers of fluoride, artificial sweeteners, and MSG and how to avoid them

How to reverse and prevent heart disease, diabetes, and obesity
  The featured wholisitc health speakers are as follows:
This conference is presented by Dr. Scott Whitaker, Abacus 6, and Curtis Duncan. The conference host will be Patricia "Patti" Patton, owner of Abacus 6 event marketing/promotion company and radio host of Truth2Power Show on WEACTRADIO.COM located in Washington, DC.  The event is being sponsored by Sevananda Natural Foods Market. You don't want to miss this event. It will be epic, information-packed, and life-saving. Holistic health and natural food vendors will also be present. Advance ticket pricing is only available until 12:00 am on July 15th. Get your advance tickets NOW!
SPEAKER SCHEDULE
1:00 pm - 2:00 pm  KEISHA HARRIS - Stage 4 Cancer Survivor
2:00 pm - 3:00 pm  CURTIS DUNCAN - Health Care Researcher
3:00 pm - 3:30 pm  JAMALA BOWMAN - Herbal Consult/Dr. Sebi's daughter
3:30 pm - 4:00 pm  BREAK
4:00 pm - 5:00 pm  CHEF AHKI - Celebrity vegan food chef
5:00 pm - 6:00 pm  DOCTAH B SIRIUS - Medicine man/Metaphysician
6:00 pm - 7:00 pm  DR. SCOTT WHITAKER - Naturopathic Doctor
 At The Door Pricing:
 $55.00    General Admission 
 $45.00    Seniors
 $35.00    Students with School ID
 $15.00    Children 12-17 years of age 
 NO CHARGE for children under 12 years of age.
For more information, call/text 323.929.7724 or email deathbymedisin@gmail.com
When & Where

The Shrine of the Black Madonna Church
960 Ralph David Abernathy Boulevard
Atlanta, GA 30310


Saturday, July 15, 2017 from 12:00 PM to 7:00 PM (EDT)
Add to my calendar
Organizer
Curtis Duncan, Holistic Health Expert
Dr. Curtis Duncan is a holistic health consultant and researcher, weight loss expert, amd Emotional Freedom Technique practitioner. He seeks to empower people through education and high quality information to live healthy, happy and fulfilling lives!

Death by MediSin Conference: The Truth About Healing Cancer & All Diseases