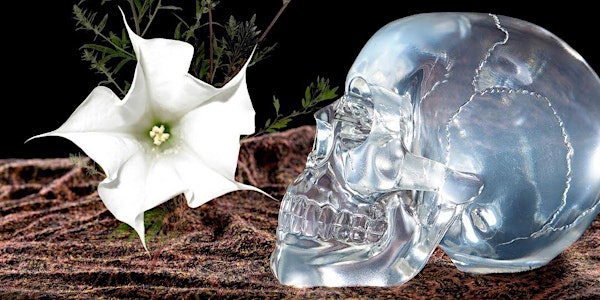 Death as an advisor, embrace the ally w/ plants of vision from soil to soul
Meet the plant allies that open us up to experiencing the truths and realms beyond ordinary shared reality.
Refund Policy
Contact the organizer to request a refund.
About this event
They are the wild wise ones who know the cycles of death and rebirth and can facilitate transformation. 
Explore within shamanic journey, how to make death a personal ally. The ancient medicine elders tell us we need to lose the fear and find courage to face death as well as life, which are really part of each other. Death can also be an advisor to help us in our life.
We will also be learning about our power centers which help you keep focus to see with unbending intent. With the help of certain trees, plants and flowers which also accompany us in this journey.
Are you ready to see what unfolds? 
About Liz Neves:
Liz Neves is an herbal educator, dream & meditation guide, reiki & healing drum practitioner, mama, and student of life. Through her in-person and online offerings, Liz opens portals to the plant realms, empowering you to deepen your relationship with the healing plants. This alignment with the wisdom and medicine of the plant spirits opens the way to deeper intimacy with your self. 
Liz is the author of Northeast Medicinal Plants: Identify, Harvest, and Use 111 Wild Herbs for Health and Wellness (Timber Press).
To reach Liz email her at Gathering Ground https://www.gatheringground.nyc/
About Irma StarSpirit Woman:
Irma StarSpirit Turtle Woman is a medicine woman honoring the ways of her Maya and Taino lineages of the curandera's and medicine elders within her family. She is a (Shamanic) MedicineWay healer/teacher & Karuna Reiki Master, Certified Crystal healer/teacher and a Toltec Dreamweaver. The shamanic MedicineWay Apprenticeship Program reaches its 12th year. So proud of all the students how have grown so much and found a beautiful path of heart.
To reach Irma email her at shamanicfirereiki@gmail.com