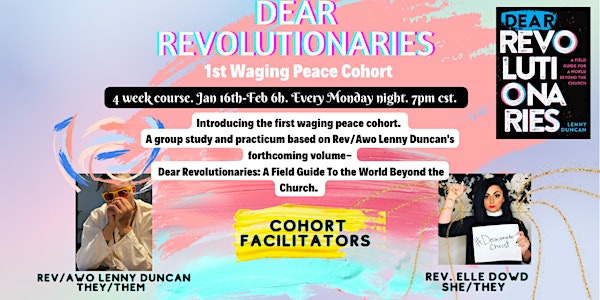 Dear Revolutionaries 1st Waging Peace Cohort
a four week practical class to help you guide your community through Dear Revolutionaries and Christo-fascist resistance.
Refund Policy
Refunds up to 1 day before event
Eventbrite's fee is nonrefundable.
About this event
The first waging peace cohort is here. Every monday for 4 weeks starting Jan 16th, and continuing until Febuary 6th , Rev/awo lenny duncan in a conversation curated by Rev. Elle Dowd will discuss their forthcoming volume Dear Revolutionaries: A Field Guide for the World Beyond the Church.
Every week Rev. Dowd will ask questions focused on each chapter with probing and clarifying questions on each waging peace excercises at the end of each chapter.
This should give the everday revolutionary all they need to lead not a book study, but to build a cohort of those ready to walk alongside those already resisiting Christo-fascism, create counter systems to serve the increasing needs of community with less means, and a relationship first model of encounter, gathering, and organizing that is susatainable for the already weary.
A signed copy of the book sent to you my rev/awo lenny on release date and copy to use in case for all participants recieve a PDF of the "Advance Reader Copy" or "sent to press version" of Dear Revolutionaries one week before the class.
Rev. Dowd will lead this conversation for 45 minutes.
There will be a 15 minute break.
45 minute Q and A for participants to follow.
5-10 minute closing "Sacred Encounter."