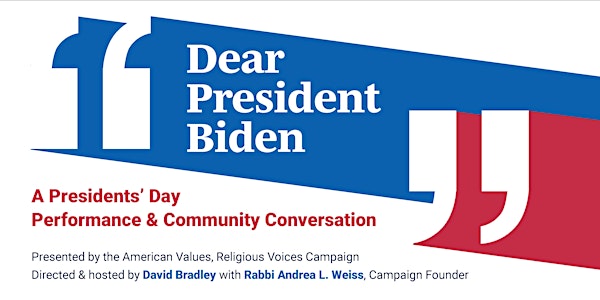 "Dear President Biden": A Presidents' Day Performance and Conversation
Letters to our leaders in Washington performed live followed by a community conversation on how we can all step up for the common good.
About this event
American Values, Religious Voices is proud to present "Dear President Biden." This live, virtual event features award-winning actors, musicians, a U.S. Congressman and youth activists as they animate letters from the Values & Voices campaign. The performance will be presented nation-wide on Zoom followed by a community conversation about ways we can strengthen our communities and help our country live up to its highest ideals.
For the entirety of the event, both ASL interpretation and closed captioning will be available to all participants.
The event is FREE to the public with reservations required.
THE EVENT WILL BE RECORDED.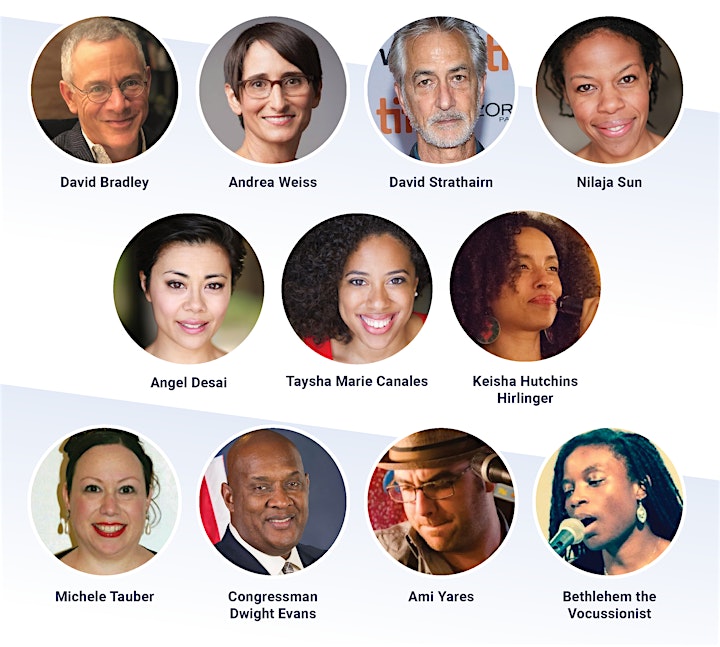 Performers include Emmy winner and Oscar nominee David Strathairn (TV's Temple Grandin and the films Good Night, and Good Luck, Lincoln and The Bourne Ultimatum), Obie winner Nilaja Sun (whose one woman show No Child… had an acclaimed New York run and toured internationally) and Michele Tauber (credits include HBO Max's Search Party), Angel Desai (Broadway's Company and Co-Founder of The Asian American Performers Action Coalition) and Taysha Marie Canales (Actor, Wilma Theater Hothouse Company).
Philadelphia-based singer/songwriters Keisha Hutchins Hirlinger, Ami Yares and Bethlehem the Vocussionist will perform original songs inspired by the letters.
The program also will feature U.S. Congressman Dwight Evans (D-PA 3rd District) and youth activists.
The event is directed and hosted by Philadelphia-based theater director and producer David Bradley. Bradley has gained acclaim for civic-themed arts projects with Americans for the Arts, the National Constitution Center, World Cafe Live, People's Light, Theater of War, and Temple University's Institute on Disabilities. Bradley will also facilitate the community conversation.
_____
American Values, Religious Voices is a national, nonpartisan campaign that is sending a letter a day, for the first 100 days of the new administration, to President Biden, Vice President Harris and every member of the 117th Congress. The letters are authored by scholars of religious studies from across the country.
_____
This program is sponsored by Lippman Kanfer Foundation for Living Torah and hosted by Hebrew Union College-Jewish Institute of Religion.