Description
The "Dear Fiscal Board" speaker series mission is to promote the search for solutions from a digital perspective to face the complex landscape in the daily lives of people Puerto Rico. Facing one of the most difficult economic stages in its history, our goal was to ensure our Government and the Fiscal Oversight Board incorporated a "digital mindset" as part of its governance structure to ensure services are delivered to citizens radically better at radically lower costs.
After Hurricane María, Puerto Rico is in an even more challenging situation. The government's response is exacerbated by the lack of a properly empowered, funded and structured digital team to provide the infrastructure and data needed to assist in a coordinated response, to answer to the needs of citizens and volunteers. What should be ubiquitous is anything but, from soliciting and gaining access to the USNS Comfort to knowing which town last received aid.
Join us on November 16th as we engage in conversations with tech and policy leaders, including current and former members of the US Digital Service, to present answers on what type of country do we want to rebuild, how do we want Puerto Rico to look at five years from now and what do we need to do to ensure we succeed.
Digital must emerge from the silence and become a subject of force in the public discussion in order to ensure Puerto Rico can rebuild as an innovation-driven economy & emerge from its fiscal & humanitarian crisis.
EVENT DATE
November 16th @ 5.15pm

100% of ticket donations will be used to support the ConPRmetidos fund, used exclusively to provide long-term relief to the victims of Hurricane María in Puerto Rico.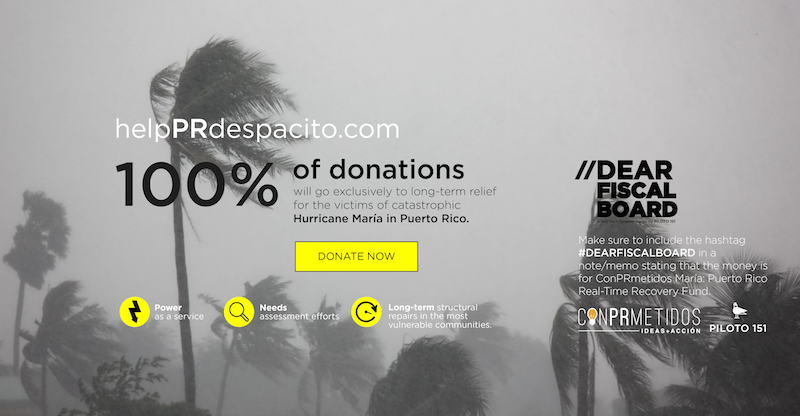 In partnership with The Public Interest Technology team at New America