DEAR EDWINA Jr. 6 shows!
INFO ONLY

FRI 6/29 - SUN 7/15
Event Details
This page is for general information.  To purchase tickets, click on the link below.  On that webpage, you will see each show date and time.  This webpage displays the performances in date order order.  
Checkout is available with either PayPal or Google checkout or via credit card. 
Please look carefully at the date you select and double check that it is correct before you finalize your order.  --Thanks!

CLICK HERE to get your online tickets NOW!  All Tickets General Admission $15 
Show Dates:  Friday, June 29 to Sunday, July 1 and Friday, July 13 to Sunday, July 15
Showtimes:   Friday @ 7:30 pm, Saturday @ 1:00 pm, Sunday @ 3:00 pm (Sunday, 7/1 at 1:30 and NO SHOWS 7/7 - 7/8)
The Story   Dear Edwina, Jr. is a heartwarming musical about the joys of growing up, from the creators of Junie B. Jones, The Musical, Zina Goldrich and Marcy Heisler. The show's heroine, Edwina Spoonapple, is an advice-giver extraordinaire, like a spunky, singing version of Dear Abby. Told through a show-within-a-show format, Edwina and her friends share wisdom on everything from trying new foods to making new friends through clever, catchy and poignant songs. It's "Glee" for kids, but adults will love it just as much as the children they bring!
"GLEAMS with originality; a tour de force!"          - The New York Times
"A RARE GEM! Go see Dear Edwina!"   - Time Out Kids
"Joyously WONDERFUL!"       - Variety
"BREATHTAKINGLY WITTY! The show is bright, cheery and face-paced!"  - Backstage
ABOUT THE CAST   23 young people make up the cast of Dear Edwina, Jr. featuring Bailey Bourgeois and Brynna Robert alternating performances as the leading lady Edwina.  With Giuliana  Imbraguglio (Kelly), Sylvia  Jones (Bobbi), Zion Lee (Scott), Annajé Rious (Becky), Annie McConnell (Annie), Dave McFarland (Cordell), Neiman  Burrell, Jr. (Lars), Eli Zitler  (Billy), Isabella Miorana, (Katie Spoonapple), Alexis Alexis (Carrie), Rachel Bonura (Mary Sue Betty Bob), Jayla  Clivens (Ziggy), Tegan  Cuthbert (Aphrodite), Mia Rodriguez (Lola),  eith ensemble members: Desmond  Bourgeois, Hailey Holmes, Lorraine Riccio, Zalayha Wilson, and CCLYT alums, Mitzi Zitler, Lindsey Reynolds  and Garri Paul as extra characters and staff assistants.
ABOUT THE STAFF  The NORDC/CCLYT production staff includes Julie Condy, producing director/music director, Bonnie Gabel staging director; Jamani Andrews, choreographer; Leighton Barrett Strong, costumer; Alan Minor, scenic designer; and Mark Montalbano, lighting designer.  A live band accompanies all performances with Matt Lemmler on piano, Curtis Pierre (Casa Samba) percussion, Michael Brothers (drums) and Tarik Hasan (bass).
Only 6 performances!  HERE'S the link to get your tickets NOW!
Ticket sales are only via this website up to 3 hours before showtime or at the NORD Ty Tracy Theater one hour before show time. (Sorry, no phone sales or reservations.)
If this performance is sold out online, there will still be 15 tickets available at the door including standing room.  First come, first served.  The box office opens one hour before showtime. All seating is general admission.  Handicapped seating is available. 
Get your tickets EARLY for this fun family event sure to be a sellout!
For group sales of 20 or more, please call 504-598-3800 or email info@crescentcitylights.org.  Your call or email will be returned as soon as possible. 
The show is suitable for ages 3 and up.  
Show length:  1 hour  15 minutes (we think!) with one 15-minute intermission
Parking:  Available on the street and in nearby lots on St. Charles Ave. and on Carondelet St.  Meter parking before 6 pm weekdays and Saturday.
Tickets are nonrefundable.  Please verify the date and time before you make your purchase.  Ticket exchanges for a different date are only possible if there are tickets remaining online and are not possible for sold out performances.  There is a $1.27 per ticket surcharge for tickets purchased online.  
Where
545 St. Charles Ave.
New Orleans, 70130


Organizer
Crescent City Lights Youth Theater
The Crescent City Lights Youth Theater is New Orleans' only community theater presenting musicals with casts of children ages  8 - 17.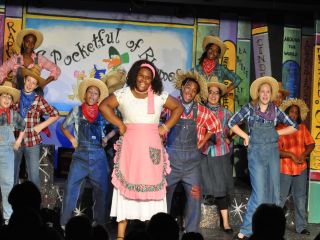 Since 1993, CCLYT has presented over 40 productions since its inception in 1993 with 20+ productions held at the NORD Ty Tracy Theatre from 2006-14.  Hundreds of children have come through the program with thousands of audience members.  CCLYT alums become successful adults in various fields including professional entertainment.
 AWARDS:  
January 2013, Most Outstanding Achievement in Music, Junior Theatre Festival, Atlanta GA
May, 2012 Best Kept Secret Award, Downtown Awards, Downtown Development District
January 2012, Most Outstanding Achievement in Acting, Junior Theatre Festival, Atlanta GA
March 2011, 3rd Place Overall, Best Costume, Best Youth Actor, Best Youth Singer, Louisiana AACT Festival
January 2011, Most Outstanding Achievement in Music, Best Actor, Junior Theatre Festival, Atlanta, GA 
DEAR EDWINA Jr. 6 shows!
INFO ONLY

FRI 6/29 - SUN 7/15