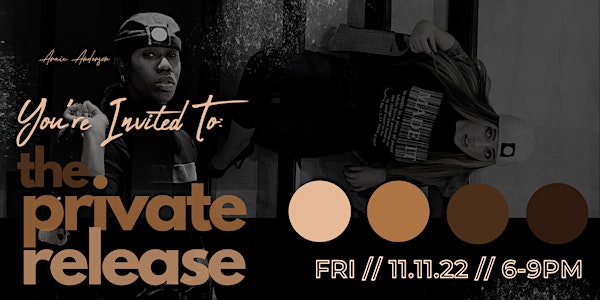 Dear Brown You Private Release
Join us in celebration as we release the exclusive collections of Dear Brown You. Drink. Connect. Love.
When and where
Location
Exclusive Access Upon RSVP 4.44 // Private Location // Located In The 'Additional Info' Section of Your Emailed Ticket DOWNTOWN CHICAGO, IL 60606
About this event
YOU'RE INVITED: To the Dear Brown You private release party. Join us with excitement as we showcase our newest collections and be the first to pre-order the hottest 'limited edition' products added to the culture of Dear Brown You.
MEDIA NOTICE: Please advise filming/photography will be taking place. Please be respectful of all guest and maintain privacy while in attendance. This invitation is non-transferable, please do not share.
PARKING RECOMMENDATIONS:
Street Parking: Free after a specific time
Spot Hero (Download App): Search for the '10 S Wacker Drive' garage (Half of a block away from venue) - Price ranges $12 - $15 for the allotted time of event. Other garages associated with 'Spot Hero' that's nearby venue // 1 S Lower Wacker Dr // 111 N Franklin St // 201 W Madison // 230 W Washington St // 217 W Washington St'.
***UBER or LYFT is strongly suggested for guest within 15 min. proximity.