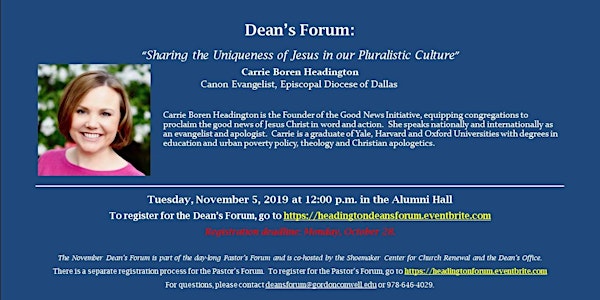 Dean's Forum: "Sharing the Uniqueness of Jesus in our Pluralistic Culture"
Dean's Forum: "Sharing the Uniqueness of Jesus in our Pluralistic Culture"
When and where
Location
Gordon Conwell Theological Seminary Alumni Hall 130 Essex Street South Hamilton, MA 01982
About this event
Carrie Boren Headington is the Founder of the Good News Initiative, equipping congregations to proclaim the good news of Jesus Christ in word and action. She speaks nationally and internationally as an evangelist and apologist. Carrie is a graduate of Yale, Harvard and Oxford Universities with degrees in education and urban poverty policy, theology and Christian apologetics.
Carrie is the Canon Evangelists for the Episcopal Diocese of Dallas, a frequent blogger and author on evangelism (most recently contributing to Acts to Action: The New Testament Guide to Theology and Mission published by Forward Movement; The Gospel and Pluralism Today: Reassessing Lesslie Newbigin in the 21st Century (InterVarsity Press); and Sent to Flourish (IVP Academic). She is an adjunct professor for evangelism at Fuller Theological Seminary. Carrie and her husband Greg Headington are especially active in racial reconciliation and social justice in their home community and missions in the majority world, especially Cuba and Algeria.
The Dean's Forum lunch discussion is free for Gordon Conwell Theological Seminary students, staff, faculty, and alumni. RSVP is required. The November Dean's Forum is part of the day-long Pastor's Forum and is co-hosted by the Shoemaker Center for Church Renewal and the Hamilton Dean's office.
There is a separate registration process for the Pastor's Forum. Click here to register for the Pastor's Forum.
Registration closes on Monday, October 28.
The forum will take place in Alumni Hall in the Kerr Building on the campus of the Gordon Conwell Theological Seminary and will be streamed live through Facebook and at www.gcts.edu/live.
Many of our events are recorded (with speakers permission) and photographs may be taken for publicity purposes and promotion on social media. For more information regarding this or to request that your image not be used for this purpose, please contact the Hamilton Dean's office at deansforum@gordonconwell.edu.