About this Event
From April 21 - May 22, 2020, BoxHeart Gallery is proud to present Deanna Mance: Still Life on exhibit in the upstairs gallery.
Deanna Mance's artwork explores both the interplay of the conscious and subconscious and the relationship between nature and human experience. She uses freehand drawing techniques and spontaneous mark-making as tools allowing her artwork to build and grow without the restrictions of self-awareness or premeditation. Through this approach, Mance embraces the unpredictable qualities and uncertain outcomes of her artwork. Her aesthetic, motifs of intricate elements organically arranged, reflects her interests in the passage of time, overlooked details in the everyday, and her compulsion towards repetition. Part of her studio process includes salvaging found materials that either become integrated within her art-making or collected as a source of inspiration. Mance is creatively fueled by the constraints of limited materials and the act of improvisation throughout her artistic process.
Mance's new exhibition Still Life re-contextualizes the traditional meaning of Still Life. By using the Still Life genre, she contemplates the meaning of stillness in art-making, intimate discourse, introspection of personal and ancestral history, spirituality, and meditation. Mance refers to her gouache and colored pencil works as assemblages or collages symbolic of these contemplations and the different spiritual influences in her life. The artwork in Still Life specifically references the transmutation of death and rebirth, intimate family-based faith, practices and heirlooms, and her personal relationship to ritual.
For example, in her work on paper "Dreams of Communion", the drawn and painted red crosses are symbolic of prayer, a dedication, or the devotional ceremony of benediction. In "Grandmother's Shadow", a 30" X 22" gouache and colored pencil on paper, the ambiguous cloaked figures reference the concept of spiritual allies and a pilgrimage of religious devotion and personal introspection. Mance uses these symbols to confront her Roman Catholic upbringing and her struggle to embrace this religious faith. In her painting on paper "Mary's Quilt, Keep Us Warm", family heirloom and its ability to connect us to the past, ancestral inheritance of faith, and the desire for spiritual belonging is referenced through her painting of textiles, specifically a painted family quilt pattern.
Lines can lure and persuade. They captivate through rhythmic movements and provoke through a sense of grace. Mance is drawn to the fluidity and sincerity of the organic line and the concept that there is still life in everything that is overlooked.
Mance has completed several artwork commissions. Her City Composition was the first mural commissioned for asphalt in Pittsburgh, and the first artwork for the Strawberry Way street mural program. Comprised of colorful, geometric shapes, Mance's mural design was influenced by the surrounding architecture in Strawberry Way and the region's curvaceous topography. Mindful of its surroundings, the mural was seen as an abstraction of the city and region. Some, who passed by the mural as Mance worked, claimed to have seen arching bridges, city steps, and train tracks. Moreover, shapes that are found in the mural were inspired by conversations that Mance had with pedestrians during the project. Painted with exterior acrylic paint followed by a clear coat, this was the largest artwork that Mance completed. For her, the process of working on this commission explored the boundaries and possibilities between her usual medium of paper and those discovered by painting on asphalt.
Mance's emphasis on creative expression comes from her work experience in arts education and administration at The Carnegie Museum of Art, The Hyde Park Art Center, Pittsburgh Center for the Arts, and Sunburst School of Music over the past fifteen years. As a teacher, she uses art as a remedial activity to foster confidence, self-awareness, personal growth, and reconciliation of emotional conflicts. In 2012, Mance integrated her passion for the arts with end-of-life care by becoming a life enrichment coordinator for those living with Alzheimer's and dementia in skilled nursing facilities and rehabilitation centers. In 2014, she became a facilitator for Pittsburgh Death Cafes building relationships with a rich community of death-positive end-of-life care advocates. She became a certified death doula through Promise Hospice in 2018 and continues to connect and work within the death-care community.
Born in Cleveland Ohio, Mance currently lives and works in Pittsburgh Pennsylvania. Notable exhibitions include; "Bury Your Art Seeds" at Loyola University in Chicago Illinois, The Pittsburgh International Airport, "AAP 99th Annual" at The Carnegie Museum of Art in Pittsburgh, "21st Century Watercolor" at Bankside Gallery in London United Kingdom, "Art of the State" at The State Museum of Pennsylvania in Harrisburg. She also runs an alternative gallery space, Goldmine, with her husband David Oresick.
The artwork for this exhibition was created with the generous support of the Jentel Artist Residency.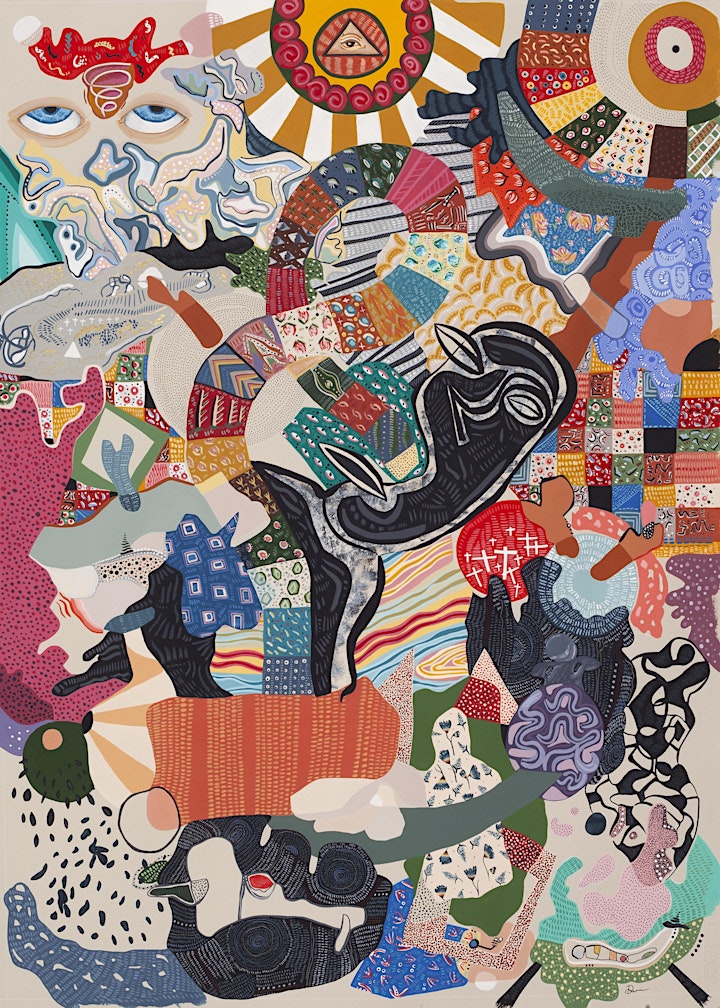 Deanna Mance, Grandmother's Shadow, Gouache and Colored Pencil on Paper, 30" X 22", 2020