Dealing With Loss and Bereavement
Join Central Jersey Alumnae Chapter for a Virtual Conversation, and receive coping skills for Dealing with Loss and Bereavement.
About this event
Register early for this FREE event.
Zoom Link
After you register for this event, you will be sent a confirmation email with a personalized link to access the Zoom session.
Event Description
Let's continue the conversation from our impactful 2020 program. Interactive discussion where you will have an opportunity to hear and share common concerns. Begin and continue to COPE!
What are you feeling after a loss? Sadness? Anger? Despair? Confusion?
EXPERT FACILITATORS: Gwen and Reggie Dorsey, Co-Directors of GriefShare and UltiMaIT Ministries at North Stelton AME Church in Piscataway, NJ.
The Dorseys are happily blessed and married for more than 28years. Both Reggie and Gwen graduated from Philadelphia College of Bible (now Cairn University) in May 2000 attaining a Master's of Science in Christian Counseling. In 2000, they founded UltiMaIT, a pre and post marital ministry for couples desiring to invest in a life-long, Godly marriage. For the past several years, they have facilitated GriefShare at their church, a group ministry to help members and persons from the community deal with grief and loss. They also help to teach the young adult and adult Church School Class on Sundays.
Reggie worked for more than 30 years for the Advocates for Children of NJ in Newark, NJ. He received his licensed as professional counselor (LPC) in December of 2017 and has opened a private practice in Yardley, PA. Reggie has a Master's in Social Work (MSW) from Rutgers Graduate School of Social Work and a BS is Sociology from NC State University, where he pledged Kappa Alpha Psi Fraternity Inc. in 1982.
Gwen has worked for 20 years at Cairn University in Langhorne, PA, where she is currently the Graduate Admissions Counselor for Counseling, Divinity and Social Work. She received a Bachelor's Degree in mathematics education form South Carolina State University in 1981.
#lossandbereavement #toolsforhealing #letstalk #stagesofgrief #physicalmentalhealth #cjadeltas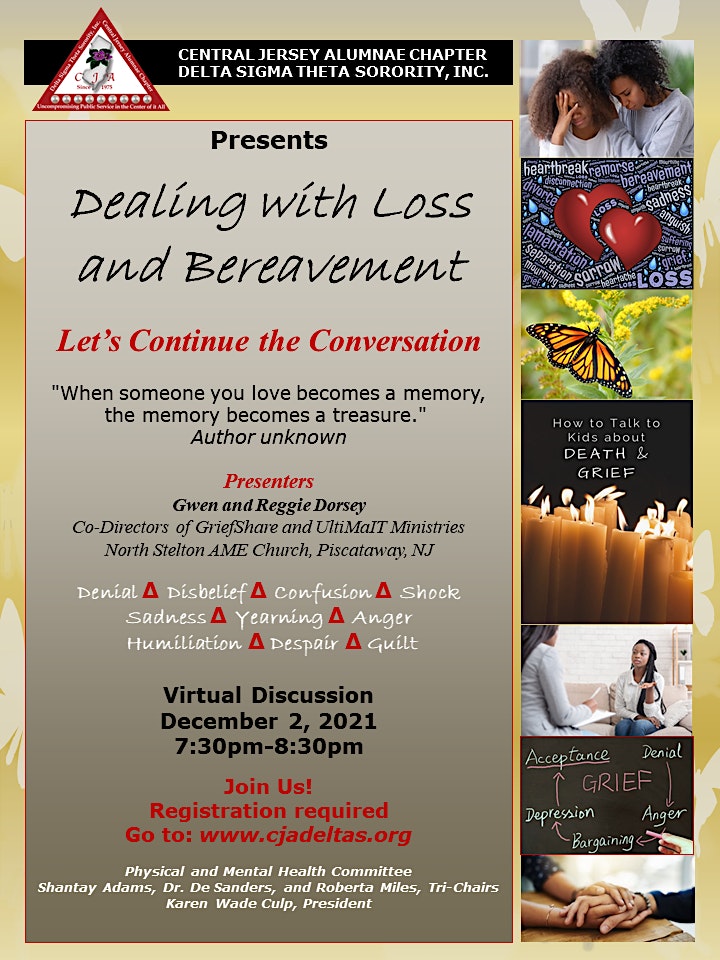 Organizer of Dealing With Loss and Bereavement
This event is hosted by the Central Jersey Alumnae Chapter of Delta Sigma Theta Sorority Incorporated, a non-profit organization that provides community service throughout the world. For more information visit our chapter website at www.cjadeltas.org. You may also visit our national website at www.deltasigmatheta.org.