Are you struggling at work with emotional or challenging discussions? Tune in for tips and techniques to help you through them.
About this event
Avoiding difficult conversations only worsens the situations we find ourselves in. It can sometimes feel like there is never the right time to have a tricky conversation, but often it leads to constructive outcomes.
It's your approach to these types of discussions and how you manage them that will allow you to successfully overcome these challenges, through avoiding frustration and finding some form of common ground to reach a solution.
Join David McLaughlin CMgr FCMI ChMC on Monday 18th July, to see how you can open up your mind to resolve work conflict in a composed manner enabling you to move forward from any disagreements. David will also explore how it is important to have engaging conversations that empower your employees and peers to succeed in their careers.
Our Speaker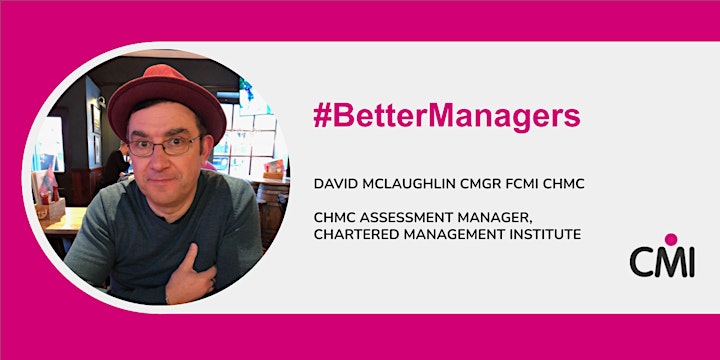 David McLaughlin CMgr FCMI ChMC
ChMC Assessment Manager, CMI
I am a professional experienced leadership, management and personal development coach and I am passionate about helping individuals and teams develop and achieve their full potential by bringing training to life and making it real.
With a wealth of experience in life and learning and development at all levels including senior management, I am able to utilise my skills and knowledge to help organisations and individuals develop and grow. I have an engaging and empowering style, which is reflected in the way I work. I am a dedicated people person and pride myself on getting the best out of teams and individuals.
I have been involved in distance learning since the mid 1990s and represented the UK in trans European education projects. Recently I delivered a highly successful series of development webinars for CMI.
My work ethos is based on the values of honesty, integrity, empathy, open clear communication and a willingness to continue to learn everyday. I am a Chartered Manager, Chartered Management Consultant and Fellow of the Chartered Management Institute.
In the meantime…
If you're a member of CMI, or subscribe to our content, don't forget you can find thousands of exclusive, practical development resources in ManagementDirect. Log in here and search for a topic to get started.
Not yet subscribed?
From free newsletters packed with the latest trends, insights and tips for managers and leaders, to the full suite of invaluable tools and benefits that come with being a CMI member, we've got something for everyone. Visit our website to find out more.