Description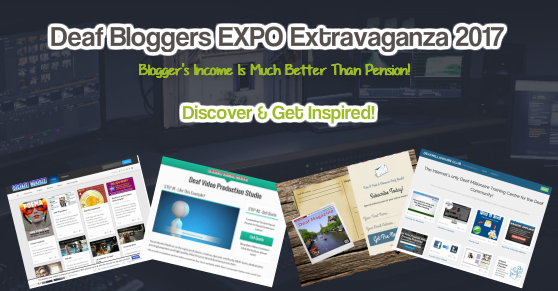 Deaf Events Diary is proud to present....
The world's first Deaf Blogger's EXPO Extravaganza 2017, the first such event ever to be filled with the buzz of gigantic activities as people flock together to meet the true deaf leaders of the blogging & website business in the internet marketing industry.
Attending the Deaf Blogger's EXPO Extravaganza means your pulse will keep on racing as you explore the latest innovation and creations by the WORLD deaf bloggers, entrepreneurs and business owners, and all that right at your fingertips.
This packed filled event includes a recognition award ceremony, where the winners will be nominated by the public.
There will be entertainments to show that deaf people have amazing talent too, just watch what they can do!
Furthermore 'listening' to those keynote speakers, attending the workshops and discover & learn from the exhibitions will guide you to become successful too and much more!
Program 11am - 11pm - Thursday 9th February 2016
Blogger, Start Up, Business and Entrepreneur's' Stalls & Exhibitions: 11am - 4pm
Introduction To Start-Ups Workshop - 5pm to 7pm: Lead by Jackie Knight
Networking, Ice Breaker & Buffet - 7.30 - 10pm
Program
11am - 11pm - Friday 10th February 2016
Blogger, Start Up, Business and Entrepreneur's' Stalls & Exhibitions: 11am - 4pm
(Award Ceremony Nomination Voting Closed at 4pm)
Bloggers Dream Workshop - 5pm to 7pm: Lead by Jackie Knight
Keynote Speakers, Award Presentation & Buffet 7.30 - 10pm
The Next Info Up To Date Is 5th November 2016