Deaf Start Ups PRO Version 5

Sunday, October 30, 2016 from 10:00 AM to 5:00 PM (GMT)
Event Details
What would YOU do if I told YOU that I can train YOU to build a 4-Figure Internet business that will pay YOU directly every single month?

 
You would BEAT the door down and jump right in, wouldn't you?…..Now read on!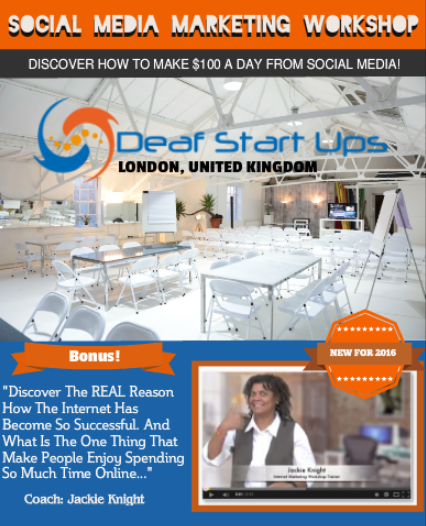 This workshop is suitable for anyone  - it doesn't matter who you are, whether you are deaf, hearing, hard up students, unemployed, employed, single parents, grandparents or you are someone who's looking to break into the Internet Marketing industry.
My methods taught in the workshop will work for anyone who has the desire, the determination and the passion to achieve whatever they want in life.
There is no such a thing as 'get rich quick' such as becoming rich overnight, this is misleading and downright bullsh*t. However, if you are taught correctly by someone with 14 years of experience, then you will be taking a short cut to achieve your dreams.
Remember, that the ultimate winners are those who has taken action, and we are not interested in someone as in 'Ms Know It All' giving it; blah this, blah that.  We want someone with a open mind and the ones who will actually roll up their sleeves and act on it! 
Read more about why you should partake in my workshop!
Full Day Workshop - Simple & winning strategies to get you to established yourself as someone whose online presence will be hugely successful and lucrative. 
9.45am Arrival - Tea, Coffee, Water and  Croissant Will Be Served
10am - 11.15am -  Module 1 - Step By Step: 'How To Make Money During The Duration Of the This Workshop!'
11.15am - 11.30am - Tea, Coffee, Water & Biscuit Break
11.30am - 12.45pm - Module 2 - Step by Step: 'How To Build An Easy To Set Up Website/Brand Online'
12.45pm 1.30pm - Savoury & Sweet Buffet Lunch, Tea, Coffee and Water Will Be Served
1.30pm - 2.45pm - Module 3 - Step by Step 'How To Implement Multiple Streams of Income'
2.45pm - 3pm - Tea, Coffee, Water & Biscuit Break
3pm - 4.30pm - Module 4 - Step By Step: 'How To Established Yourself As A Marketer & A Social Media Ninja Warrior'
4.30pm - 5pm - Questions & Answers, Breakout Session
When & Where

Media Hub Village
Private Location
EC1N 8JY London
United Kingdom


Sunday, October 30, 2016 from 10:00 AM to 5:00 PM (GMT)
Add to my calendar
Organizer
We are proud to have delivered a ground-breaking and fabulous adventures, events and workshops for everyone in the deaf community worldwide and we have just celebrated our 4th birthday!
 
We will continue to bring you breathtakingly great adventures, events and workshops, and if you ever want to get the announcements of any early bird discounts or free offers then please join our mailing list!