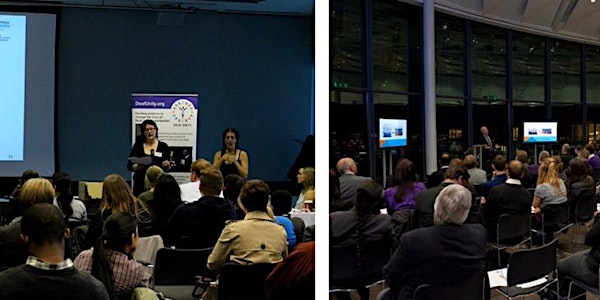 Deaf Futures Conference 2020
An online, accessible event for the Deaf Community and it's stakeholders - not another round table, this conf is a practical call to action
About this event
Shining a light on Employment, Education and Wellbeing in the Deaf Community
"The Deaf Community needs inspiration and aspiration from within and without to make meaningful and long-lasting change", according to Abdi Gas, founder of Deaf Unity, a leading Deaf charity.
Deaf pupils in England are struggling 'at every stage of their education' according to the National Deaf Children's Society (NDCS). Furthermore, government reporting in 2017 found that only '65% of working age deaf people are in employment, compared to 79% of the general population'. The true impact of these statistics on Deaf people's wellbeing is clear; with mental health concerns affecting 'up to 50%, compared to 35% for the general population.' Something needs to be done.
This is where the Deaf Future Conference 2020 comes in.
Supported by the Mayor of London, this conference is the fourth instalment of a growing movement for Deaf Unity, shedding light on challenges felt by the Community and bringing together experts and community leaders to sketch a path to meaningful change.
The focus of the Deaf Future Conference falls on creating aspiration around three core topics: Employment, Education and Wellbeing. The day will be filled with practical sessions that will be of keen interest to those looking to further their education or teaching practice, gain or change employment, as well as those who share our concern for the wellbeing of the Deaf Community.
If you would like to learn from the discussions and practical advice, or contribute to this movement, please visit Deaf Unity and book your ticket to this exciting event.
Deaf Future Conference 2020 Agenda
Supported by the Mayor of London, the event will be held online on 30th September 2020 (TBC)
On the day, there will be:
Workshops facilitated by experts in:
CV Clinic - sign up for a one-to-one session with an expert to revamp your CV to compete with the best in your field.
We are also inviting organisations, including deaf and hearing organisations, to sponsor and exhibit at this event.
Thanks to our current sponsors: