Description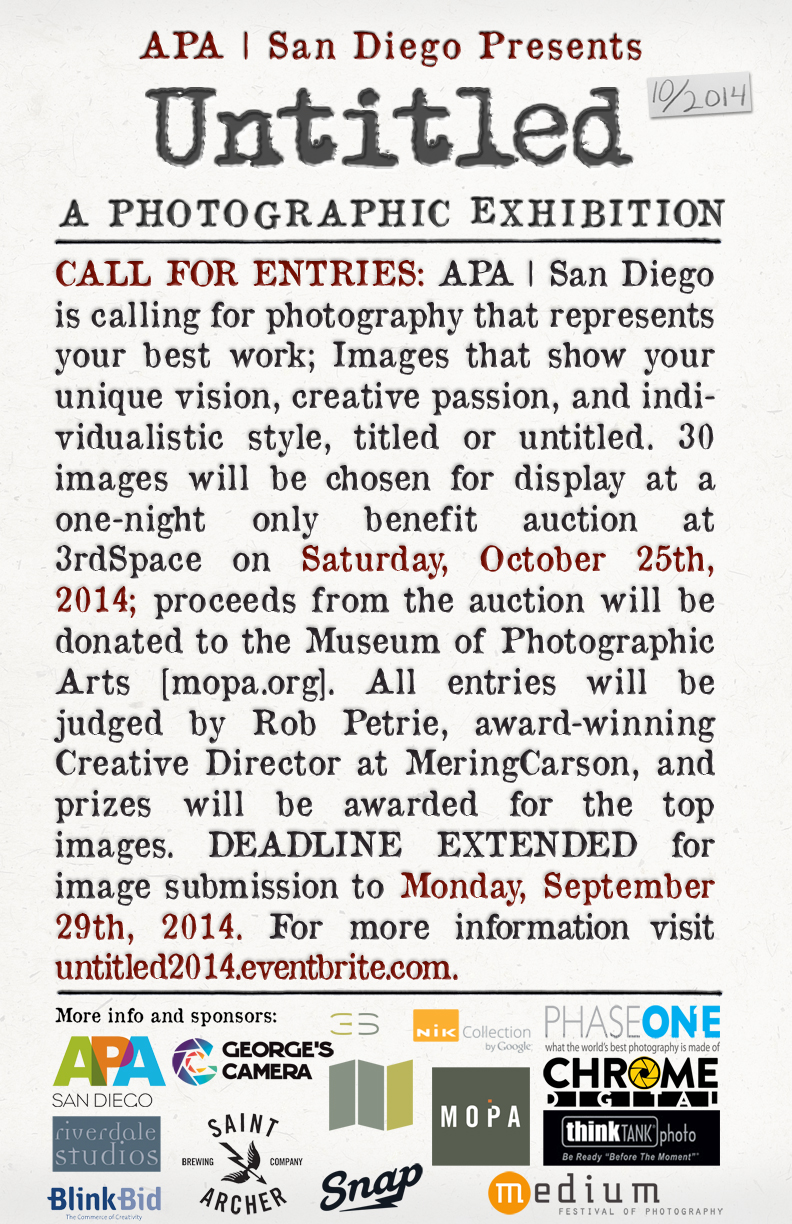 TO ENTER:

Purchase your entry above. Once you have purchased your entry, please email your image/s sized to the specs below to untitled.photo.contest@gmail.com by the contest deadline.

SPECS: All images must be submitted in jpeg format, no larger than 1,000 pixels for either dimension at 72 dpi.


Please be sure to name your files as shown here:
Last Name_First Name_Image Title_Number of images.jpg
e.g. Smith_John_Untitled_01of05.jpg
Please send any questions to director@apasd.org
The competition is limited to five entries per person. Hanging hardware will be provided by APA | San Diego. Print size requirements will be announced after final selections for the show have been made.
---
ENTER FOR YOUR CHANCE TO WIN ONE OF THESE GREAT PRIZE PACKAGES:
1st Place:
FUJI FILM X_M1 DIGITAL CAMERA with 16-50mm lens and prize package ARV $650
THINKTANK Airport Essentials Camera Backpack ARV $184.75
GEORGE'S CAMERA Rental Gift Certificate ARV $100

SNAP APPAREL Gift Certificate ARV $60
CHROME DIGITAL Gift Certificate ARV $50
2nd Place:
CAPTURE ONE PRO 7 SOFTWARE by Phase One ARV $299
NIK COLLECTION SOFTWARE by Google ARV $149
RIVERDALE STUDIOS Full day studio rental (up to 10 hours).
Liability insurance required. ARV $500
THINKTANK Retrospective 30 ARV $194.75
GEORGE'S CAMERA Rental Gift Certificate ARV $75
CHROME DIGITAL Gift Certificate ARV $25
3rd Place:
PHOTOGRAPHY BOOK LIBRARY ARV $300
including signed copies of:
Behind Photographs (Slipcase and Second Edition) by Tim Mantoani
Isolated Gesture by Bil Zelman
Identity: A Photographic Meditation from the Inside Out by Stewart Cohen
Naked Ambition by Michael Grecco
Navigating By Light by Philipp Scholz Rittermann
The Long Road by Chris Wimpey
Seattle 100: Portrait of a City (Voices that Matter) by Chase Jarvis
Surfing Photographs from the Seventies Taken by Jeff Divine

THINKTANK Retrospective 7 ARV $162.75
GEORGE'S CAMERA Rental Gift Certificate ARV $50
CHROME DIGITAL Gift Certificate ARV $25
People's Choice:
MUSEUM of PHOTOGRAPHIC ARTS A dual/family membership, 4 visitor passes, and a MOPA gift bag ARV $130
THINKTANK SubUrban Disguise 5 ARV $49.75
CHROME DIGITAL Gift Certificate ARV $25
---
MEET OUR JUDGE:
Rob Petrie, Creative Director/ Art Director

"To exchange ideas with the hope of influencing millions of people is an awesome feeling and just plain fun."


A SoCal boy through and through, Rob has been basking in the warmth of his marketing success for 20 years. Claiming awards in every major show and publication Rob has made it a personal mission to bring visually differentiating ideas and unique brand design to the forefront of all his clients communications. Before coming to MeringCarson, Rob spent time at DiZinno Thompson, Young and Rubicam and NYCA, where his eye for detail and awe-inspiring aesthetic have lent themselves to the success of clients like Lincoln/Mercury, Jaguar, Sony, Mattel, Visit California, San Diego Tourism Authority and the NFL.


Rob holds a BFA in design from California State University, Fullerton and, when he isn't watching
The Godfather
or The Shawshank Redemption over and over again, he is hanging with his wife and two kids at the beach.
---

Thanks to our generous sponsors:


3rd Space: Co-Working & Club For The Creative