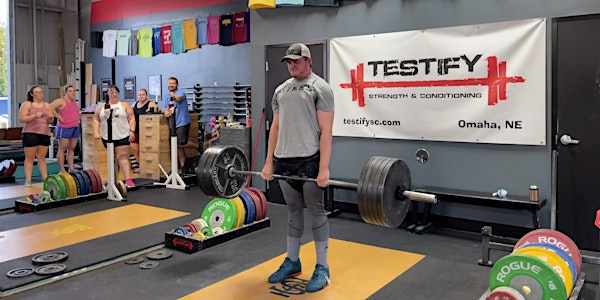 Deadapalooza! The 2023 Annual Testify Deadlift Festival
Join us on Friday, 08/25/23, for an evening of heavy deadlifts at the annual Testify Deadlift Festival!
By Testify Strength & Conditioning
Date and time
Starts on Friday, August 25 · 5pm CDT
Location
Testify Strength & Conditioning 14505 Grover Street #117 Omaha, NE 68144
About this event
The annual Testify Deadlift Festival is a strength meet wherein the only contested lift is - you guessed it - the deadlift. There are no weight classes for this meet, but there is a weigh-in for each lifter, and the weigh-in period is on Friday, 08/25/23, from 5:00 a.m. - 9:30 a.m. and 4:00 p.m. - 5:00 p.m.
There will be one bar (possibly multiple bars if numbers dictate), and the meet will be conducted in a "rising bar" format, so the weight on the bar only goes up! A lifter can attempt as many of the predetermined loads (see below) as he likes as the weight on the bar continues to climb throughout the evening, but a lifter can only attempt a given weight once. Each lifter may also attempt a final weight of his choice (this weight must be a multiple of 5 lb and marks the lifter's final attempt regardless of the outcome). A lifter stops lifting voluntarily, after his final chosen weight, or after two missed attempts, whichever occurs first.
Loads
105, 115, 125, 135, 145, 155, 165, 175, 185, 195,
205, 215, 225, 240, 255, 270, 285, 300, 315,
345, 375, 405, . . . (weight on bar increases in 30 lb increments after 315 lb)
There will be awards in both male and female divisions for heaviest weight lifted, best Wilks score (all ages), and best Wilks-McCulloch (masters) score.
You may consult the rules found here for the deadlift movement standards. PLEASE NOTE the requirement for long socks: "Long socks that extend to just below the knee and completely cover the shin and calf must be worn in the deadlift to allow the bar to slide against the legs and to avoid blood from the competitors from contacting the bar."
Registration runs until 08/24/23, and there are regular and late registration rates, so register soon!
FAQs
Are singlets required?
Nope.
Are sumo deadlifts allowed at the meet?
No, they are not. You can take as wide of a stance as you like, but your feet must be inside of your hands.
Are lifting straps allowed?
Nope.
Is this event run like a typical strengthlifting or powerlifting meet?
Heck no. If you're looking for a rigid and formal meet structure, this ain't it, folks. Music will be playing, costumes are encouraged, and the judges may be eating and drinking while performing their duties.
What's the refund policy?
All sales are final; refunds will not be provided.
Is it OK if the name on my ticket or registration doesn't match the person who attends and competes?
Registration should match the name of the participant. Please contact phil.meggers@testifysc.com if there are extenuating circumstances that make this impossible.