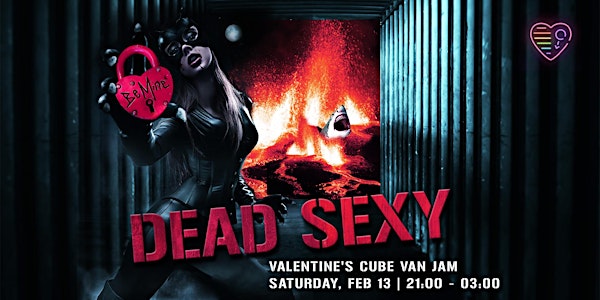 Dead Sexy: Covid Compliant Valentine's Cube Van Ja
Locked down and hungry for love. We might have claws and we might bite. Wanna dance?
Refund Policy
Contact the organizer to request a refund.
Eventbrite's fee is nonrefundable.
About this event
This event is RESTRICTED to 420DanceJam members
Donation (sliding scale): $25-40
ARTISTS:
21:00 - 23:00 Phanieste
23:00 - 01:00 Lady K
01:00 – 03:00 Re#sister
Dead Sexy. Wanna be our bloody Valentine?
We're locked down. Restless in a cage. But it's our cage. You ready to love fiercely? We are and we can. Let's dance.
This Valentine's Drive-In Cube Van Jam will be hot, bumping, and unlike anything that you've experienced before.
This is a technical Jam and requires the dancers to manage some interesting logistics so we've listed out the items for clarity. This event takes significant thought and planning and risk for the organizers. Please read thoroughly. Here's a breakdown:
PROVINCIAL REGULATIONS:
In compliance with BC Health Regulations, we are limiting the number of vehicles. In order to remain within the interpersonal contact orders, please limit Cube Van pods to 4 people maximum. Total number of vehicles (cube vans and shuttle vehicles) must remain less than 50.
REQUIREMENTS:
1. Cube van – individuals or small pods (MAX 4)
2. Decorate and design for warmth, comfort and beauty. It's your cage. Maybe bring a generator. Maybe bring external heat sources. Maybe bring things to warm beverages. Figure out how to survive and thrive.
3. Wear a mask whenever you are not in your cage.
4. Do not step on the Lava. Regulations are that attendees for Drive-In events must remain in their vehicles except for bathroom or admin procedures such as sign in.
5. Expect the police. The authorities will be told in advance of our event. People may also report us. Be prepared. Own your cage. We expect savageness.
OPTIONS FOR CUBE VANS
1. U-haul, Budget, National – call them for details
2. We checked with U-Haul and they have various truck lengths with rentals starting at around $30/day + mileage ($1.41/km) + insurance+fuel.
3. The guy on McPhee, which has the most U-Haul trucks, is really slow. Consider a 2 day rental or rent elsewhere if time is essential for you.
4. The truck rentals are around $100/day all in. Divide it with your pod.
PROCESS
1. The location will be announced on Friday. It is approximately 15 mins from Courtenay.
2. The cube van and the shuttle vehicle should arrive around 7:30-8 pm. It takes time for set up and to be ready for a 9 pm start.
3. When you arrive, you will see a central set up for the trucks. Shuttle vehicles must park at the periphery.
4. Approach slowly until one of the organizers sees you.
5. We will assist in the parking process. We'll mask up and back up the truck for you into the location for the event.
6. The Cube Vans will be arranged in a circular fashion with all the rear entrances open and facing each other. Centrally placed in the arrangement will be the speakers and gas fire pits. Black lights will be radiating from the centre filling the space to show off your beautiful colors.
7. You will also be given a sign-in form for your pod. Please have all members of your pod fill out contact tracing form: email, phone number, name and FB handle and have photo I.D. available to exchange for headsets. I.D. is MANDATORY
8. One member of your pod will exchange the sign-in material for headsets.
9. Please wear a mask at all times when not in your cubes.
10. A reminder that unless utilizing the bathrooms, participants must remain in their cube vans.
PHILOSOPHY
1. This Boutique Outdoor Dance Experience (BODE) has sustainability and collaboration in mind.
2. We thank the artists and dancers for providing a beautiful and safe space where we can celebrate music and fellowship during this challenging time.
3. Music is medicine. We are all responsible for safety and security of our community. Creating a protected space for one another to allow us to dance another day is essential.
4. Move well. Rest well. Hydrate well. Nourish well.
5. This leave-no-trace event. Please pack out what you pack in.
6. Please be mindful of what and with who you're sharing to ensure that all we take away from the event are beautiful memories.
7. Please ensure safe passage to and from the event. As part of our harm reduction strategy, resting in the parking area is possible. The location technically does not allow overnight parking, however, there should be sufficient time after the event to rest allowing a departure before dusk.
8. We will also have some Naloxone kits however, risk wise, please keep things organic and taxable. Alcohol is not a focus of these events. These events are remote. Not an ideal time to experiment with untested substances.
9. We hope that the intimacy of the experience will be matched by Covid-19 conscientiousness.
HOW TO BE PART OF THIS:
1. Attendees MUST be a member of the 420DanceJam FB Group
2. Bring a beautiful intention to this Cost Sharing Experience (all proceeds to artists, designers, rentals and supplies)
3. Individually register through the Eventbrite by a cost-sharing donation ($25-40). For contact tracing purposes, we have limited the ticket purchases to a single order per transaction.
4. Headsets will be distributed in exchange for picture ID
5. Unless the event is cancelled, tickets are non-refundable
6. If you are unable to attend, tickets must be resold tickets in the 420DanceJam group page
7. Dance like no one and everyone's watching
Infrastructure
1. 6 x 100 Watt Black light flood lights
2. Sanitation Gel and available face masks
3. Hand Washing stations (Soap and Water)
4. Water to refill your bottles
5. Silent Disco Headsets
6. Squareo Tech (4 Bose S1 Speakers linked to headsets for ambient sounds in stereo)
7. 1 Portable outhouse
ESSENTIALS:
1. Face Mask or beautiful face coverings
2. Hand Sanitizer
3. Headlamp
4. Nutrition and hydration
SUGGESTED ITEMS:
1. External heat source
2. Something available to warm water
3. Costumes (weather appropriate with bountiful splashes of NEON and bad ass sexy)
4. Good footwear
5. Food and beverages (glass is breakable and could we keep alcohol low key?)
6. Fun party lights (Decorate your cubes!)
7. Personal first aid kit
8. Folding chairs (or have a couch...could be bad ass)
9. Blankets and layered clothing appropriate for weather conditions
10. Super Awesome Attitude
11. Killer Dance Moves
This event concludes at 3 am. Self-sufficiency is required. Have what you need to be comfortable in all ways.