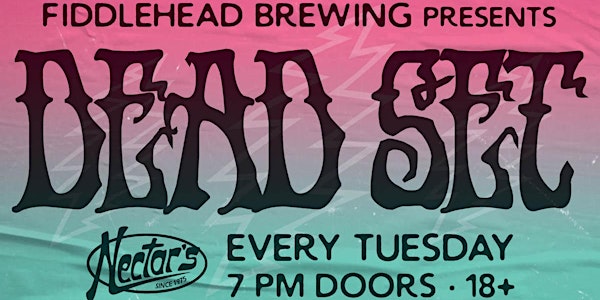 Dead Set Tuesday - June 28th!
Presented By Fiddlehead Brewing
Location
Nectar's
188 Main Street
Burlington, VT 05401
Join us for a fresh edition of the legendary Dead Set Tuesday, featuring Zach Nugent & presented by Fiddlehead Brewing!!
About this event
Our famous Dead Set Tuesday employs an "Everyone Orchestra" approach to creating a one-of-a-kind Grateful Dead tribute that features local luminaries and plenty of special guests. Dead Set doesn't seek to re-create the Dead's shows to a "T": it is more of a celebration of the extensive repertoire of The Grateful Dead, performed in their own unique fashion but with unerring respect for that unmistakable Grateful Dead sound.
Dead Set was born from the weekly Tuesday night Grateful Dead jam session at Club Metronome above the legendary Nectar's in Burlington Vermont. Each performance is carefully crafted, but embraces change and the possibilities created through collaboration with other artists who may be in town, allowing for those for those "right place / right time" instances of sheer magic.