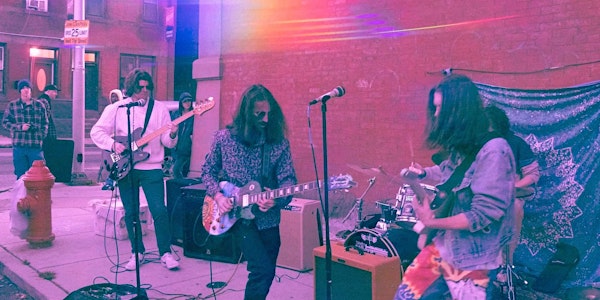 "Dead of Winter" wknd w/ Steal Your Face + Riko and Whaler & Cheaky Vandals
2 nights Steal Your Face (Fri/Sat) Riko and Whaler Collective (Sat)
When and where
Location
The Lords New Church 1725 Huntingdon Road Bryn Athyn, PA 19006
Refund Policy
Contact the organizer to request a refund.
Eventbrite's fee is nonrefundable.
About this event
Special weekend for our loyal Dead Fans.
LIMITED TICKETS AVAILABLE, ACT NOW!
Join us for our "Dead of Winter" weekend-long extravaganza as Steal Your Face plays 2 NIGHT indoors at the LNC on Friday, January 20th from 8-midnight and then AGAIN Saturday, Jan. 21st, 8-midnight.
Cheaky Vandals will open for SYF from 5:30pm-7:30pm on Friday!
And as an added bonus on Saturday, red-hot Philly band Riko and Whaler Collective will open from 5:30-7:30pm to keep the party rolling!
This event is going to grow, but for now we know there will be vendors, food for purchase, and we are ALWAYS BYOB.
Step out of the cold and get your groove on for 2 days of fun and dancing with two of the best bands around.
STEAL YOUR FACE
2010 Bucks-Montgomery County Music Award Winner For Best Jamband Steal Your Face has a reputation for high energy, mind blowing, improvisational Rock n Roll. Born from the spirit of Jerry Garcia, Steal Your Face blends the vast library of The Grateful Dead, Bob Dylan, Bob Marley and other classics with thought provoking original music.
paul@stealyourfaceband.com
http://www.StealYourFaceBand.com/
RIKO AND WHALER COLLECTIVE
Instagram @rikoandwhalercollective
Spotify: Riko and Whaler
Website: www.rikoandwhalercollective.com
The Riko and Whaler Collective (RWC) is a band originally from West Chester, PA. RWC prides itself on delivering exciting, high energy performances that entices its audience to become immersed in the melody and groove. Riko and Whaler has gained a following at live shows due to each show being a completely unique experience, with songs taking on energizied and fresh improvisational takes at each performance. RWC blends many genres together such as Jam Band, Psychedelic Rock, Jazz, Funk, and Hard Rock to appeal to music and art appreciators of all sorts. The set lists vary from show to show but often include free flowing and electric improvisational pieces, original songs, and unique covers of bands such as The Grateful Dead, Phish, The Beatles, Pink Floyd, Miles Davis, and many more. Shows often get super psychedelic and spacey as well as funky and groovy, it all depends on the show, the vibe, and the audience. Catch a live show or two and get on the wavelength!
The Riko and Whaler Collective, while being a musical performance group is also an experimental and expansive art collective that connects and promotes artists, creators, and brings creative minds together in order to support and collaborate with each other. It has always been an "if you want in, you are in" approach. Contact us today if you would like to join the team!
CHEAKY VANDALS
Cheaky Vandals are a four piece rock band from in and just outside the Philly city limits. Their music is lively and upbeat with a hint of nostalgic reflection. While their umbrella genre might be rock, they branch out in many different directions while sticking to that signature Cheaky sound. Listen for elements of classic rock, funk, progressive, alternative and even punk and you will find what you seek. While they love to showcase their musicianship and songwriting, when it comes to their live performances they really just want you to dance, head bang, and all around have a good time.