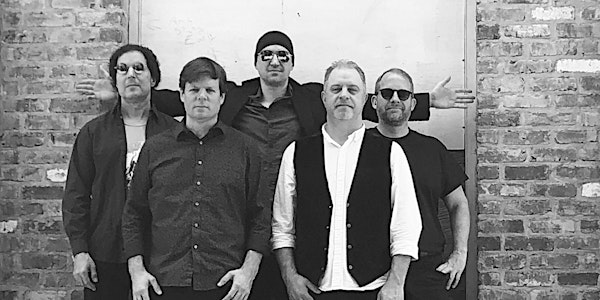 Dead Letter Office: R.E.M. Tribute
UNDER 18 WITH PARENT OR LEGAL GUARDIAN
Performers
Dead Letter Office
Adult Mom
Location
Colony
22 Rock City Road
Woodstock, NY 12498
Dead Letter Office performs the music of R.E.M. with Adult Mom opening at Colony in Woodstock NY
About this event
Dead Letter Office
Dead Letter Office have dedicated themselves to faithfully reproducing the music and energy of a live R.E.M. show. Since 2014, Dead Letter Office has been thrilling audiences throughout the U.S. & Canada, providing a show that's been sorely missed since R.E.M called it quits.
Dead Letter Office not only performs R.E.M.'s major hits but also dives deep into their catalog to please the die-hard fans!
Dead Letter Office has also been joined onstage by members of R.E.M.!! Mike Mills joined them on stage in Buffalo, NY for Man on the Moon. Peter Buck joined them onstage at Clusterfest in San Francisco, CA (in front of 8000 people) for Sitting Still and So. Central Rain!
"I think we can unequivocally say that 'You are the Best [R.E.M. tribute]'" - Adam Scott, actor (Parks and Recreation), and uber R.E.M. fan
"You guys were terrific, nothing short of mesmerizing. I'll be first in line for your return show!!" – Patton Biddle, R.E.M.'s sound man in early days
"[An] excellent R.E.M. tribute band." – Rob Sheffield, Contributing Writer, Rolling Stone
"[The] greatest R.E.M. tribute band is called Dead Letter Office, and they rule. If they come to your town, go." – Patrick Hosken, @MTVNews and @Billboard
Based out of Western New York, Dead Letter Office are now booking shows (including festivals, concert series, private parties, etc.) worldwide!
http://www.remtribute.net/
https://www.facebook.com/DeadLetterOfficeATributetoREM/
https://twitter.com/REMtributeDLO
https://www.instagram.com/deadletterofficeremtribute/
…......................................................................................................................................
Adult Mom
On Driver, Adult Mom's third studio release, Stevie Knipe delves into the emotional space just beyond a coming-of-age, where the bills start to pile up and memories of college dorms are closer than those of high school parking lots. Like so many other twenty-somethings, Adult Mom's third LP seeks to answer the age old question: what now?
With an actualized sound, Adult Mom has arrived to soundtrack the queer rom-com they've been dreaming of since 2015. Driver incorporates an expert weaving of sonic textures ranging from synths and shakers to '00s-inspired guitar tones which convey a loving attention to detail. Songs like "Checking Up" act as 2020's answer to "Linger" by the Cranberries with scintillating guitar tones and laments over lost loves stored in I-phone notes.
Stevie Knipe's lyrics radiate an unmistakable honesty. Knipe's lyrics have always relied on a level of wit and a sense of humor that is sorely lacking within Indie. Lyrics like, "And the only thing that I've done/ this month is drink beer and masturbate/ and ignore phone calls from you" on "Sober" are hilarious, and exist in the exact emotional beat between a laugh and a sob. Knipe is unafraid to explore the nuances of any situation. The mellow, dreamy, guitar riffs on "Dancing" exist in stark contrast to the lyrical content of the song, which detail a car crash. The motif of a car crash and subsequent image of love as a car crash appears several times throughout the record, starting with the first track "passenger". The title of the record itself, "Driver" infers the transfer of power from passenger to driver, and the ability to take control of one's own life. The steady syncopating drum-beat of "Frost" mirrors the heartbeat that Knipe doubts in "Breathing." Ultimately, "Driver" is a beautiful meditation on the pitfalls of interiority, and what it takes to finally make the leap into full, fearless participation as we all grope around for the illusion of certainty.
On the final track Knipe sings, "I'm aware I might be too good at being alone/ I might be too good at closing myself off/ No one can let me out but myself," and it's true. This is the perfect record for anyone who needs the push to take a deep breath and realize that they know where they're going.