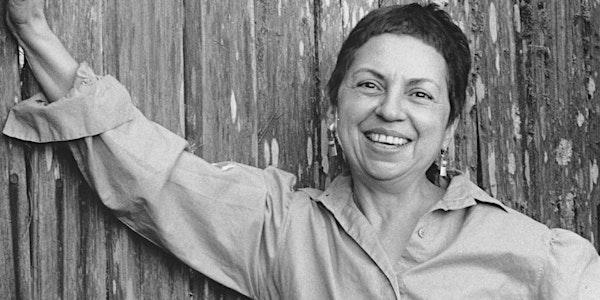 Dead Ladies Show 26
We're back! We've got new ladies to tell you about! And we're doing it outdoors! Feat. Sharon Dodua Otoo, Nadire Biskin & Katy Derbyshire.
When and where
Location
ACUD MACHT NEU Veteranenstraße 21 10119 Berlin Germany
Refund Policy
Refunds up to 1 day before event
About this event
The DEAD LADIES SHOW is a series of entertaining and inspiring presentations on women who achieved amazing things against all odds. Each show hosts three passionate cheerleaders of too-oft forgotten women, inviting its loyal audience into a sexy séance (of sorts) celebrating these impressive icons, turbulent lives, and deathless legacies.
Join our guest presenters, the awesome writers SHARON DODUA OTOO and NADIRE BISKIN, along with old stalwart KATY DERBYSHIRE, to learn about three fascinating females who did their own thing. All held together by our prodigious podcast producer SUSAN STONE. There'll be a royal rebel against colonialist rule, a woman who rethought the binary and the borderland, and a lady who was seriously into bees. We'll be rocking the ACUD courtyard as the sun goes down, celebrating lives lived to great effect.
Presented in a messy mixture of English and German. €8 or €5 reduced entry. Generously supported by the Berliner Senat. Doors open 8 pm – come on time to get a good seat!
We have limited space, so please book in advance via Eventbrite. 3G entry only – geimpft, genesen, getestet. In the event of rain, we'll move indoors to the ACUD Studio, so please bring a mask to use when you're not at your seat.
***************************************************************************
YAA ASANTEWAA led the 1900 Ashanti war against British colonialism in present-day Ghana. Born in 1840, she was a skilled farmer and mother, before ascending matrilineally to the title of Queen Mother in the 1880s. That made her a key advisor and king-maker. When the British governor demanded the kingdom's emblem of power, the Golden Stool, she encouraged the Ashanti government to fight back through a powerful speech, and was chosen to head an army of 5000 at the age of sixty. Though she was captured and died in exile, and the war was lost, her mortal remains were returned home for a royal burial. She lives on in many imaginations today, especially in Ghana.
GLORIA ANZALDÚA was an American scholar of Chicana cultural theory, feminist theory, and queer theory. Born in the Mexico-Texas border region, she thought deeply about marginalization and the in-between. She began her working life as a schoolteacher and went on to live from her writing and academic work. Her ideas often challenged binary notions – in language, identity, sexuality – and the status quo of the movements she was part of. She spoke of herself as a "Chicana, tejana, working-class, dyke-feminist poet, writer and theorist". Her collection of figurines, masks, rattles, candles, and other ephemera used as altar objects is held at the University of California, Santa Cruz.
EVA CRANE was a British expert on bees and beekeeping. Her education took her from a southeast London grammar school to a PhD in nuclear physics, which she taught at Sheffield University. Having been given a beehive as a wedding present in 1942, she quickly shifted her attention from atoms to apiculture. She founded the Bee Research Association and edited both the Journal of Apicultural Research and Bee World, while travelling to sixty countries to investigate local bees and the long history of human honey cultivation. To the delight of many translators, she was also general editor of ten multilingual dictionaries of beekeeping terms.