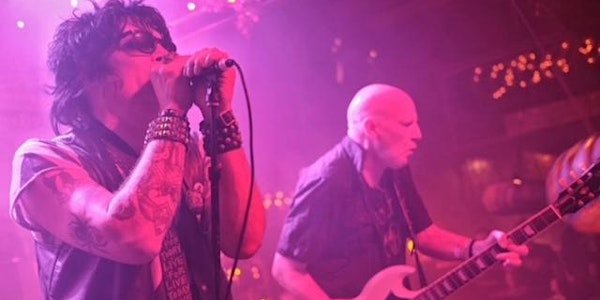 DEAD BOYS, THE BRIEFS, SUZI MOON at the LYRIC ROOM
TOM JOHNSON PRODUCTIONS presents
Location
Lyric Room
231 N Broadway
Green Bay , WI 54303
About this event
TOM & TOM present
DEAD BOYS, THE BRIEFS, SUZI MOON at the LYRIC ROOM on OCTOBER 13th!
Tickets (on sale June 9th): $25 ADV | $32 DOS - available to purchase at Keggers Bar, Exclusive Company - Green Bay, Rock n Roll Land, at the door or on Eventbrite
$60 VIP TABLES - includes 1 private table, 2 stools, 4 free beer/seltzers (this is an add-on item, all guests must have GA tickets to enter.
Doors 7:30pm | Show 8:30pm
21+ event
ABOUT THE BANDS -
The Dead Boys are an American punk rock band from Cleveland, Ohio, United States. They were formed by vocalist Stiv Bators, rhythm guitarist Jimmy Zero, bassist Jeff Magnum, lead guitarist Cheetah Chrome, and drummer Johnny Blitz in 1975.
THE BRIEFS - Their '77-style pop punk is loud, raucous and fierce, yet cohesive and hooky and hilarious. The Briefs are like a team of Chinese acrobats falling down the stairs on purpose. And when I say "pop" I mean popular in the broadest sense possible. The fifteen year-old mall hottie is a fan, but so is the 40 year-old stalwart with the pristine Undertones collection. Sure The Briefs wear their influences on their sleeve – Adverts, Buzzcocks, Weirdos to name just a few — but they cop to them like junkies caught tying off in the alley with a skinny tie. They can't help it. It's in their blood. Listen you'll understand. The groove is familiar but they've got a sound that's all their own and uniquely unique. Infectious? Once they get in your ear, there's no getting them out. The Briefs are mother fucking nerve agents for a diseased life.
LISTEN TO THE BRIEFS on SPOTIFY HERE. https://spoti.fi/3m7i8Zp
SUZI MOON - Suzi Moon's effortless channeling of classic '77 punk rock spirit with a modern twist continues to evolve and grow. This second twelve inch with Pirates Press Records picks up where her debut left off sold out before street date and the likes of Iggy Pop singing her praises on the BBC!
LISTEN TO SUZI MOON on SPOTIFY HERE. https://spoti.fi/3xm3Bj3