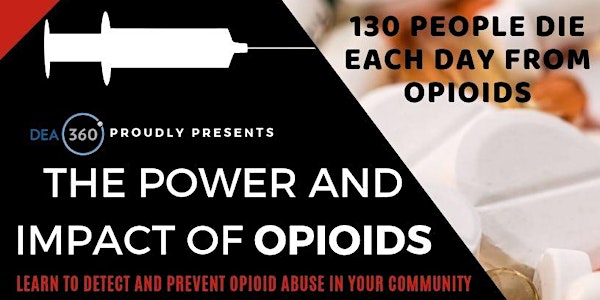 DEA 360 Opioid Awareness Summit: The Power and Impact of Opioids
Event Information
Location
Ronald Reagan Presidential Library and Museum
40 Presidential Drive
Simi Valley, CA 93065
Description
DEA 360 Strategy proudly presents, "The Power and Impact of Opioids" in honor of Red Ribbon Week at the Ronald Reagan Presidential Library and Museum. Together, we continue the fight against the opioid crisis and invite you to participate in the DEA 360 Opioid Awareness Event on October 22, 2019.
Participants can expect to learn a wide variety of information related to this national issue and how it is affecting our communities. The event features dynamic presentations given by skilled, motivational speakers with real-life experience and poignant stories of consequence. We hope to see you there!

When: October 22, 2019, from 7 PM to 9 PM. Doors open at 6 PM.
Where: Ronald Reagan Presidential Library and Museum: 40 Presidential Drive, Simi Valley, CA 93065

Keynote Speakers:

Judge Enrique Camarena Jr., son of fallen DEA Special Agent Kiki Camarena, whose death led to the creation of the Red Ribbon program. DEA Agent Enrique "Kiki" Camarena was kidnapped, tortured and murdered for his work in the fight against illegal drugs.
Becky Savage, president of 525 Foundation, shares her deeply personal story of turning grief into action after losing two sons to accidental opioid overdoses in the same night.
Brandon Novak catapulted to stardom at a young age as a professional skateboarder, traveling the world with the likes of Tony Hawk, Bucky Lasek, and Bam Margera. Brandon was the first pro skater to ever be endorsed by Gatorade at the age of just 15. Brandon also battled heroin addiction for more than twenty years, eventually ending up homeless on the streets of Baltimore. Now, with nearly four years sober, Brandon has gone on to author the New York Times bestselling memoir, Dreamseller, and he travels the country speaking on his inspirational story of recovery.
FREE event. Families welcome.
First 500 to register receive DEA 360 commemorative coin.
For more information: Jena.L.Fellenzer@usdoj.gov or 213.621.6948.
Date and time
Location
Ronald Reagan Presidential Library and Museum
40 Presidential Drive
Simi Valley, CA 93065