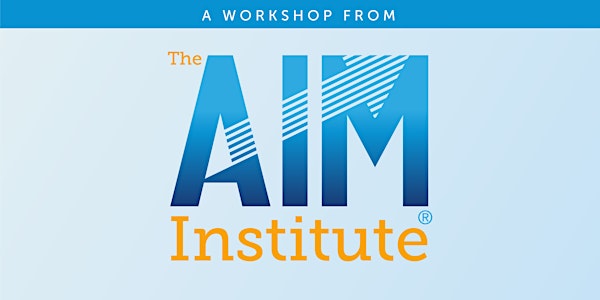 De-risking Projects Virtual Workshop October 27, 2022
Find out how to de-risk your projects to streamline for big success or to quickly stop a project to make room for your next big idea.
Refund Policy
Contact the organizer to request a refund.
Eventbrite's fee is nonrefundable.
About this event
De-Risking Projects Virtual Workshop
This is the most recent offering from The AIM Institute, and was developed after watching large B2B companies squander millions of dollars needlessly on "risky" projects. In just one morning, you'll learn a radically-new approach to slashing risk in your projects—be they high-stakes projects or forays into unfamiliar markets.
BONUS: Our brand-new, all-cloud Minesweeper® 3.0 software will be introduced at this workshop!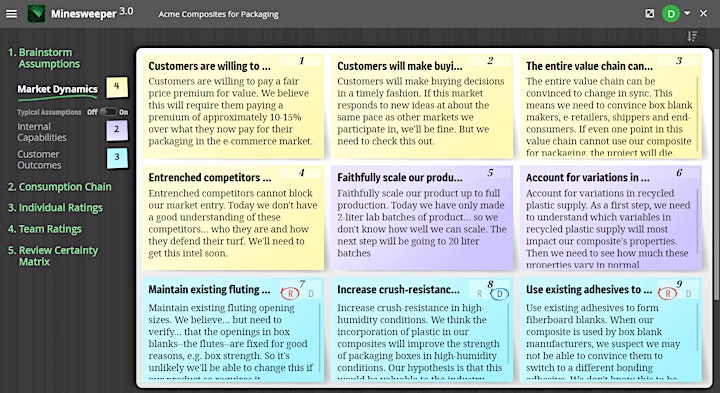 Venue: This workshop will be conducted through a virtual session, with many opportunities to interact with the instructor and classmates. Minesweeper software is a highly-visual tool, and you'll learn how to conduct your own Project De-risking later with teammates… without needing to travel.
What you'll learn: The AIM Institute developed this new training "from the ground up"! You'll learn how to generate assumptions, create a consumption chain, use AIM's brand-new Minesweeper software, properly rate Impact and Certainty, interpret a Minesweeper "Certainty Matrix," categorize 6 "buckets" of risk, build a CheckPoint plan, communicate your de-risking plan to management, and de-risk completely unfamiliar markets. Join us and get on a path to slash risk at your company.
Minesweeper Software: This revolutionary software guides your team through a seamless process of identifying & investigating the key assumptions that your project rests on… and driving each from uncertainty to certainty. Check out this sample of the 2-page report generated by the software… which you can use to update management: Download Sample De-risking Report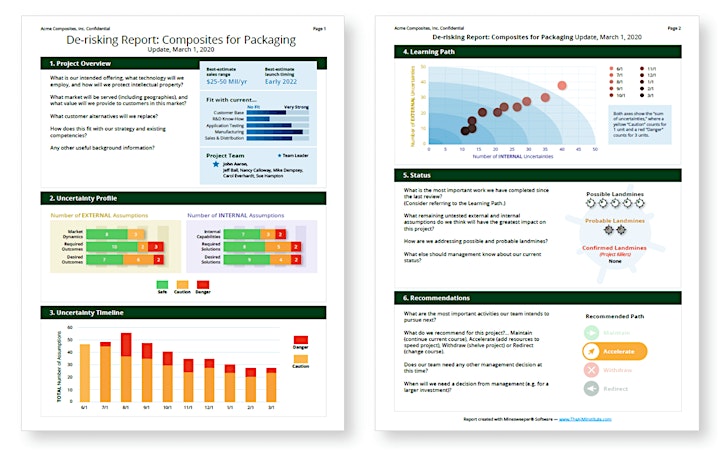 Fee: $195. Includes all program materials, one-month access to Minesweeper 3.0 software and the AIM Client Center. Also includes one-hour of post-workshop AIM coaching at no added cost
Information: For a 5-minute video, white paper, and more information please see our Project De-Risking page. Please contact aimteam@theaiminstitute.com for any questions.