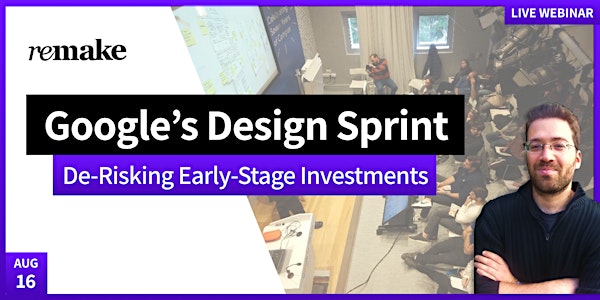 De-Risking Early-Stage Investments With GV's Design Sprints
TUESDAY, AUGUST 16th // 10:00 AM US EASTERN // 15:00 UTC A global Design Sprint webinar for VCs, Angels, and other early-stage investors.
About this event
About this Live Webinar
Even today, 4 years after the best-selling book Sprint came out from the bowls of the war-room at Google Ventures, and after it revolutionized product design at Google, Twitter, Airbnb, Lego, Facebook, Netflix, Slack, and large consulting shops like IDEO, EY, and McKinsey – we keep meeting early-stage investors, angels, and VCs who haven't heard about this 5-Day process, and why it is taking off everywhere in the startup and corporate world.
Instead, many investors continue to pour their money down the drain of unvalidated, unnecessary development efforts. It's why I wrote this article: De-Risking Early-Stage Investments With GV's Design Sprint, and why we're putting together this event.
In many ways – it's no wonder this sea-change in the way thousands of new products are now born has originated at Google's investment arm. It has de-risking and cheap validation as its primary objective. In fact, it's a process that is equal parts Design and Due Diligence. In this global webinar for early-stage investors, we'll explain the unique de-risking value of GV's Design Sprints, why they are the next wave in the Lean Startup revolution. We'll also share our experience with this impressive process.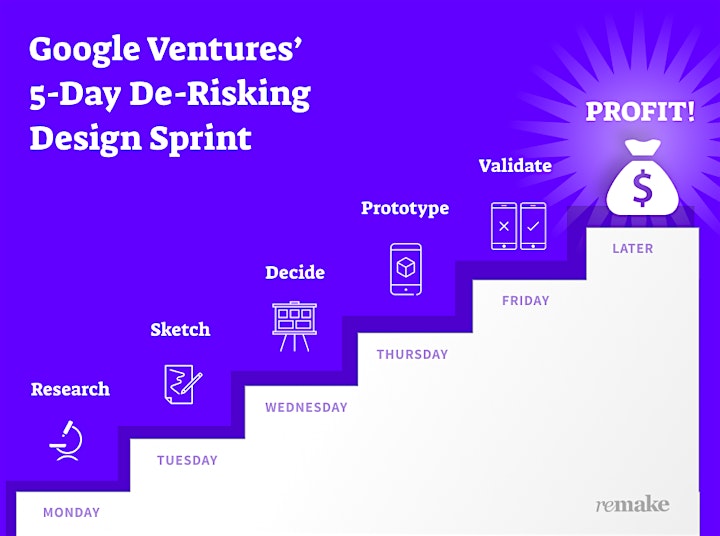 Webinar Agenda
We'll keep it short and simple, with time to answer questions and expand on points of interest. The structure will be roughly:
Intro to Design Sprints
We'll cover the basics of what Sprints are, how they got created, and what if anything is really new about them.
10:00am – 11:00am (US Eastern)
Sprints & Early-Stage Investments
We'll look at how GV, and other funds and company-builders use the Sprint process to involve more subject-matter experts and external talent, to validate before investing large sums, and to get to know entrepreneurs in their natural environment.
11:00am – 12:00pm (US Eastern)
Q&A: Your Questions
WHAT'S A DESIGN SPRINT?
The tech and design worlds are all abuzz again: it started with agile development, then the Lean Startup revolution, and now: Design Sprints. Developed and polished at Google and Google Ventures across 150+ projects, and practiced at Airbnb, Lego, Facebook, Netflix, Slack, and large consulting shops like IDEO, EY, McKinsey, and Deloitte - Design Sprints are a recipe for a design hackathon, which is guaranteed to produce a realistic prototype and user feedback in just 5 days.
Learn More:
WHO SHOULD ATTEND?
VCs & Funds
Institutional Investors
Angel Investors
Angel Group Leaders
Accelerators & Incubators
Non-Profit Innovation Funds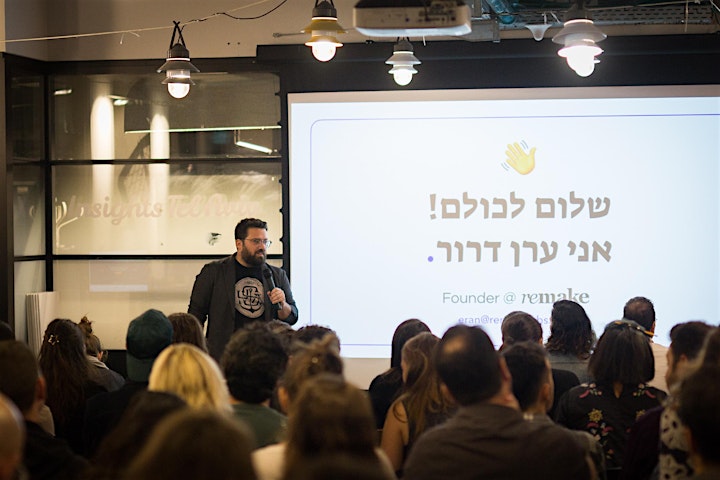 ABOUT THE SPEAKER
Eran Dror was the head of product at SetJam, a smart TV startup from NYC which sold to Motorola in 2012, and then the Head of Product at Blue Label Labs, a leading 64-person product design and development firm in NYC, where he lived and worked for a decade. After implementing Design Sprints across all of Blue Label Labs new projects, he founded Remake Labs as a way to bring Design Sprints to the larger community and to larger problems.