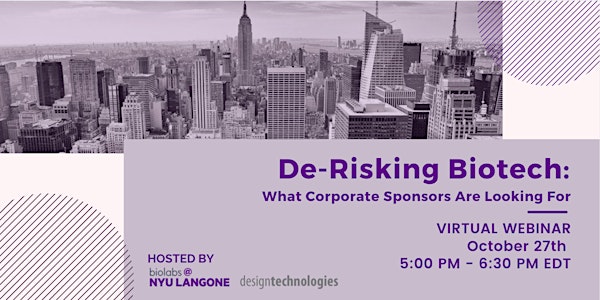 De-Risking Biotech: What Corporate Sponsors Are Looking For
Learn from a panel of industry experts what considerations a large corporation makes when partnering with emerging biotech companies.
About this event
This event is virtual and will include a link to join online prior to the event.
Join us as we continue exploring strategies and considerations around corporate partnerships as a mechanism for de-risking biotech startups. During this session we will get the perspective of some the largest and most influential corporate business development and investment teams on how to attract and create such partnerships. Session will be followed by virtual networking.
Early-stage biotech has become increasingly attractive for large corporate biotech and pharma companies looking to gain a competitive edge by enhancing their development and pipeline portfolios. These partnerships have significant advantages in terms of capital raises and leveraging deep corporate expertise to de-risk therapeutic developments startups are aiming to advance to market. However, many startup founders and managers do not know how to seek, foster, and grow these relationships. Join us and a panel of industry experts as they walk through how these relationships get started, grow, and pay dividends for both the startup and corporate partners.
Speakers: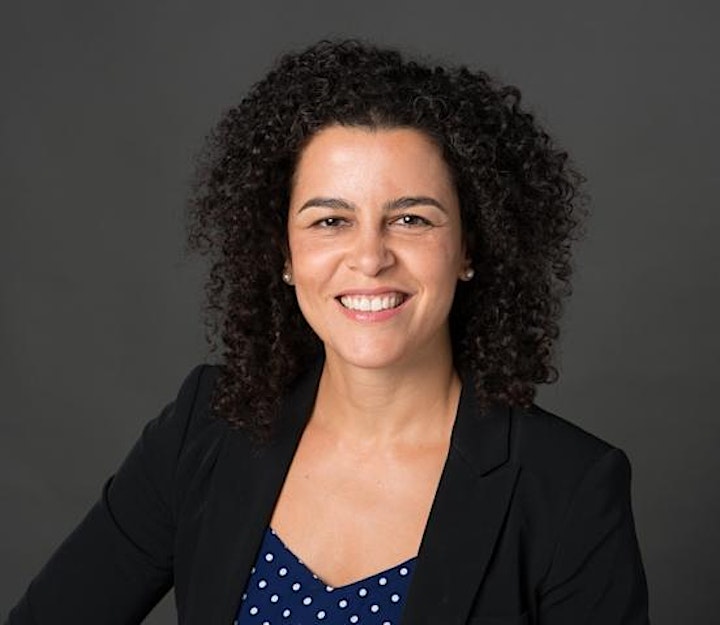 Rana Al-Hallaq, PhD, Senior Director and Partner, Pfizer Ventures at Pfizer
Rana Al-Hallaq, PhD is Executive Director and Partner at Pfizer Ventures. Rana leverages her preclinical, clinical, and business development experience to assess, invest in, and manage equity investments for Pfizer Ventures. She currently has responsibility for Pfizer's investments in Mitokinin, Inc. (San Francisco, CA), Autifony Therapeutics Ltd. (Stevenage, UK), Blade Therapeutics (South San Francisco, CA), RefleXion Medical (Hayward, CA), Montis (Leuven, Belgium), Biograph55 (San Francisco, CA), Vivet Therapeutics (Paris, France), and Arkuda (Cambridge, MA) among others. Prior to her current role, Rana was a Transactionalist in Worldwide Business Development at Pfizer where she was responsible for negotiating and transacting licenses, acquisitions, and partnerships across therapeutic areas. Rana joined Pfizer in 2015 as an Early Candidate Clinical Lead where she advised early clinical programs in CNS to ensure alignment with business strategies. Prior to joining Pfizer, she held roles at Allergan (formerly Actavis, formerly Forest Laboratories), first in Clinical Development Psychiatry as scientific and operational lead on Phase 2 and Phase 3 studies investigating novel treatments for Major Depressive Disorder and schizophrenia, and later in Business Development where she assessed and executed on a number of acquisitions and licenses across therapeutic areas. She began her training as a research fellow at the National Institutes of Health. Rana graduated Summa Cum Laude and Phi Beta Kappa with a BA in Biology from Hamilton College and holds a PhD in Neuroscience from Georgetown University Medical Center.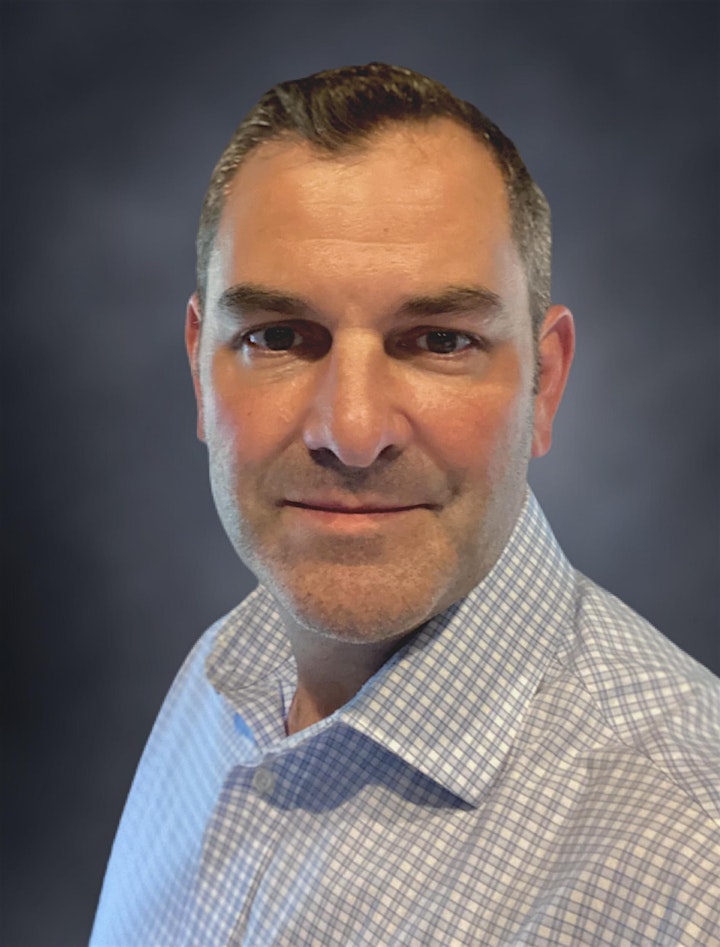 David Blair, PhD, Deputy Head, Immunology Business Development & Licensing at Boehringer Ingelheim
David Blair, PhD, is the Deputy Head of Immunology Business Development and Licensing at Boehringer Ingelheim in Ridgefield, CT. In this role, David is responsible for partnering opportunities in the autoimmune and inflammatory disease space. Leveraging his background in immunology as well as his R&D and business development experience, David identifies external innovation opportunities to strengthen Boehringer Ingelheim's Immunology portfolio. Prior to his role in business development, David was a Principal Scientist in Boehringer Ingelheim's Cancer Immunology and Immune Modulation research organization where he led a team focused on the discovery and validation of novel targets that modulate the immune response. David began his career in industry at ImmuNext, a small immunology-focused biotech, as a scientist working on cross functional teams focused on early discovery, target biology, and pre-clinical development of novel agonist and antagonist antibodies targeting immune checkpoint regulators. In these roles, David led programs from the early discovery stage up to the clinic. David began his scientific training at the University of Connecticut where he earned a PhD in Immunology followed by a post-doctoral fellowship at the NYU School of Medicine in New York.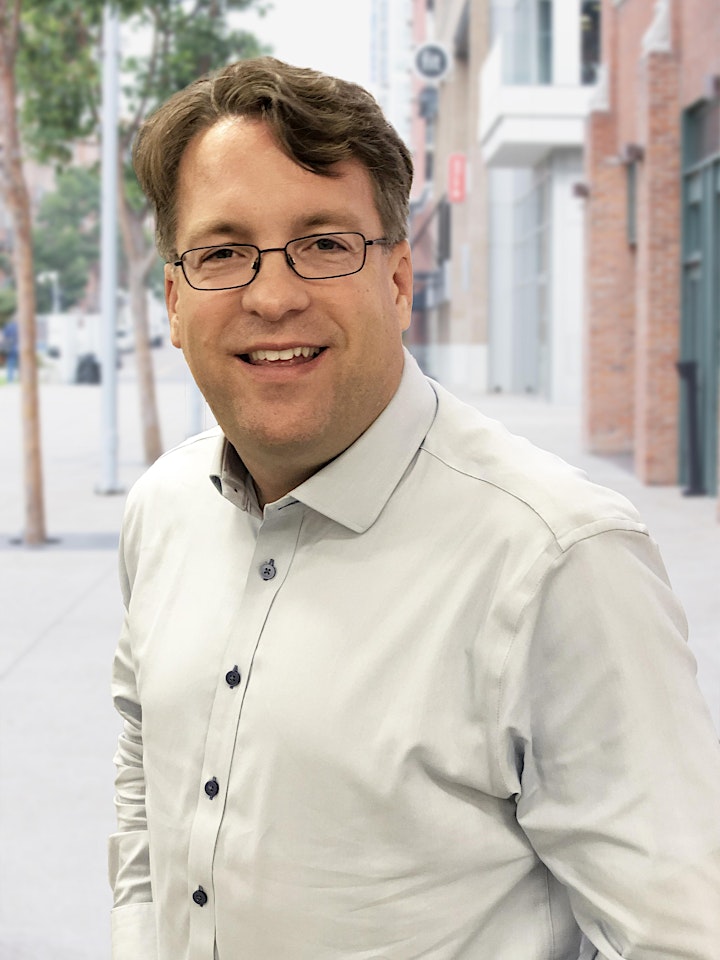 Stephen Pitt, PhD, Head of JLABS, Johnson & Johnson Innovation
Stephen Pitt, PhD, is the Head of Johnson & Johnson Innovation, JLABS US North East which includes the JLABS @ NYC, JPOD @ Boston, JLABS @ LabCentral, JLABS @ M2D2 and JPOD @ Philadelphia. He is responsible for external engagement, innovation sourcing, company onboarding, portfolio management, operational excellence, educational programming and P&L. He catalyzes and supports the translation of science and technology into valuable solutions for patients and consumers across the pharmaceutical, medical device, consumer and healthtech sectors. Steve joined JLABS from GlaxoSmithKline, where he was Senior Director of Emerging Science Innovation and Head of the Digital Innovation Hub R&D Team. Prior to GSK, he continually increased his responsibility as an R&D leader over 15 years in drug discovery, pharmaceutical development and consumer healthcare at Johnson & Johnson, Pfizer, Bayer, and in biotech. Steve earned his Ph.D. in Molecular Pharmacology from Cornell Medical School and Memorial Sloan Kettering Cancer Center in New York City.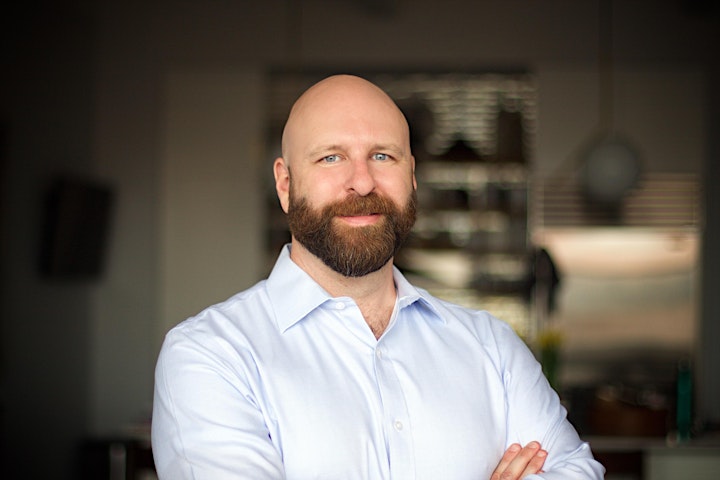 Jeffery Smith, PhD, Director, Equity and Venture Capital at Bristol Myers Squibb
Jeffery Smith joined the BMS Corporate Development team as Director, Equity & VCs, in March 2021, where he is responsible for supporting business assessments of external investment opportunities and executing equity & VC transactions.
Jeff joined BMS from Roth Capital Partners, where he served as Managing Director of Healthcare Investment Banking and was responsible for primary client relationships, leading equity financings, as well as advising senior management and boards on capital markets strategy and strategic planning. Before joining Roth, Jeff served as Vice President of Investment Banking at H.C. Wainwright & Co. for 6 years where he grew new client relationships, advised on equity financing deals, and coached clients on market positioning and differentiating their company's messaging to investors. Prior to working in finance, Jeff spent over 16 years of working in labs studying diabetes and oncology using biochemistry, cell biology, and advanced microscopy techniques.
Jeff earned his PhD in Cancer Biology from the Gerstner Sloan-Kettering Graduate School, and previously earned his bachelor's degree in Chemistry from the University of Iowa, where he grew up.
About Accelerator for Biosciences in CT:
ABCT's program of education and business networking prepares Connecticut's academic and corporate spinouts, inventors and first time founders to be successful entrepreneurs.
About BioLabs@NYULangone:
BioLabs New York is partnering with NYU Langone Health to build a unique biotech co-working facility in Manhattan to attract the best companies in early-stage life sciences.
BioLabs@NYULangone provides an engaging, collaborative space, top-of-the-line research equipment, business support and acceleration programming to help startup companies reach their milestones faster.
About Westchester County Biosciences Accelerator:
WCBA's goal is to support the development of Westchester's hub of bioscience innovation and commercialization with a program of emerging venture education and business networking.
About the series:
De-risking Early Stage Biotech is a series co produced by Biolabs@NYULangone and Design Technologies. The seminars and discussions are designed to shed light and focus on specific hurdles addressing the perspective of founders, investors, regulators, and industry stakeholders.