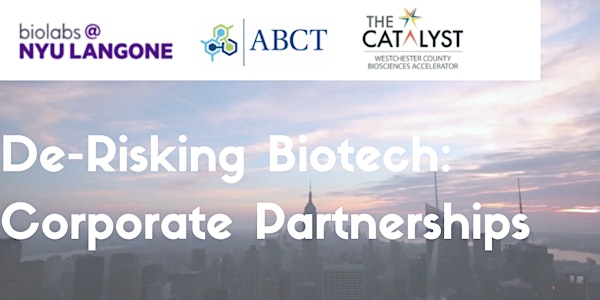 De-Risking Biotech: Corporate Partnerships - October 5 5:00PM-6:00PM
Join us for the second offering in our De-Risking Biotech Series, including a networking opportunity!
About this event
De-Risking Biotech: Corporate Partnerships - October 5th, 5:00PM-6:00PM – Followed by a 30 minute networking session
Early-stage biotech has become increasingly attractive for large corporate biotech and pharma companies looking to gain a competitive edge by enhancing their development and pipeline portfolios. These partnerships have significant advantages for startups in terms of capital raises and leveraging deep corporate expertise to de-risk therapeutic developments startups are aiming to advance to market.
Join us for a conversation with Chandra Ghose-Paul, founder of BioHarmony Therapeutics. She will share her journey successfully closing a deal with a strategic partner Boehringer Ingelheim. Junjun Gao, Associate Director of External Innovation at Boehringer Ingelheim,  joins to share corporate viewpoint. Veteran Business Development executive Brendan Rae moderates.
The event will take place virtually, on the Airmeet platfom. Feel free to send questions for the speakers to madeleine@designtechnologiesllc.com by September 28th 9PM EST. Additional questions will be accepted during the session as time permits.
Junjun Gao, Ph.D., Sr Associate Director External Innovation, Boehringer Ingelheim
Chandra Ghose-Paul, Ph.D., Founder and CEO, BioHarmony Therapeutics
Moderator: Brendan Rae, Vice President Licensing and Business Development, Qilu Pharmaceuticals
About BioLabs@NYULangone:
BioLabs New York is partnering with NYU Langone Health to build a unique biotech co-working facility in Manhattan to attract the best companies in early-stage life sciences.
BioLabs@NYULangone provides an engaging, collaborative space, top-of-the-line research equipment, business support and acceleration programming to help startup companies reach their milestones faster.
About Westchester County Biosciences Accelerator:
WCBA's goal is to support the development of Westchester's hub of bioscience innovation and commercialization with a program of emerging venture education and business networking.
About the series:
De-risking Early Stage Biotech is a series co-produced by Biolabs@NYULangone and Design Technologies. The seminars and discussions are designed to shed light and focus on specific hurdles addressing the perspective of founders, investors, regulators, and industry stakeholders.