De la Lluvia al Desagüe

Saturday, November 21, 2020 from 9:00 AM to 4:30 PM (CST)
Event Details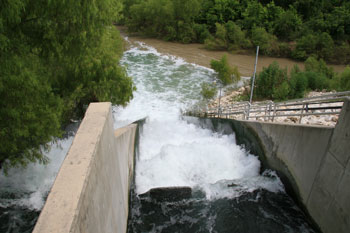 San Antonio Water System (SAWS) le provee servicio del agua seguro, confiable, y de calidad. Si está interesado en aprender más sobre las fuentes de agua potable y a dónde se va "después de usarla " únase al equipo de educación de SAWS y participe en nuestra excursión: "De la Lluvia al Desagüe". Esta excursión gratuita está abierta a las personas de 18 años o mayores.
Durante esta expedición de un día, viajará a lugares que pocas personas han visitado. Explorará una cueva donde el Acuífero Edwards se recarga, conocerá el funcionamiento interno de una instalación de producción de agua y recorrerá una planta de reciclaje de agua.
Este recorrido requiere poder caminar distancias cortas (menos de media milla) sobre caminos desnivelados en Stone Oak Park y algunas instalaciones de SAWS. Por favor use calzado apropiado para caminar.
La excursión es de 9:00 a.m. a aproximadamente las 4:30 p.m. (es posible que regresemos antes).
Es GRATIS para los residentes del condado de Bexar de 18 años o mayores. SAWS proveerá un desayuno y almuerzo ligero. Después de enviar su registro, se le enviará por correo electrónico información detallada, incluyendo indicaciones y un mapa para llegar al lugar de reunión.
______________________________________________________________________________
Póliza de Cancelación:
San Antonio Water System reserva el derecho de cancelar la excursión en cualquier momento debido a baja asistencia, clima o seguridad.
Save This Event
When & Where

San Antonio Water System
2800 US Hwy 281
Customer Service Center, Tower II
San Antonio, TX 78212


Saturday, November 21, 2020 from 9:00 AM to 4:30 PM (CST)
Add to my calendar
Organizer
San Antonio Water System works hard every day to develop a diverse portfolio of water sources, build and maintain a resilient infrastructure for tomorrow, conserve and efficiently manage San Antonio's most precious resource, and ensure that quality water is affordable and available for everyone.