Description
Each workshop features Fundamentals of PR in addition to one of the special topics listed. Light bites & refreshements will be served.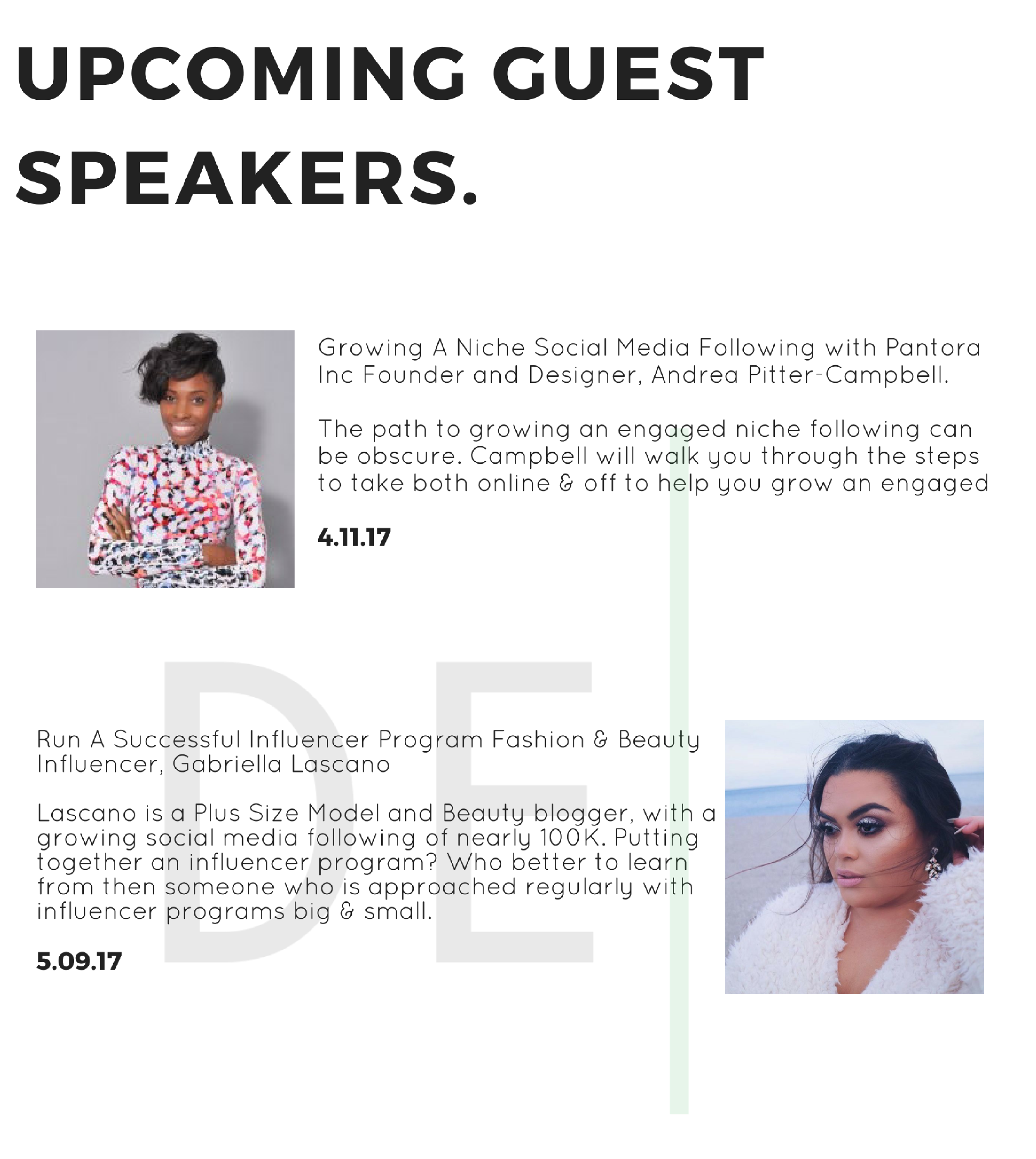 4.11.17 - Growing A Niche Social Media Following with Pantora Inc Founder and Designer, Andrea Pitter­ Campbell. The path to growing an engaged niche following can be obscure. Campbell will walk you through the steps to take both online & off. Visit PantoraBridal.com and Follow @PantoraMini @PantoraBridal on Twitter, Instagra, and Facebook.
5.09.17 - How To Run A Successful Influencer Program with Celebrity Make-Artist turned Fashion & Beauty Influencer, Gabriella Lascano. Lascano is a Plus Size Model and Beauty blogging New York City native, with a growing social media following of nearly 100K. Putting together an influencer program? Who better to learn from then someone who participate regularly in influencer programs big & small. Visit GabriellaLascano.com and Follow @GabriellaLascano on Instagram.
Email us at Info@de1989.co with any topics you would like to see covered, including questions you would like answered during the workshop you sign up for. Workshops are non-refundable- If you've paid for and can't make a workshop, we will reserve you a seat at another session of your choice.
More dates will be added! Please visit our Facebook to read our workshop reviews!
Organizer of DE Fundamentals: PR Workshops For Entrepreneurs
Founded in 2015 - DE| represents Artists, Creators, Founders, Makers & all-around Game Changers within various industries. Through influencer collaborations, storytelling, and events DE earns millions in media impressions for clients leading to brand awareness, increased sales, and larger social following. DE clients have appeared in leading print and digital, national, local consumer and trade publications. Visit de1989.co and folllow @de1989co on Instagram and Twitter.