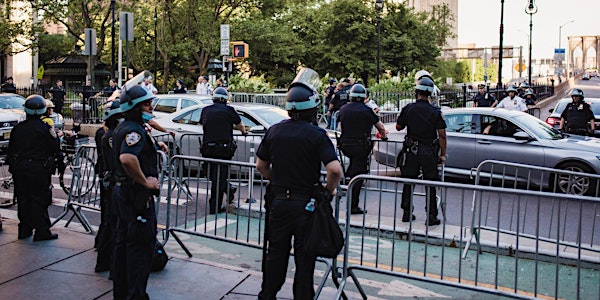 DE-ESCALATION TACTICS and SKILLS for OFFICER SAFETY
Agitated, not-yet-violent individuals can often be directed away from violence through the proper use of de-escalation skills.
When and where
Location
Bucks County Police Training Center 1760 South Easton Road Doylestown, PA 18901
About this event
TOPIC: Protests in Ferguson, New York and Baltimore rekindled an old debate about American Law Enforcement use-of-force. The perception that police officers are too aggressive has been fed not just by the high-profile deaths, but also by a stream of unflattering camera phone videos.
Because officers have to protect their own safety, as well as the safety of those around them, they only have a small amount of time in which to establish a communication mode that minimizes the risk of violence. Agitated, not-yet-violent individuals can often be directed away from violence through the proper use of de-escalation skills.
This interactive 8-hour class will help participants understand how stress and conflict can affect the thought process and decision making abilities. This class will discuss the fight, flight and freeze responses and how to deal with these responses using de-escalation techniques.
There will be a class discussion on how the use of video by citizens can affect the perception of the general public's feeling that police officers are out of control and why police officers feel very challenged by that.
Special attention will include topics on complacency, building community trust, the role of ego in the decision making process, communicating with people suffering from mental illness, the importance of proper training, how stress affects decision making, officer safety and the necessary use-of-force.
Case studies will be reviewed to include video samples from high speed pursuits to protests…dealing with the mentally ill to arresting a verbally abusive individual. Each student will receive handout materials that can be used for roll-call and in-service training.
INSTRUCTOR: Thomas Gillan is Executive Director of The P S U Crisis Management and Training Group, Inc. As a certified law enforcement trainer, Mr. Gillan has received numerous awards and recognition for his work from The U. S. Department of Justice, The U. S. Attorney's Office, The FBI National Academy, The Florida Department of Juvenile Justice, The Florida Department of Corrections, The Florida Catholic Conference of Bishops, The Orange County Sheriff's Office and The 2012 Trainer of The Year Award from The Florida Network of Victim Witness Services.
TARGET AUDIENCE: ALL members of the criminal justice and legal community (sworn and non-sworn).
LOCATION: Bucks County Police Training Center
1760 South Easton Road
Doylestown, PA 18901
DATES & TIMES: Wednesday, December 2, 2020 - 8am until 5pm (Local Time)
COST: $199.00 per person
PAYMENT OPTIONS:
• Check made payable to:
TRAINING FORCE USA, 3681 Loma Farm Road, Tallahassee, FL 32309
• Purchase Order
• Credit Card payment made online
Cancellations and Substitutions:
• Upon submission of this registration, participants are responsible for payment of this course. Please note that if you do not attend, you are still responsible for payment.
• Substitutions may be made at any time by phone, e-mail or online at the registration site.
QUESTIONS: Phone: 850-251-1223 E-mail: cpichard@trainingforceusa.com