Description
You're Invited to dd:SOCIAL - "Touch Publishing" Presented by Flowboard
---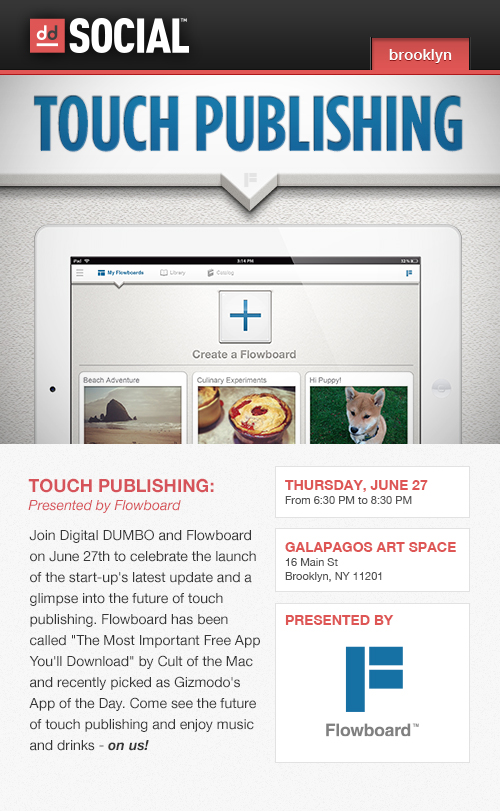 Event Agenda
6:15 - 6:30 - Arrival
---
6:30 - 7:30 - Drinks, Music, Networking
---
7:30 - 7:45 - Flowboard Presentation
---
7:45 - 8:30 - Networking Continues
---
8:30 - Close - Unofficial After Party at reBar
Music will be provided by DJ Swells. Visit http://www.swellsofficial.com/ for a preview.
General Inquiries & Press Contacts
Please email contact@digitaldumbo.com with any questions, comments, or press inquiries.
Refund Policy: Please email us at contact@digitaldumbo.com if you need to cancel your ticket. Refunds will not be issued any later than 5 days before the scheduled event date.
About dd:SOCIAL

Our dd:SOCIAL initiative features high profile events that amplify the work of start-ups, connect large brands with the feet on the street, and keep conversations flowing. This event is currently hosted in Brooklyn, Boston, London, and Valencia.
About Digital DUMBO

Digital DUMBO started as a monthly gathering looking to encourage and nurture innovation within the neighborhood we call home, DUMBO (Down Under the Manhattan Bridge Overpass), Brooklyn.
Today, Digital DUMBO is a global platform to better allow digital communities everywhere to meet one another, tap into emerging trends in the digital and cultural arenas, and to shape the future of their businesses and lifestyles.
About Flowboard

Flowboard, previously known as Treemo Labs, is a Seattle technology company that has built one of the most robust mobile app publishing platforms. For the past seven years, Treemo Labs has been developing and managing apps for some of the biggest brands in the world, including 60 Minutes, Beyonce, 48 Hours, CNET and others. In 2011 and 2012, it created Appafolio and Appavideo, two products that enabled companies and artists to create custom iPhone and iPad apps. Now, the company is leveraging everything it has learned into making Flowboard the next-generation storytelling platform for the iPad.