Description
You're Invited to dd:SOCIAL - It's A Digital Mission Presented by UK Trade & Investment
---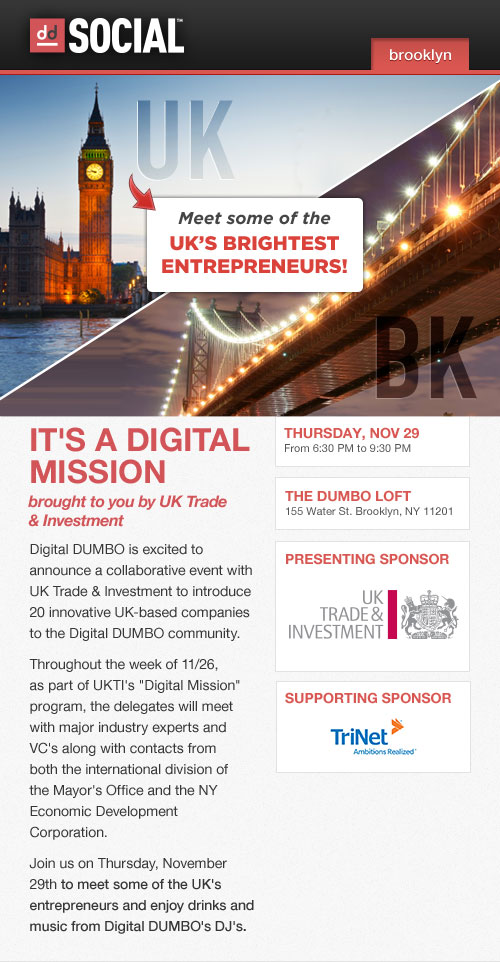 About The Digital Mission
The Digital Mission brings the UK's most innovative digital companies to New York from November 26th - 30th. This is a unique opportunity enabling digital companies to expand into overseas markets and attract investment outside the UK. The Digital Mission provides delegates with an ideal platform to gain insight from industry experts, make business connections with potential partners and clients, understand the US market and discover the practicalities of setting up shop in the US.
Digital DUMBO is part of a jam packed program that includes panel sessions at major companies such as Bloomberg, site tours of Etsy and Grind, and much more.
To learn more about UK Trade & Investment and the Digital Mission, visit www.ukti.gov.uk and the UKTI Digital Mission microsite.
Mission Companies
Hothouse360
Shutl
Thrive Software
Official Digital DUMBO T-Shirt

General Inquiries & Press Contacts
Please email contact@digitaldumbo.com with any questions, comments, or press inquiries.
About Digital DUMBO

Digital DUMBO started as a monthly gathering looking to encourage and nurture innovation within the neighborhood we call home, DUMBO (Down Under the Manhattan Bridge Overpass), Brooklyn.
Today, Digital DUMBO is a global platform and initiative set to better allow digital communities everywhere to meet one another, tap into emerging trends in the digital and cultural arenas, and to shape the future of their businesses and lifestyles.
About UKTI

UK Trade & Investment (UKTI) works with UK-based businesses to ensure their success in international markets, and encourage the best overseas companies to look to the UK as their global partner of choice.