Description
You're Invited to dd:SOCIAL - "Groundswell: The Next Wave of Content" Preview Event Presented by Digital DUMBO
---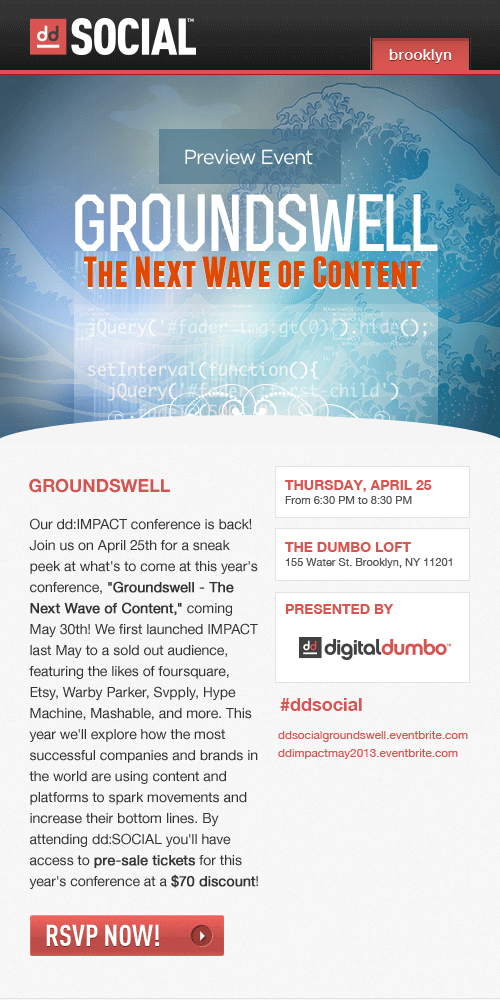 About dd:IMPACT "Groundswell: The Next Wave of Content" Coming May 30th
This year's conference will feature The New York Times Company, Pulse, Digg, R/GA, Cowbird, and more. To learn more and to RSVP visit: ddimpactmay2013.eventbrite.com and ddimpact.com! Attendees of this month's dd:SOCIAL on April 25th will receive a $70 discount if you purchase conference tickets on-site at dd:SOCIAL. Tickets are limited!
If you're interested in being a panelist or sponsor, please contact us: contact@digitaldumbo.com
Event Agenda
6:15 - 6:30 - Arrival
---
6:30 - 7:30 - Drinks, Music, Networking
---
7:30 - 7:45 - Digital DUMBO Presentation
---
7:45 - 8:30 - Networking Continues
---
8:30 - Close - dd:AFTERPARTY at reBar
New at dd:SOCIAL in 2013
dd:A-LIST
dd:A-LIST members have exclusive benefits in the form of event access and discounts across all of our initiatives, as well as qualify for members-only events. Our events tend to sell out and dd:A-LIST members will have priority access.
By joining dd:A-LIST, you are not only opting-in to become part of your local digital community but also part of a global movement and culture of digital innovators.
Join an elite class of Digital DUMBO members!
dd:A-LIST members attend dd:SOCIAL for free all year long. Find out how to join on digitaldumbo.com!
Digital Chamber
Many of our members attend dd:SOCIAL with specific needs. With hundreds of people in a room, it's often a challenge to connect with the person who may be able to hook you up. The Digital Chamber will be a dedicated space where our members can post jobs, find digital talent, and share their "haves" and "needs" while also serving as a meeting area. This is a concept that we'll trial and modify based on your feedback. Service providers that we feel are a value-add to our members may also be invited.
dd:AFTERPARTY
This year we're shortening dd:SOCIAL by one hour and adding an after party. The dd:AFTERPARTY will rotate between local DUMBO establishments. We're doing this based on the fact that people who come later in the evening are generally looking to socialize versus network, so we're moving that part of the evening to a more conducive venue, while supporting local businesses.
General Inquiries & Press Contacts
Please email contact@digitaldumbo.com with any questions, comments, or press inquiries.
Refund Policy: Please email us at contact@digitaldumbo.com if you need to cancel your ticket. Refunds will not be issued any later than 5 days before the scheduled event date.
About dd:SOCIAL

Our dd:SOCIAL initiative features high profile events that amplify the work of start-ups, connect large brands with the feet on the street, and keep conversations flowing. This event is currently hosted in Brooklyn, Boston, London, and Valencia.
About Digital DUMBO

Digital DUMBO started as a monthly gathering looking to encourage and nurture innovation within the neighborhood we call home, DUMBO (Down Under the Manhattan Bridge Overpass), Brooklyn.
Today, Digital DUMBO is a global platform to better allow digital communities everywhere to meet one another, tap into emerging trends in the digital and cultural arenas, and to shape the future of their businesses and lifestyles.