Description
You're Invited to dd:SOCIAL - 4 Year Anniversary & dd:A-LIST Crowdfunding Launch
---
dd:A-LIST Crowdfunding Campaign
By supporting our crowdfunding campaign and by supporting our new initiatives (read more on Indiegogo) you'll be part of an elite group of Digital DUMBO community members and a Founding Member of the dd:A-LIST.
dd:A-LIST members will have exclusive benefits in the form of event access and discounts across all of our initiatives, as well as qualify for members-only events. Our events tend to sell out and dd:A-LIST members will have priority access.

Become a dd:A-LIST Member - Support Our Campaign on Indiegogo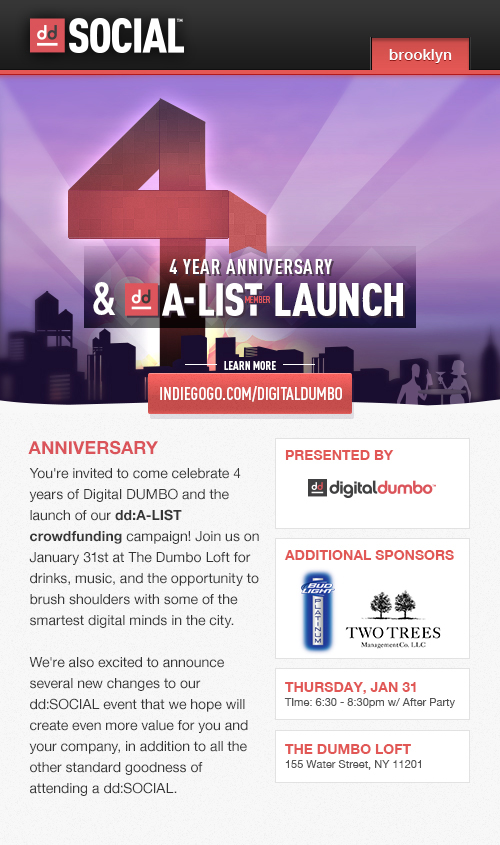 Event Agenda
6:15 - 6:30 - Arrival
---
6:30 - 7:30 - Drinks, Music, Networking
---
7:30 - 7:45 - Digital DUMBO Announcement
---
7:45 - 8:30 - Networking Continues
---
8:30 - Close - dd:AFTERPARTY at Superfine (Tell the bartender you're with Digital DUMBO for a drink discount!)
New at dd:SOCIAL in 2013
Why $10?
Over the past 4 years we've brought together over 20,000 digital professionals through our monthly social events. Historically, our events have largely been 100% free to attend. If you've been to our events, you know we generally have an open bar, awesome DJs, photo booth, and one time we even had fat suit sumo wrestling.
This year we're instituting a nominal fee of $10 to maintain a high quality audience and worthwhile event while still keeping the event inclusive and not exclusive.
You'll still get the benefit of a 2 hour open bar, awesome like-minded people, exposure to new technology, and now, the Start-Up Outpost and Digital Chamber.
dd:A-LIST members who support our crowdfunding campaign will get to attend all dd:SOCIAL events for free (Read more on Indiegogo).
Start-Up Outpost
Select start-ups will be invited to participate in the Start-Up Outpost through our new "exhibititor" ticket. Start-ups will have the opportunity to show off what they're building, talk to potential users, and get feedback from those in the know.
This year we'll also be inviting our favorite start-ups to be Presenting Sponsors (for free) in months where the bigger guys who keep Digital DUMBO alive aren't able to present.
Digital Chamber
Many of our members attend dd:SOCIAL with specific needs. With hundreds of people in a room, it's often a challenge to connect with the person who may be able to hook you up. The Digital Chamber will be a dedicated space where our members can post jobs, find digital talent, and share their "haves" and "needs" while also serving as a meeting area. This is a concept that we'll trial and modify based on your feedback. Service providers that we feel are a value-add to our members may also be invited.
dd:AFTERPARTY
This year we're shortening dd:SOCIAL by one hour and adding an after party. The dd:AFTERPARTY will rotate between local DUMBO establishments. We're doing this based on the fact that people who come later in the evening are generally looking to socialize versus network, so we're moving that part of the evening to a more conducive venue, while supporting local businesses.
General Inquiries & Press Contacts
Please email contact@digitaldumbo.com with any questions, comments, or press inquiries.
About dd:SOCIAL

Our dd:SOCIAL initiative features high profile events that amplify the work of start-ups, connect large brands with the feet on the street, and keep conversations flowing. This event is currently hosted in Brooklyn, Boston, London, and Valencia.
About Digital DUMBO

Digital DUMBO started as a monthly gathering looking to encourage and nurture innovation within the neighborhood we call home, DUMBO (Down Under the Manhattan Bridge Overpass), Brooklyn.
Today, Digital DUMBO is a global platform to better allow digital communities everywhere to meet one another, tap into emerging trends in the digital and cultural arenas, and to shape the future of their businesses and lifestyles.
Organizer of dd:SOCIAL - 4 Year Anniversary & dd:A-LIST Crowdfunding Launch