Description
A half-day conference created by Digital DUMBO to explore digital design trends and how smart design is changing consumer behavior, retail, media, and entertainment.
dd:IMPACT showcases digital innovation that fundamentally disrupts, evolves and advances business and culture.
The Venue - BRIC House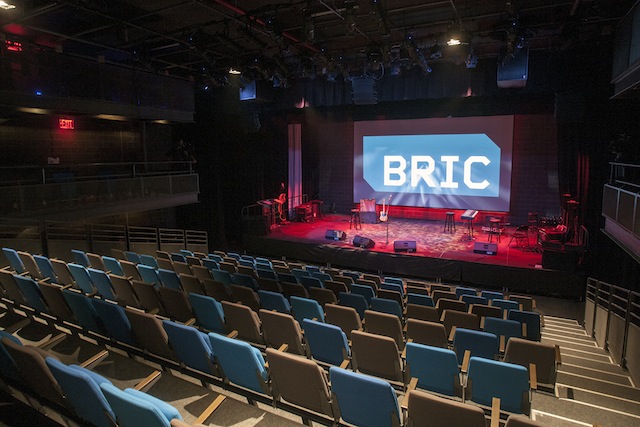 Agenda
1:00 - 1:15

Opening Remarks

1:15 - 1:45

UI vs UX: Rapid Fire Session

1:50 - 2:30

Panel: Small Screen, Big Ideas - Mobile Design

2:35 - 2:55

Presentation: Physical Design in A Connected World

3:00 - 3:20

Break

3:25 - 3:40

Presentation: Ceros - Creating in the Cloud

3:45 - 4:25

Panel: Short-Form, Long-Form, and Native Content Design

4:30 - 5:10

Panel: TV, Video Games, and Entertainment - Multi-device Design

5:15 - 5:35

Closing Keynote Presented by Huge

5:40 - 8:30

Cocktail Reception & After Party Presented by MailChimp
Speakers
Full speaker bios can be found at ddimpact.com
UI vs UX: Rapid Fire Session

A look at major trends in UI and UX design with an eye towards the future.
Percolate Erin Bermudez, Product Designer
Skillshare Andrew Mercando, Product Designer
Small Screen, Big Ideas: Mobile App Design Panel

The "webpage" is dying and mobile and tablet usage is rising. This panel will explore application design, responsive design, and design for small screens.
Moderator:
Droga5 Chet Gulland, Head of Digital Strategy
Panelists:
HowAboutWe Aaron Schildkrout, co-founder and co-CEO
OKFocus Ryder Ripps, Creative Director
Prolific Interactive Joe Minkiewicz, Director of Product Development
REVOLT Jake Katz, VP Audience Insights & Strategy
Physical Design in A Connected World Presentation

The line between the physical and digital worlds is blurring, and more so than ever before wearables and physical goods are forcing these two worlds to collide. This presentation will focus on designing physical goods for a connected world.
Pensa Mark Prommel, Partner & Design Director
Ceros - Creating in the Cloud Presentation

The move to the cloud is evident in every aspect of our lives. Companies like Salesforce have famously championed the cloud as an alternative to cumbersome enterprise software and now, services we use in our everyday lives are familiar for being 'born in the cloud.'

But what about the creative process? Why haven't we seen the creative process move into the cloud, especially with the need for collaboration? In this session, Simon Berg, CEO of Ceros, outlines his vision for creativity in the cloud and demonstrates features he believes are vital to its adoption.
Ceros Simon Berg, CEO & Founder
Short-Form, Long-Form, and Native - Debating Content Design Panel

Media companies, brands and agencies are now all content makers. This panel will examine designing content for audience, eyeballs, and profit.
Moderator:
Carrot Creative - a VICE Company RG Logan, Director of Strategy
Panelists:
Code and Theory Matt Chmiel, Senior Content Strategist
News Corp Rebecca Grossman-Cohen, VP of Partner Relations
The Verge Lauren Rabaino, Head of Product
TV, Video Games, and Entertainment - Multi-device Design Panel

Entertainment is no longer isolated to a single experience with a single screen. This discussion will explore how innovative companies are enhancing the entertainment experience for the always-on consumer across multiple devices.
Moderator:
Scripps Networks Interactive Chad Parizman, Director, Convergent Media
Panelists:
Playmatics Nicholas Fortugno, CEO
Small Planet Guido Jiménez-Cruz, Creative Director
ustwo (Creators of hit iOS game Monument Valley) Jules Ehrhardt, Partner
Closing Keynote - Designing for Simplicity Presented by Huge
Speaker:
Huge Jon Jackson, Executive Creative Director
Refund Policy: Tickets to this event are transferrable but are non-refundable.
About

Digital DUMBO connects communities at the intersection of digital and culture, globally.
We're a media company that produces live events, conferences, content, and custom experiences that connect companies & brands with our community of digital tastemakers, talent, and executives.
Digital DUMBO started in 2009 as a social gathering for innovative companies in the DUMBO (Down Under the Manhattan Bridge Overpass) neighborhood of Brooklyn, a six-block area with over 100 media and technology companies. We've since expanded to Boston, London, Dallas, and Valencia, Spain.
With over 13,000 members, Digital DUMBO is one of the fastest growing digital communities in the world.