Description
Join Us for dd:COLLECTIVE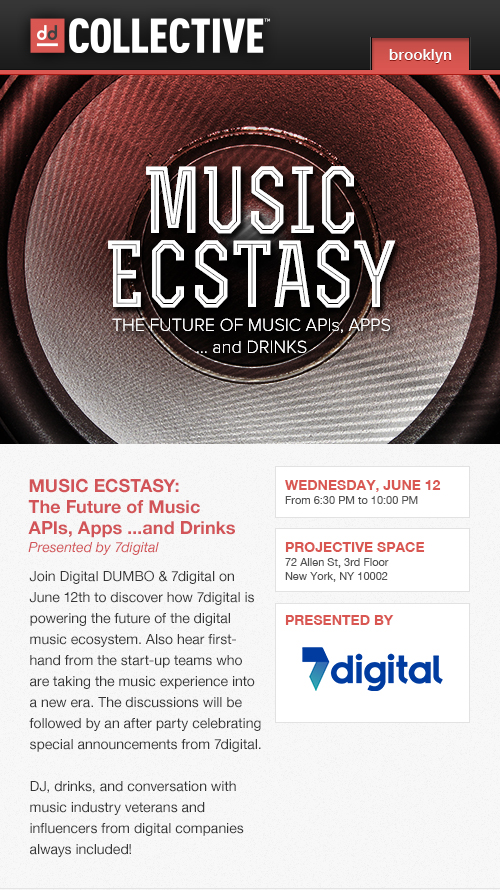 Event Agenda
6:30pm - 7pm - Arrival and Check-In
---
6:45pm - 6:50pm - Digital DUMBO Opening Remarks
---
6:55pm - 7:15pm - Intro to 7digital: Music market insights and overview, and the importance of radio
---
7:20pm - 7:50pm - Workshop Session: Empowering the industry through a multi-partner approach
---
7:55pm - 8:30pm - Partner Demos from Turntable, Sourcetone, & DoubleTwist
---
8:30pm - 8:45pm - Announcements and Q&A
---
8:45pm - 10pm - Beer, Wine, & Mixed Drinks (Courtesy Bulldog Gin & Red Jacket Orchards) Reception
General Inquiries & Press Contacts
Please contact the Digital DUMBO Team (contact@digitaldumbo.com) with any questions, comments, or inquiries.
Refund Policy: Please email us at contact@digitaldumbo.com if you need to cancel your ticket. Refunds will not be issued any later than 5 days before the scheduled event date.
About 7digital

7digital is the leading global open digital content platform providing consumers, partners and developers with open access to an extensive international catalogue of high quality digital content.
About Digital DUMBO

Digital DUMBO connects communities at the intersection of digital and culture, globally.
We're a media company that produces live events, conferences, content, and custom experiences that connect companies & brands with our community of digital tastemakers, talent, and executives.
Digital DUMBO started in 2009 as a social gathering for innovative companies in the DUMBO (Down Under the Manhattan Bridge Overpass) neighborhood of Brooklyn, a six-block area with over 100 media and technology companies. We've since expanded to Boston, London, Dallas, and Valencia, Spain.
With over 13,000 members, Digital DUMBO is one of the fastest growing digital communities in the world.
About dd:COLLECTIVE

Based on participation in our monthly dd:SOCIAL events, Digital DUMBO invites select individuals to join dd:COLLECTIVE, a group of professionals hand-picked to join Digital DUMBO and select partners for facilitated workshops, curated events and other custom programming.
dd:COLLECTIVE is designed to deliver real-time perspectives and to crowdsource insight into the tools, services, platforms and challenges our partners and members face.