Description
Join Us for dd:COLLECTIVE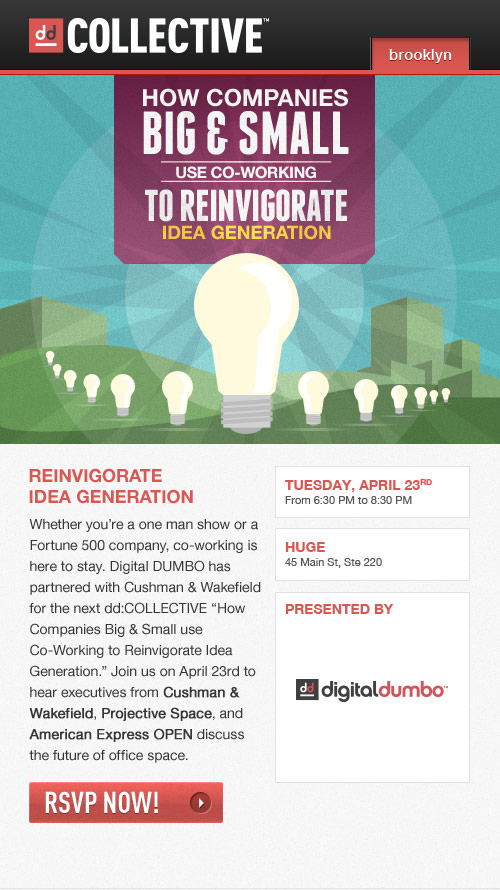 Event Agenda
Welcome: 6:30pm - 7pm
---
Conversations on Idea Generation: 7pm - 8pm
---
Cocktail Reception: 8pm - 8:30pm
Featured Speakers
Drew Conner, Executive Director, Cushman & Wakefield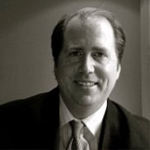 Mr. Conner provides consulting and brokerage services to a variety of clientele: start-ups, partnerships, joint ventures, non-profits and Fortune 1000 companies. He specializes in delivering solutions which require detailed coordination among specific industry disciplines and vendors.
His career demonstrates leadership across Commercial Real Estate's major segments, including:
Institutional-level Leasing & Asset Management, Acquisitions & Dispositions.
Principal-level Commercial Development: such as the Smyth Hotel and the Artisan Lofts in Tribeca.
Extensive transactional experience in New York City and nationally.
Mr. Conner's transactional experience is in excess of $5 billion of Leasing and Sales, and he has managed over $800 million in commercial development activity as well as numerous consulting engagements for regional and national clientele.
About Cushman & Wakefield
Cushman & Wakefield are commercial real estate brokers and consultants. Delivering integrated solutions to landlords, tenants and investors at each stage of the real estate & commercial property process.
Scott Roen, Vice President Digital Marketing & Innovation, American Express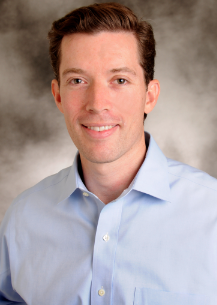 Scott Roen manages a team charged with the strategy, development, and management of digital experiences. Scott has more than doubled OPEN's small business online community, OPEN Forum, attracting millions of small business owners looking for new ways to run their business or connect with other business owners. Scott championed social integration of Facebook, Twitter, and Linkedin, the launch of the OPEN Forum iPhone app, and the opening up of OPEN Forum's APIs for greater innovation. Recently he held the company's first ever Hackathon in partnership with NYC based accelerator, General Assembly. His work has been a magnate for young start-ups looking to collaborate with big brands and he's been able to develop partnerships with numerous entrepreneurs including TechStars companies Veri, Contently, Percolate and others. His ability to bring so many small business owners together has piqued the interest of other large B2B marketers like FedEx & AT&T who are now partnering with OPEN Forum. Even the White House asked Scott to work with them by hosting a live streaming webcast for small business owners to ask questions of the Administration through OPEN Forum or whitehouse.gov. There was tremendous interest from business owners and the Administration alike.
Prior to joining OPEN, Scott led the development and management of digital products for Global Merchant Services. His team was responsible for launching a global offers platform currentlyin 118 countries, the first targeted multi-currency loyalty program, and a coupon-less fulfillment engine that has been leveraged by thousands of merchants and online leaders like Foursquare, Facebook, and Twitter. Scott previously served as the Director responsible for developing and rolling out the American Airlines Corporate Co-brand. Prior to joining American Express, Scott held digital new product development and marketing roles at United Airlines, Oracle Corporation, Scient, and Hewitt Associates.
About American Express
American Express is a global services company that provides customers with access to products, insights and experiences that enrich lives and build business success.
James Wahba, Co-Founder and CEO, Projective Space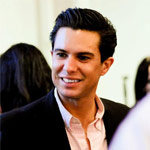 James Wahba is the co-founder and CEO of Projective Space, an entrepreneurial community and coworking space for over 60 tech startups, with two New York City locations. Mr. Wahba's background includes real estate development, business investments and launching tech startups. He is currently an investor in the Brooklyn-based restaurant, ISA.
James is originally from Greenwich, Connecticut, and a graduate of Skidmore College. He has lived and worked in New York City since 1997.
About Projective Space
Projective Space provides a mix of dedicated and communal workspaces as well as hosts events focused on entrepreneurship. James Wahba and his brothers, Johnny Wahba and Tim Wahba, launched Projective Space SoHo (a 5,500 sq ft loft) in Feb. 2011. To support the high demand, they expanded to a second location within the year: a 7,200 sq ft office in the Lower East Side. Projective L.E.S. is the home to 100 members and hosts events 3 times a week. Some notable companies that have worked at Projective Space include Uber, IndieGogo, EventBrite, Olapic, SeatGeek, Bespoke Post, Single Platform, Public Stuff, and Protein. Projective Space is at capacity at both locations and is actively pursuing expansion to multiple locations in NYC and other major metropolitan cities.
General Inquiries & Press Contacts
Please contact the Digital DUMBO Team (contact@digitaldumbo.com) with any questions, comments, or inquiries.
Refund Policy: Please email us at contact@digitaldumbo.com if you need to cancel your ticket. Refunds will not be issued any later than 5 days before the scheduled event date.
About dd:COLLECTIVE

Based on participation in our monthly dd:SOCIAL events, Digital DUMBO invites select individuals to join dd:COLLECTIVE, a group of professionals hand-picked to join Digital DUMBO and select partners for facilitated workshops, curated events and other custom programming.
dd:COLLECTIVE is designed to deliver real-time perspectives and to crowdsource insight into the tools, services, platforms and challenges our partners and members face.
About Digital DUMBO

Digital DUMBO started as a monthly gathering looking to encourage and nurture innovation within the neighborhood we call home, DUMBO (Down Under the Manhattan Bridge Overpass), Brooklyn.
Today, Digital DUMBO is a global platform to better allow digital communities everywhere to meet one another, tap into emerging trends in the digital and cultural arenas, and to shape the future of their businesses and lifestyles.
Organizer of dd:COLLECTIVE - How Companies Big & Small Use Co-Working to Reinvigorate Idea Generation