dd:COLLECTIVE "Defining Tomorrow: The Role of Wearables and Shareables" Presented by Ready Set Rocket & Interbrand

Thursday, September 4, 2014 from 6:30 PM to 9:00 PM (EDT)
Event Details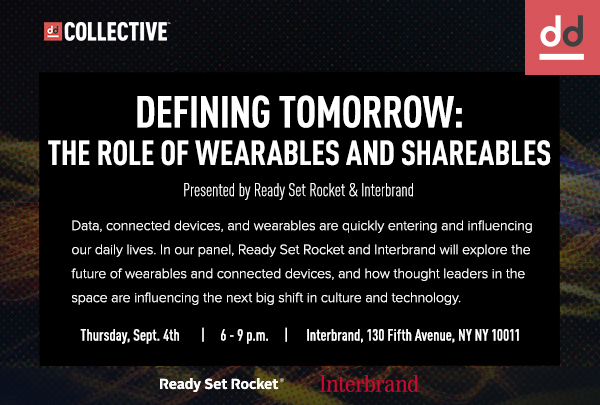 dd:COLLECTIVE is a series of curated panels, presentations, and workshops designed by Digital DUMBO to deliver real-time debate and perspectives around forward-thinking products, strategies, and creativity.
Event Agenda
6:30 - 6:45 - Arrival
---
6:45 - 7:00 - Welcome
---
7:00 - 8:00 - Panels on Internet of Things / Wearables with Audience QA
---
8:00 - 9:00 - Cocktails
Internet of Things Panel - Featured Speakers
Moderator: Alex Lirtsman, Co-founder & Chief Strategist, Ready Set Rocket
For more than 10 years, Alex Lirtsman has led high-level digital marketing efforts for national brands and non-profits. As Co-founder and Chief Strategist of Ready Set Rocket, Alex oversees the teams that fuel innovation and digital strategies for brands like ACLU, Ann Taylor, Deutsche Bank, Michael Kors, NBA and Univision. Prior to RSR, Alex's roles included Director of E-Commerce at Freshpair and CMO of digital agency Purple, Rock, Scissors.
Panelists:
Liesje Hodgson, Senior Consultant, Innovation, Interbrand
As a Senior Consultant in Interbrand's Innovation practice, Liesje helps clients uncover new product and service opportunities by exploring the unmet needs of customers, the aspirations of the brand, and the desires of the market. After hours, Liesje spends her time at NYU's ITP, where she teaches "Design Expo," a 12-week project development course that pairs user-centric design with an inquiry into the latest sensor technologies. Prior to arriving at Interbrand, Liesje spent three years at frog working to scale experience strategy and design research practices across the Organization.

Nick Panama, Co-Founder, Cantora
Nick's experience and love of music developed from being a musician in high school and working A&R and marketing for Gary Gersh's Strummer Records / Universal Music Group and Steve Aoki's Dim Mak Records. In 2005, Nick founded Cantora Records with the signing of MGMT during his junior year of high school. Cantora is known for signing and developing internationally recognized artists such as MGMT, Bear Hands, and Francis and the Lights, investing in and executing the music industry strategy for startups like Sonic Notify, BioBeats and Seen.co, and for creating live event properties like Smartwater's immersive music tech Smartlounge.

Today, Cantora is a venture studio focused on building technologies and entertainment experiences that reshape the relationship between audiences and performers.
Colin Vernon, Director of Cloud & Platform, Little Bits
For the past two years, Colin has lead the littleBits engineering team.  Most recently, as littleBits' cloud platform lead, he spearheaded littleBits' newly announced cloudBit, which allows anyone to turn any object into an internet-connected smart device – no soldering, wiring or programming required. Prior to his work at littleBits, Colin was the founder of Montreal-based Stresslimit Design for over a decade. From his years of experience in the technology industry, Colin can speak to the importance of interconnectivity, the relationship between hardware and software, the growing trend of IoT and his personal experiences with building software and prototyping tools for IoT.
Jun Shimada, CEO & Founder, ThinkEco
Jun is the founder and CEO of ThinkEco, an energy efficiency start up based in NYC that offers its patented, internet-of-things platform to utilities.  ThinkEco's award-winning coolNYC program was launched with Con Edison, which has gained recognition as one of the most innovative residential demand response programs in the US.  Prior to ThinkEco, Jun was a founding team member of the biotech start-up Vitae Pharmaceuticals, where he led the technology team behind Vitae's proprietary computational drug discovery platform.  Jun received his BA, MA, and PhD from Harvard.
Wearables Panel - Featured Speakers
Moderator: Forest Young, Creative Director, Interbrand
Forest Young is an educator and Creative Director. As a creative lead in Interbrand's New York studio, Forest works with critical clients and their agency teams to arrive at creatively compelling solutions that impact dramatic results in market. Focusing on the intersection of storytelling and technology, Forest is an ideation facilitator for select clients including AT&T, Google, Samsung, Adobe, McSweeney's and the ACLU. Forest has worked at frog, Brand New School, The Coca-Cola Company, and started his own atelier Forest Young in 2000. Forest is a Critic in graphic design at the Yale School of Art, a board member of the AIGA/NY, and is a member of the MoMA R&D Salon. Forest's work has been exhibited at the MoMA and the Royal Ontario  Museum and has won a Gold Design Lion at Cannes. Forest received his MFA from the Yale School of Art where he was awarded the Mark Whistler Prize and completed undergraduate studies in Human Development at Cornell University.
Panelists:
Robert Genovese, VP Integrated Marketing, Kenneth Cole
Robert Genovese is responsible for leading the integrated marketing and communications practice at Kenneth Cole Productions. In his role, Robert oversees all traditional, non-traditional, digital, social and emerging media. Additionally, Robert leads strategy for original branded content, supporting seasonal advertising campaigns and corporate responsibility programs.

Formerly an associate of Wieden + Kennedy NY, Robert helped develop and manage breakthrough integrated communications solutions for brands such as Nike, Virgin America, ESPN, JetBlue, and School of Visual Arts.

Robert is passionately involved in the rescue, rehabilitation and adoption of dogs, supporting the Montclair Animal Shelter as well as Stray from the Heart.
Gareth Price, Technical Director, Ready Set Rocket
As the Technology Director of Ready Set Rocket, Gareth brings 10 years of experience in tech strategy and software development. Gareth's technical expertise covers a range of industries, from Healthcare to Finance, and everything in between. At his role at RSR, Gareth leads a team of technologists and developers in driving software development and technical strategy for brands such as Deutsche Bank, NBA, and Univision. Gareth holds a BSc (Hons) degree in Artificial Intelligence from Manchester University.
Richard Talens, Co-founder, Fitocracy & Adviser, Pavlok
Dick Talens is the co-founder of Fitocracy, an adviser to Pavlok, as well as a fitness coach and writer. Over the last three years, wearing these different hats (see: functional ADHD) – including leading Fitocracy's user growth – has allowed him to take Fitocracy from zero to nearly two-million users while simultaneously training Miss America and forging partnerships with folks like Arnold Schwarzenegger.

Dick's passion in fitness stems from the fact that he was once a 220-lb obese teenager who looked eerily similar to the kid from Up. He eventually traded his World of Warcraft geekery for exercise and nutrition geekery to became an amateur competitive bodybuilder and never looked back. Because of his knowledge in the fitness domain, he has a very different perspective than most on wearables. He now advises Pavlok to ensure that it turns into the leader in creating lasting fitness transformations.
About Digital DUMBO

Digital DUMBO produces live events, conferences, content, and custom experiences that connect companies & brands with our community of digital tastemakers, talent, and executives.
Digital DUMBO started in 2009 as a social gathering for innovative companies in the DUMBO (Down Under the Manhattan Bridge Overpass) neighborhood of Brooklyn, a six-block area with over 100 media and technology companies. We've since expanded our initiatives to innovative cities around the world.
With over 14,000 members, Digital DUMBO is one of the fastest growing digital communities.
About Ready Set Rocket
We make smart look beautiful. Driven by powerful data analysis, we create connected experiences that transform human behavior into user interaction.
About Interbrand

Founded in 1974, Interbrand is the world's leading brand consultancy. With nearly 32 offices in 24 countries, Interbrand's combination of rigorous strategy, analytics, and world-class design enables it to assist clients in creating and managing brand value effectively, across all touchpoints, in all market dynamics. By understanding and anticipating the changing needs and demands of consumers, the firm helps its clients across industries, to drive greater business growth while solving their most pressing business challenges. Interbrand is widely recognized for its annual Best Global Brands report, the definitive guide to the world's most valuable brands, as well as its Best Global Green Brands report, which identifies the gap between customer perception and a brand's performance relative to sustainability. It is also known for having created brandchannel.com, a Webby-award winning resource about brand marketing and branding. Interbrand is part of the Omnicom Group Inc. (NYSE:OMC) network of agencies.
General Inquiries & Press Contacts
Please email contact@digitaldumbo.com with any questions, comments, or press inquiries.
Refund Policy: Tickets to this event are transferrable but are non-refundable.
Have questions about dd:COLLECTIVE "Defining Tomorrow: The Role of Wearables and Shareables" Presented by Ready Set Rocket & Interbrand?
Contact Digital DUMBO
Attendee List
Sort by:

Date

|

First Name

|

Last Name
When & Where

Interbrand
130 5th Avenue
4th floor
New York, NY 10011


Thursday, September 4, 2014 from 6:30 PM to 9:00 PM (EDT)
Add to my calendar
Organizer
Digital DUMBO produces live events, conferences, content, and custom experiences that connect companies & brands with our community of digital tastemakers, talent, and executives. Founded in Dumbo, Brooklyn in 2009.