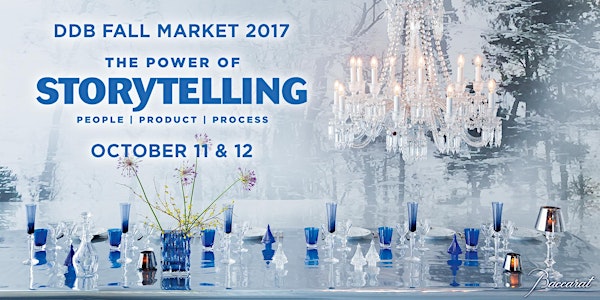 DDB Fall Market 2017 | The Power of Storytelling; People, Product, Process
Location
Decoration & Design Building (D&D Building)
979 Third Avenue
New York, NY 10022
Sales Have Ended
Registrations are closed
Thank you for registering to attend the DDB Fall Market 2017.
Description
STORIES UNFOLD. From heritage brands, steeped in tradition, still handcrafting products with centuries old techniques to emerging start-ups, disrupting the industry with innovation, every brand, person and product has a story to tell. Join the showrooms of the D&D Building along with luminaries, celebrities and brand experts who have harnessed the power of storytelling to evolve their craft and infuse richly layered romanticism into their projects. Over the course of two information-filled days – comprised of six Keynote Events, 20 In-Showroom Programs, two Special Events, one Special Program, three Cocktail Receptions and 114 Open Houses – guests will discover the value these narratives can bring to their projects; how the ever-evolving design community shares their stories today in the digital space; and how thoughtful design can express a client's unique individuality without saying a word. Storytelling is an art. Design is a story.
#ddbfallmarket17
Market Information:
RSVP required for all Keynote and Showroom Programs.
Select each individual event you would like to attend, keeping in mind there are multiple programs per hour and space is limited.
Open to the Design Trade ONLY. An active business website is required to complete your registration. You may also be asked to furnish your business card upon request at check-in points.
Registration closes at 11:59 PM on Sunday October 8, 2017.