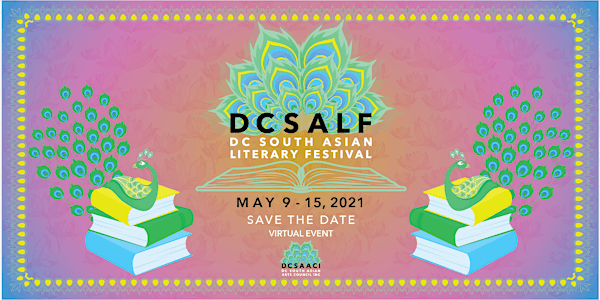 DCSALF - VIRTUAL LITERARY FESTIVAL 2021
DCSAACI, a 501(c)(3) non-profit organization is pleased to announce its first Virtual DC South Asian Literary Festival (DCSALF).
About this event
DCSALF is a neutral and inspirational platform for artists and writers to voice their stories. South Asian fiction and non-fiction authors, poets, screenwriters, and biographers from all over the world are invited to participate and enrich our community. We envision DCSALF to be a forum that stimulates important discussions about inequality, divide, immigration, LGBTQ challenges, social justice, and other South Asian Diaspora issues and challenges. Authors will have an opportunity to promote and read from their books and engage with the audience in conversations, panel discussions, and Q&A sessions.
Please join us from May 9th – 15th, 2021 for our inaugural DCSALF festival which will be virtual.
Our Official Book Selling Partner - Politics & Prose Bookstore, Washington DC
Follow DCSAACI on:
Facebook : https://www.facebook.com/Washington-DC-South-Asian-Arts-Council-Inc-100810028745257
Instagram : https://www.instagram.com/dcsaaci/
Twitter : https://twitter.com/dcsaaci
YouTube : https://www.youtube.com/channel/UCVmCGK-CjpBEFJpucyVvN9w
Website : www.dcsaaci.org